This is a somewhat belated description of my musings and experiences at DLR a few weeks ago.
Some of you may know about how my July trip with my family got sidetracked when I got sick (if you want the gory details see my signature line
). I was soooo looking forward to seeing the new DCA and I never got to set foot in the park last July! Instead I listened to the fireworks from a hospital room two miles away.
There was no way I going to get the whole crew of college and high school students back so soon after that trip and I started looking for a chance to go back either solo or with at least one of my kids. And we made it happen on the weekend of Oct 13-14 (Sat/Sun) with DS16.
First of all, DCA really rocks now!
The new entrance to DCA makes the park feel like a different park. DS16 said this and I agreed. Night time around the fountain is just really nice.
Fountain in DCA Carthay Circle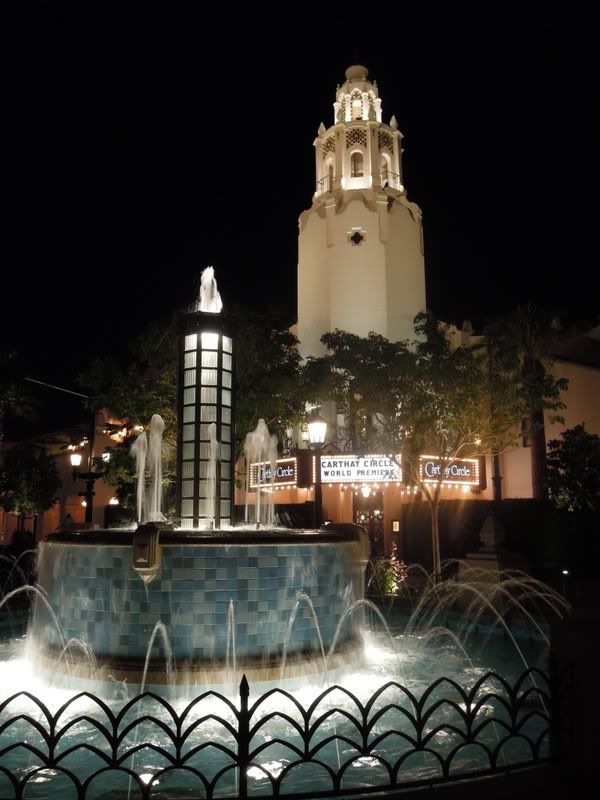 I did not get off to a good start with Cars Land or RSR. I flew out to SoCal a day before DS16 did for some family business and arrived at DLR Friday evening before he did. So what did I do? Like any self-respecting Disney geek I headed for the single rider line at RSR for my first ever ride on the Racers.
Now I came in through DTD and could have saved a few minutes by using the GCH entrance to DCA. But me? No way! I had yet to see Buena Vista Street and I was not about to ruin that by taking a short cut to RSR. So I went the long way around thru the main entrance so I could take in BVS as it was meant to be taken - as the welcoming entrance to the park.
BVS is a huge improvement over what DCA used to have. Huge. But it still felt a little dark and not so great when I came in at around 7PM.
Lots of people rave about Cars Land at night. And RSR at night. Be patient with me as I explain how underwhelmed I was with CL and RSR when I arrived. It just did not feel all that great.
I got in the SR line for RSR and this was a Halloween party night for DL so tons of people were getting pushed out of DL at 7PM and I arrived during that time. I knew that would happen and tried very hard to get to DCA earlier but it just did not happen with my other family business.
So it was what it was. The SR line came all the way out past the entrance to RSR. The CM told everyone the SR line was 90 minutes and standby was 120. In the end the SR line took 60 minutes not 90. And I rode RSR around 8PM. And it was night. And it was just not that cool. Read on to see how many views changed over the weekend.
Just as I was getting off RSR DS16 was arriving in DTD so we hooked up for dinner and margaritas at Tortilla Jo's. Oooops!
I
had the margarita.
He
had the lemonade.
The next morning Saturday was an EMH day for DL (and thus not DCA) so we had first crack at DCA at 8AM rope drop. We stayed at CCI and did not have EMH.
I could have pushed to arrive at 7AM on the CCI shuttle but I did not want to push it and chose to come on the 7:30 shuttle with full knowledge we would be behind quite a few people.
We got to security about 7:40AM and made the decision to go for the RSR FP line. We got in line at 7:45AM for FP and the line stretched all the way almost to Off the Page in the Disney Animation building in Hollywood Land. We got our RSR FPs at 8:18AM and headed to LFT. RSR return time was 11:15AM-12:15PM. I wanted to ride LFT and MJJ at least once that day and since LFT is such a slow loader we did that.
As others have said LFT is just not that exciting. We waited for about 10 minutes. We hit MJJ around dusk with a posted 20 minute wait and actual of 25. DS16 wanted to pass and I told him everyone said it was more fun than it looked. He rolled his eyes. After we got off he admitted MJJ was in fact more fun than it looked.
We hit TSMM after LFT around 8:40AM and it took about 20 minutes (15 minutes posted). And then we proceeded with our day.
We had CCR reservations for WOC lunch and both thought CCR rocked. We loved the atmosphere and our meals. I had the burger and DS16 had the oriental noodles.
After CCR lunch we used our RSR FPs. After the window. But only by about 15 minutes. This was my second ride on RSR. And I liked it way better than the night before. I did not time it but the FP line took about 15 minutes mid-day.
We did manage to catch "Instant Concert - Just Add Water". The main thing you learn from this show is how much difference there is between the fountains at night and during the day.
Instant Concert - Just Add Water at DCA uses the WOC fountains - this will not fool you into being like WOC
And I liked Cars Land better than the night before. So I was starting to warm up to CL.
I got really fatigued in the afternoon and DS16 decided to join me for a break back to the hotel. We slept and then came back to DCA.
We had dinner at Flo's after dark. The food at Flo's is really good for a quick service! While I was getting the order DS16 scored a table around the side and next to the walkway by RSR. As we sat there eating I really soaked up CL and RSR at night and what felt not so great the night before really felt good this night. I connected with CL over dinner there looking up at the Cadillac range. Moral of the story for me was that CL at night is better after you have spent the whole day in the park rather than just going straight in at night.
We got in line to use our WOC FPs at 7:35PM for a 9:00 show. I will have some more details in my WOC Superthread by tomorrow. Suffice to say here the CMs told me the back row was for CCR lunch reserved viewing and I asked if I could go down to my favorite spot in the front circle and they said no problem I could go anywhere I wanted. So moral of the story is tell the CMs where you want to go and they will let you go.
In case any of you out there on the forum have never heard me say this, World of Color so rocks! That show is just my favorite Disney show. Not everyone agrees but when my kids saw WOC in July and DS16 saw it both in July and again with me in October, they all said WOC is just the best. Love that show!
OK, after WOC and one more ride we headed over to see the Mad T Party. The band was playing and they were so fun. I really liked it and Disney has really got it going on with their night time offerings at DCA. Three years ago DCA was dead at night. Now it is alive. We stayed at Mad T Party for 10 minutes to listen to the band. Then DS16 decided he was tired and wanted to head back to the hotel.
I got in line solo for ToT (with a FP) with the secret hope of riding SR on RSR before the park closed at 11PM. I was watching my watch while I made my way thru the ToT line. When the ride ended and they opened the elevator doors it was 10:55. So I hoofed it over to RSR and was second to last in the RSR line that night. The lady behind me bailed after a few minutes so I was dead last. It took me 35 minutes to board the ride. In case you want to know what the SR line looks like when it is totally empty (a rare site these days) here is a photo!
RSR SR line when you are last in line late at night - looking back from boarding area - no one there!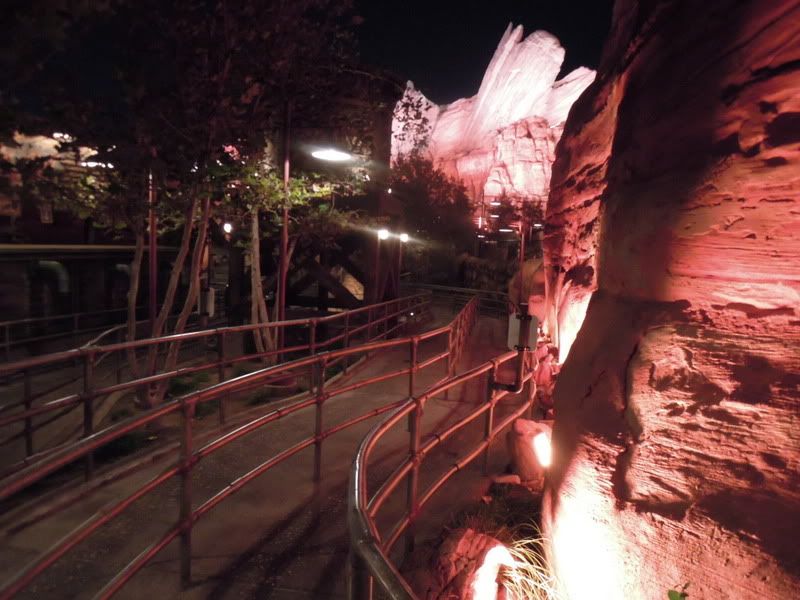 This was my third time riding RSR and it took that many for me to really decide how much I like this ride. It did not make it into my top five at DLR but it is a very solid E-ticket ride.
I have an AP but I bought a non-parkhopper for DS16 on this trip. If we needed to hop I would upgrade but we never did. One day at DCA and one day at DL.
With DCA and DL now usually opening at the same time and having roughly the same closing time, and DCA being a solid full day park (really more than one day to see it all), I am now in the camp that a Parkhopper ticket is optional. I used to say PH tickets were mandatory for anything more than a day trip. Now I don't. If you are at DLR for four days or more I would still go for the PH tickets. For 2 days they are probably optional now. For three days still optional but worth it for some folks.
Disneyland Day
This was one of my weirdest days at DL ever.
First was the chaos at the gates in the aftermath of CHOC Walk that morning.
Sunday morning the 14th was CHOC Walk day which meant no EMH for DL (Sundays are DCA EMH) and a late start at 10AM. We arrived around 9:10AM and wow was it crowded. The lines for the DL gates and DCA gates both mixed in the middle. It was hectic. Here is a photo. The folks facing to the right were in DL lines and to the left were in DCA lines. I have never seen anything like this.
We got in line at gate 18 (with a tree at the turnstile) which meant it fed turnstiles 18 and 19 and went twice as fast as the other lines.
Esplanade outside of DL and DCA on Sunday CHOC Walk morning at 9:10AM with 10AM openings for both parks and EMH at DCA - Organized Chaos and tons of people early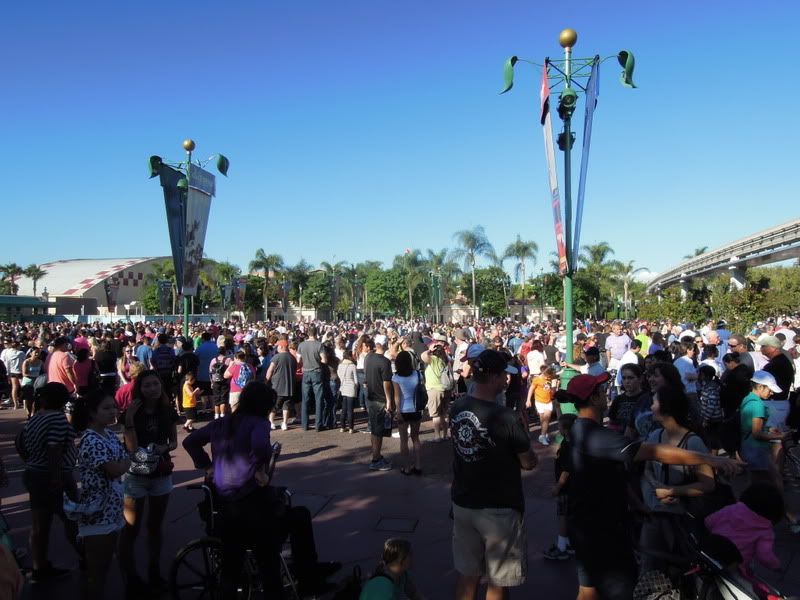 At 9:30AM they let folks through the turnstiles and all the way to the hub. We were near the front at Tomorrowland. Here is what the castle looks like before the park opens:
It was Halloweentime at DL and I have been there once before for this but DS16 never had.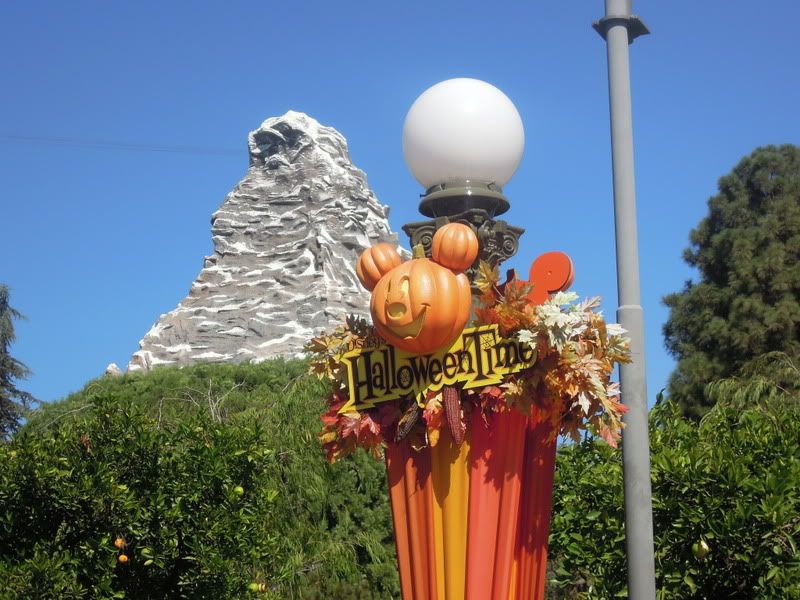 We had a plan to grab Space Mtn FPs then head to Fantasyland. So we walked with purpose and would likely have been maybe 50th in line to get Space FPs. While everyone walked that way and the security folks stood by to make sure the runners slowed down, no one said anything about Space Mtn being down. So a ton of people just backed up at the Space entrance. This was poorly done by Disney. They could easily have had CMs out telling folks to redirect. Instead there was a log jam of guests at Space Mtn. A non-magical start to the day for thousands of people and Disney could and should have handled it better.
We redirected quickly to the ST FP line and headed for Alice in Wonderland ride.
As we walked I wanted to post onto the iPhone app I use for DLR and WDW called "Lines". This is from the TouringPlans folks. I wanted to tell all Lines users that Space Mtn was down. They really let me down this day. The app was not working all day for DL but was for DCA. I emailed them at lunch to tell them and they did not get their app working until late in the evening. I felt like I was flying blind all day because I could not get any wait time data. And it took them like 10 hours to fix it. Shame on them.
The Space Mtn experience and then failure of my Lines app to work was like three strikes in a row and made the day felt weird. And that was before we got to Alice.
There was a one minute line for Alice and half way thru the ride stopped and the lights came on. That is always a bummer but for a ride you have ridden 50 times it is kind of fun. It also allowed DS16 to spot a hidden Mickey on Alice right under the place where the roses are being painted red. See photos below. Note I snapped these photos quickly in between the announcements that no photos or videos were allowed.
Hidden Mickey in Alice in Wonderland Ride (First photo for context and second you can see it kind of blurry - then look back at first photo to see it more clearly under the heart-shaped rock in the center of the photo
)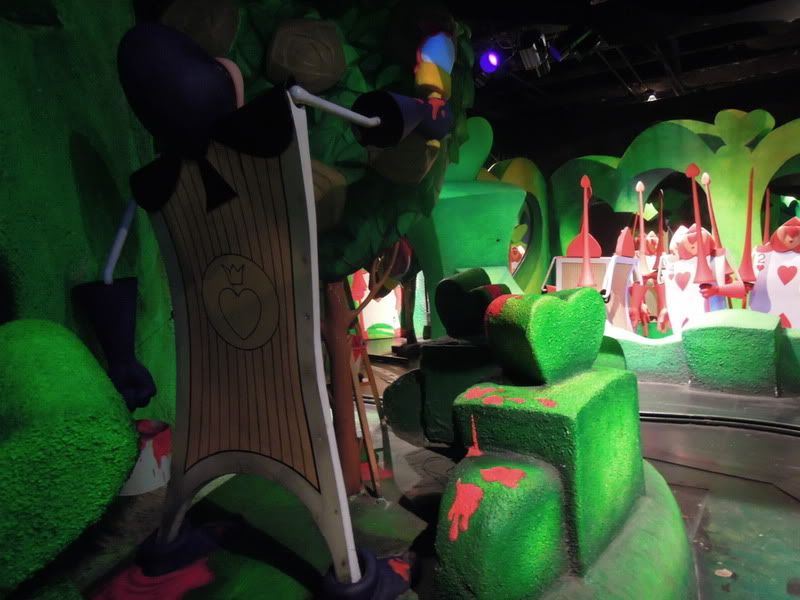 So this was our fourth weird DL experience in a row that day! Apparently some goon tried to move his toddler in or out of the Alice car while it was moving and the CMs had to hit the emergency stop. We got to walk out of the ride and exit by the Matterhorn. Really fun!
We hooked up with a woman I work with in Colorado who happened to be at DL that day with her mother. They were near DLR visiting family and huge Disney fans for many years when they lived in SD and I invited them as part of my party to Club 33. So they joined us after doing the CHOC Walk that day. She goes by LisaChrystine here on the forum. She can vouch that I am real flesh and blood person!
I had ridden Space Mtn Ghost galaxy before but DS16 never had. And neither had my workplace friend. I lowered their expectations based on my previous experience which was so-so. They really expanded SMGG this and made it much better in the last two years! It was really fun! Highly recommended!
In the afternoon DS16 and I scored Tigger Tails and those desserts remain our firm #1 Disney dessert!
We had dinner at Club 33 as a result of the generosity of the friend of a friend. I think I got a sympathy vote after my July hospitalization. But hey, I'll take it. Thank you again to my benefactor!!!
Here are a few photos in Club 33. We got a table in the corner where we could and did walk out onto the balcony. That was so fun!
Club 33 - Photos of us in the elevator (me, DS16, workplace friend, and her mother)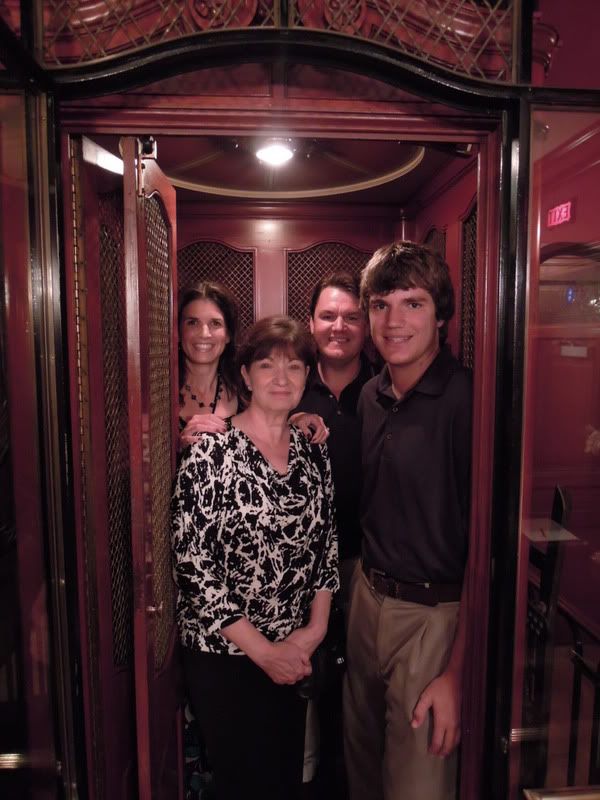 Yes they do serve alcohol inside DL park! In Club 33...
Yes, I know you are all so jealous! Eat your heart out! We sure did. Pricey, elegant and full of magic!
This was one more weird experience for me for this weird day. But weird in a good way. Surreal.
We saw RDCT fireworks and that fireworks show still rocks but does not evoke the emotion that it did for me in 2005 when it debuted. WOC displaced RDCT as my favorite Disney show. But RDCT is still up there for me.
We rode HMH around 9PM (Fantasmic was just starting) and they did not have FP up. It took about 20 minutes. We all agreed the original HM would be much better for Halloween than HMH. HMH only works for Christmas really. And they keep HMH up 1/3 of the year (Sept-Jan). I just don't get it.
OK, the final weirdness of the night. We headed to Space Mtn GG to get in one more ride at 11:45PM. We had two FPs between the three of us (my friend's mother left early due to being really tired - she did CHOC Walk too that morning) and did not do thrill rides anyways.
We were going to try and beg for a leftover FP for our odd man out (well woman). But when we arrived GG was down. It had just gone down. Huge bummer. I am now a big GG fan. But the CMs came out and told everyone they would let us all on if we waited. Apparently a woman had left her purse in one of the ride vehicles and stepped
onto the SM tracks
to get to her vehicle to retrieve it. The CMs hit the emergency stop.
We got some pixie dust our way when someone passed us an extra FP while we crowded at the SMGG entrance. So we all had FPs now. They re-opened the line at maybe 15 minutes after midnight. Which I have never heard of happening before at a Disney park. Go Disney. You did great on this one and made lots of folks happy!
We were in line with a guy who was on a re-ride as he was on the ride when it stopped. He said his vehicle was at the very top of SM. The lights came on and he and his group had to climb all the way out of the car and down a drop onto some scaffolding. He was upset but it sounded really cool to me!
We rode GG and that solidified our feelings that GG is just really cool.
Because of all the SMGG delays we missed the last CCI shuttle of the night by 10 minutes and had to walk back. Which is not
that
far. But is sure feel like it after a long day at the parks.
By the way, this was my second stay at CCI and I give CCI a
. The rooms are nothing special but the whole place is well maintained and quaint and just feels good.