Hi everyone! I have drooled over dining reviews here on the DIS for YEARS! They have helped me decide on new ADRs for our trips and make me nostalgic for our favorites in between! This will be my first attempt at my own Disney Dining Review
! I posted a few live updates on jabead's thread during our trip but I have much more to share!
Who are we?
Let me start by introducing my family of pirates
Me - basketlacey - working mom of 3, avid disney fan and vacation planner for the family. I love to eat and I love to cook. I am not very picky except when it comes to seafood which I only like if its not fishy. Dh would tell you that I want what I want though - in other words, when I get my mind set on something, nothing else makes me happy
DH - business owner aka working dad of the same 3 LOL. Dh is definitely NOT the vacation planner in our family! He loves to go and has a good time whereever we end up but he is just as happy spending a weekend at the lake. DH will eat anything you put in front of him except for raspberries and olives. He is the love of my life
and we have been married for 16 years.
DD13 - 8th grader and Disney travel agent to be! DD13 loves Disney almost as much as her mom. She is a great trip planner although she lives in a world of unrealistic budgets
While we suprised the kids with our trip and I picked the resort, dd redid a lot of the ADRs
She is a great eater and will try quite a bit but she doesn't love most meat.
DS11 - 6th grade sports fanatic. DS loves rides and roller coasters. He gets interested in the planning for about 5 minutes and then he checks out! As long as he gets to ride his favorites, he is happy. DS's favorite meal of the day is breakfast. He is a great meat eater but vegetables are another story
He loves that he gets to order off the adult menu at WDW.
DD8 - 3rd grader and Minnie Mouse fanatic. DD8 LOVES WDW. She loves rides but also likes to get autographs and pictures with the characters. Her brother and sister will humor her as long as the lines aren't too long. For the first time on this trip DD8 rode everything her brother and sister rode! She is a pretty decent eater but not too keen on trying new things. It drives her crazy that she is the only one that has to order off the kids' menu (even though that is what she would like pick anyway!).
Here is a pic of our pirate family from MNSSHP: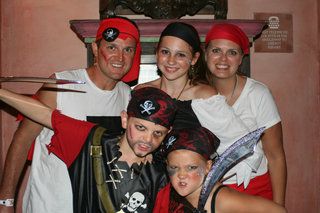 Where did we eat?
We were on the DDP so we ate at a mixture of CS and TS places. As I said earlier, this is my first attempt at a dining review. So we did a good job of getting TS pictures (I think!) but we missed out on pictures of a lot of the CS places. We have some but not nearly all. I will still tell you where we ate and what we had but unfortunately, won't have pics of all of them!
Here is the lineup:
Arrival day:
Dinner: Marketplace at the BC
Day 2:
Breakfast: Kona
Lunch: Liberty Tree Tavern
Dinner: Cosmic Ray's
Day 3:
Breakfast: Main Street Bakery
Lunch: F&W Festival/Sunshine Seasons
Dinner: Les Chefs de France
Dessert: Beaches and Cream
Day 4:
Breakfast: Tusker House
Lunch: Restaurantasaurus
Dinner: Captain's Grill
Day 5:
Breakfast: Sunshine Seasons
Lunch: Via Napoli
Dinner: Pecos Bill's
Day 6:
Breakfast: I have no idea
Hopefully there will be a picture somewhere!
Lunch: 50s Prime Time
Dinner: Marketplace
Day 7:
Breakfast: Cape May
Lunch: SAB Poolside
Dinner: California Grill
So thanks for joining! Here we go.......