I wore my new SparkleTech Minnie Mouse print with a black tank for the Tower of Terror and loved it.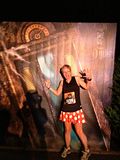 However, I did not wear a fuel belt which will be a must for me in the full. When I wear a fuel belt, I am most comfortable when I tuck my shirt in, so I am thinking of going with black shorts with zippered pockets (my usual) and this shirt caught my eye. I figure this is the perfect mantra for my first full.
"KEEP CALM and RUN ON"
I found this on Gone for a Run (along with lots of other things that are going on my Christmas list
)