Disney Reward Dollars Card
---
When you order a new card, do you put the minimum $10 on it in case it's lost or stolen before it gets to you?

We're going on a cruise soon and I need to order a new card. I started thinking maybe it would be a good idea to just put $10 on it and transfer the rest once I receive it.

Not a big deal, just curious what other people do.

Also, how long does it take to get your card once you've ordered it? It's been a while and I can't remember.
__________________
Sandy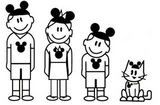 Animal Kingdom Lodge Pop Century All Star Music All Star Movies Caribbean Beach DCL Wonder 2001 DCL Magic 2004, 2008 DCL Dream 2011, 2012, 2014 DCL Fantasy 2015