Welcome!!! I've decided to add a table of contents right here in the beginning to help keep me organized as I move through this (so it won't be much for now, but hopefully it'll get better)
Our Wedding Overview
Dates, Videography, Photography
Videography, Photography, Hair/MakeUp, Reverend, and some extras
The Date (forgot to include that before)
Vendor Choices and Bridesmaid Gifts
Wedding Planner / Dresses
Wedding Dress!!
Save The Dates
So I've been reading the Wedding Boards here for a few months now, and I am soo excited to finally be a part of them!! I'll get to the proposal and the early wedding planning but I'll give you some background info first.
About Us
My name is Christine and I'm 24, my DF is Mike and he's 23. We met in 2008 when I decided to transfer colleges and because of credit transfers had to basically re-do my sophomore year. It was a blessing in disguise though because Mike is actually a year younger then me, so that was where we ended up meeting. Our major was really small, only about 24 people, so we quickly became friends and spent a lot of time together hanging out with our friends and doing projects. We were both seeing other people, but eventually one thing led to another and we were both single. It didn't take us long to start dating after that (all our friends around us thought we should have been dating 6 months earlier haha). We started dating on January 1st, 2010. Since then we've basically been in separable. By now we have both graduated, and are living in New Hampshire starting up our own business together which is really exciting!!
Here's us this past summer at his Aunt's wedding:
The Proposal
Now onto the good stuff!!
I absolutely LOVE everything Disney so I was begging him for the past year to let us plan a trip there. Finally last November he said okay, and I started the planning (little did I know he was doing his own planning). So we went to Disney this past September over Labor Day. I had hinted MANY time how nice a proposal in Disney would be, but he didn't say too much about it so the whole time we were there I kept thinking it might happen but was never quite sure. We went down on a Friday and were leaving the following Saturday, so we got the Wednesday during the week and by this time I was starting to doubt a proposal was going to happen.
Welll, just when I was giving up he told me that day in the Magic Kingdom that he had canceled our dinner plans for that night and he had a surprise me. He said we have to be at the GF by 7:30, but that's all i'm telling you. So now I started to get pretty excited, but was still mainting my expectations because I didn't want to get disappointed if this wasn't it. So at 7:30 we went to the GF and he led me to the Marina. I quickly figured out he had rented a private boat for just the two of us!! We were supposed to go out on the boat at 8:00 but due to lightning we got postponed to 8:30. (I think he was starting to sweat a little at this point, because there could have been a chance it would get canceled). But alas, we were allowed to board, and a nice gentleman came over and brought us some champagne to take with us. So the boat took us out onto the Seven Seas Lagoon and positioned us right in front of the Cinderella's Castle for Wishes. Right before the fireworks started I even saw a SHOOTING STAR!! So then the Wishes music started (it was playing in the boat) and about 5 minutes into the show he got down in front of me on one knee and said some adorable things and finally asked me to marry him while holing out the ring!!! IT WAS AMAZINGGG!! And to top it all off, we pulled into the Polynesian to get let off and my absolute favorite part of my favorite movie was playing...the lantern scene from Tangled!! It was the most perfect night ever!!
I apologize that's this is a little long, but I just love re-counting all the details and re-living the moment!
Here is our boat, and our view of the fireworks minutes after he proposed!! The fireworks are a little blurry, but the boat driver was nice enough to take the picture for us and I still love it: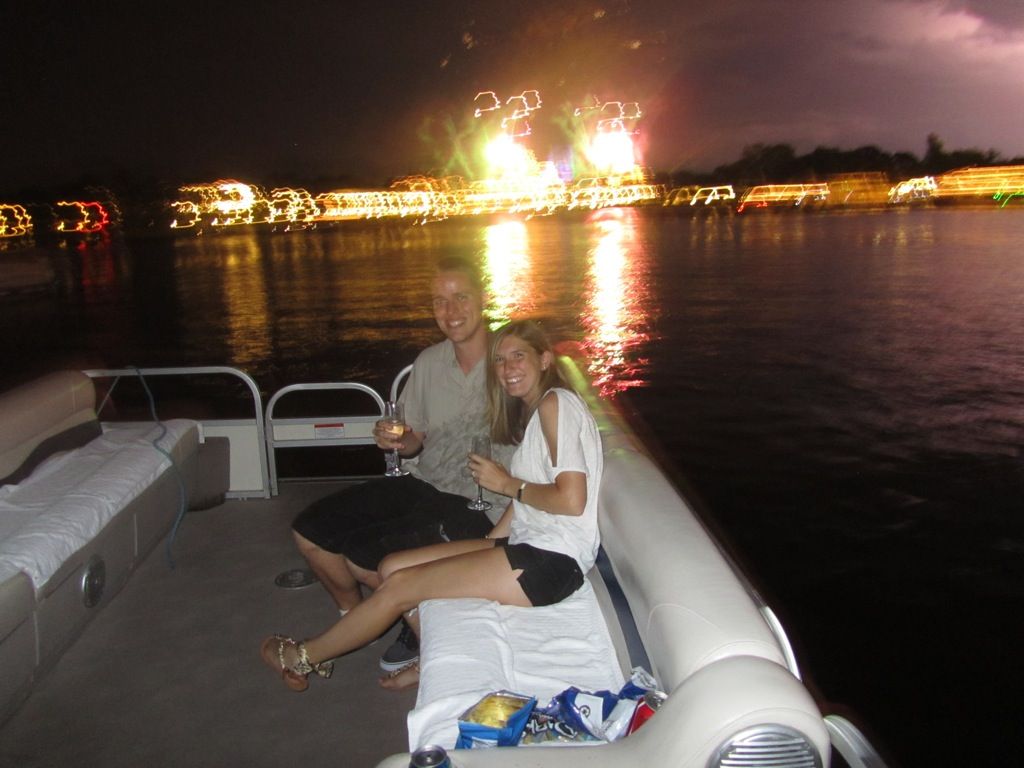 And here is the ring he had made for me!!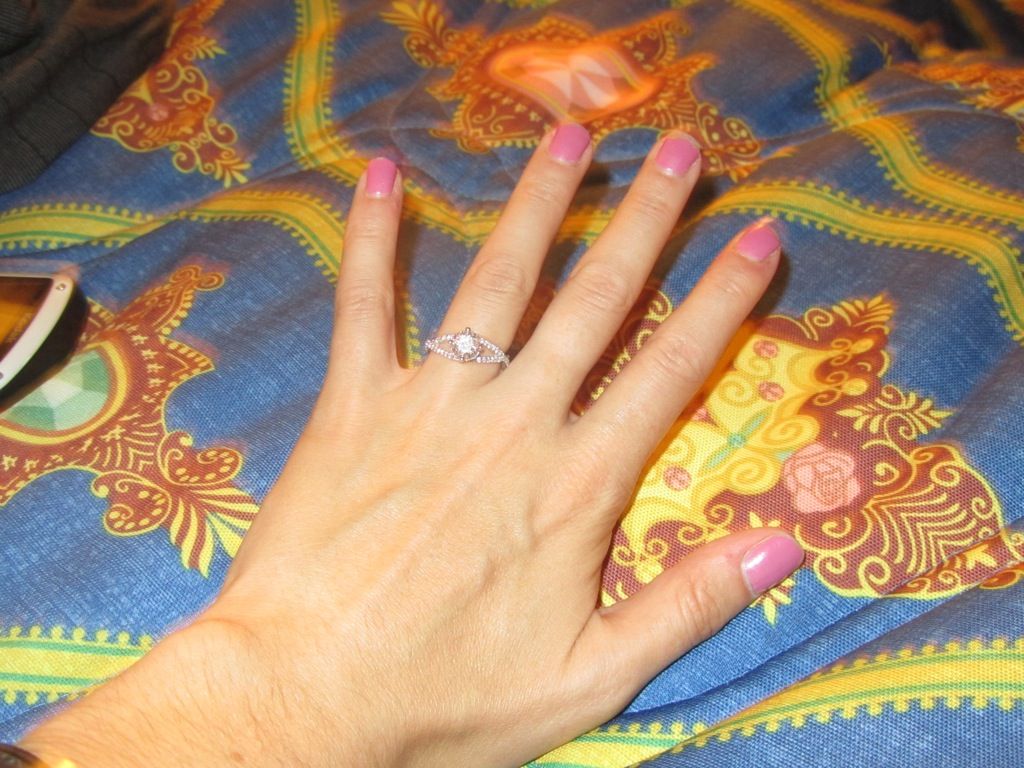 I'll post more details on the wedding itself, but I just wanted to make the introductions and start my PJ because I was just too excited to wait any longer!! Hope you enjoy reading my journey as much as I enjoy writing about it!!