Disney's Ultimate Fan, and our very own Travel Channel television star!!!
Anthony's Girl
Got my way
Join Date: Jul 2001
Location: Indiana
Posts: 9,096
Quote:
Originally Posted by
mummabear
We have booked a room and ticket package through the website (staying onsite for the first time hooray!) the information on the site doesnt seem to have as many benefits as I have heard people talk about like character calls. I know at DL you get tickets to MTTMM and I'm wondering besides the transport and EMH is there anything else included?
Going to WDW is very different than going to DL. When you stay on property at WDW you are much closer to the parks. Remember you are talking about miles and miles of property and distance between the parks, your transportation is so much easier and faster! Location, location, location! That is perk #1. You'll be able to park hop, go back to your resort for breaks, have much more freedom to move around and come and go as you wish without having to leave the World. Mornings at the Magic Kingdom, afternoons at your resort by the pool, dinner at Epcot, late nights at the Studios, you couldn't do that if you were staying off property. Other perks would be Magical Express to and from the airport, extra magic hours, key to the world cards (your room key can have your park ticket, dining plan, etc, all built into one card that can also have room charging if you wish), bus/boat/monorail transportation at your doorstep, Disney themed resorts that make you feel like you're staying in the middle of the magic, amazing dining options, in room Disney TV channels with park info. Even at night laying in bed you feel like you're still "at Disney".
We tried off property a couple of times, I'd never do it again. Driving and parking back and forth, that's not my idea of a vacation.
__________________
Erika Murphy - DISney Obsessed Mom of 2 Mouseketeers
Annual Passholder & D23 Member
Seen on The Travel Channel as the ULTIMATE Disney Fan!
Follow me: www.twitter.com/Erika_Murphyalso on: www.pinterest.com/erikamurphy12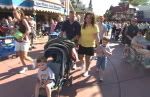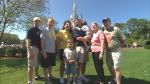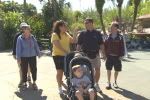 Grand Floridian 2012, 2003, 2001, 1994 * Polynesian 2013, 2011, 2008, 2008, 2005, 2003 * Contemporary 2014, 2008 * Bay Lake Tower 2013 * Boardwalk Inn 2013, 2006, 1998 * Boardwalk Villas 2006, 2004 * Wilderness Cabin 1998 * Dixie Landings 1999 * All Star Music 2001 * Caribbean Beach Resort 2012, 2002 * Animal Kingdom Villas 2012, 2011, 2008 * Animal Kingdom Lodge 2006, 2005 * Old Key West 2009, 2008, 2004, 2003, 2002 * Yacht Club 2013, 2012, 2010, 2002 * Beach Club 2012, 2011, 2008 * Beach Club Villas 2014, 2003 * Swan 2006, 2005, 2003 * Pop Century 2014, 2013, 2012, 2009, 2008, 2007, 2006, 2005, 2004 * Wilderness Lodge 2004 * Port Orleans French Quarter 2014, 2013, 2004 * Villas at Wilderness Lodge 2011, 2004 * Saratoga Springs 2007
March 2014 - Atrium Club at CR for my B-day!!