Hello everyone and welcome! To those of you whom I have already had the pleasure of 'meeting', it's so great to have you here again to relive my Disney memories with me. And for my new readers, it's great to see you here as well and I look forward to getting to know you!
Here are some quick introductions for you newbies...
First there is me, Michelle, I'm 43 (gasp! I seriously can't believe I'm 43, in fact I typed 42 before I realized that was wrong and had to fix it
) and I am a lover of all things Disney. I was bitten by the bug on my first Walt Disney World trip in 2000. Since then I have visited 8 more times, cruised on the Disney Cruise Line and gone out west to visit Walt's original park. I seriously can't get enough! About a year ago I took that love and turned it into a career and became a travel agent specializing in Disney destinations, I enjoy helping other people plan their vacation almost as much as I enjoy planning my own........ almost.
I am married to a man who, sadly, has never fallen in love with Disney. I like to refer to him as the Disney Grump, but his real name is Don. The Grump has had his fill of trips to Walt Disney World, and has said that he will not go again until we have grandchildren to take. Seeing as how I don't want to be a grandma anytime soon, I have taken to leaving him at home and going to Disney without him (hence the title of this TR). In all other ways he is a wonderful man and a great father, so I have decided to overlook this one character flaw
We have two children, both boys. Our oldest, Justin, is 16 and a junior in high school. He is a good student and a very good athlete, playing both basketball and baseball. He was unable to go along on this trip because it is just too hard for him to miss school these days, plus he was not about to tell his basketball coach that he would miss a week of practice to go to Disney World.
Our youngest son did accompany me, however. His name is Jared and he just recently turned 12. Jared is my Disney addict companion, he had no problem telling his football and baseball coaches that he was going to be gone! Jared is also a good student and also plays sports. He keeps us hopping with football, baseball and basketball.
Here is a recent picture of us from a cruise we took this summer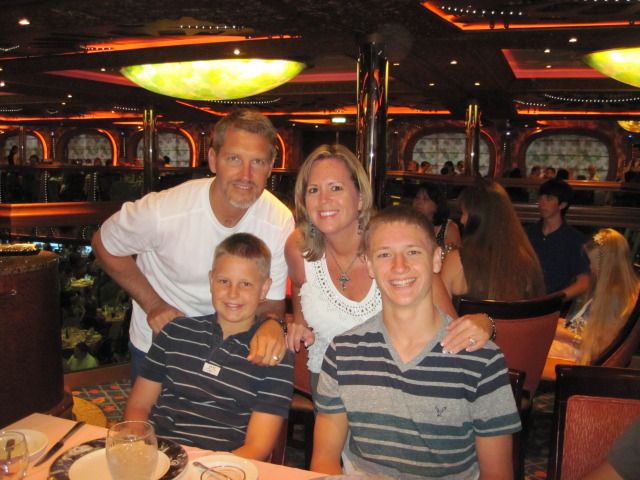 Also going on this trip was my mom, Linda. I took her to WDW for the first time in 2010 for the Flower and Garden Festival and she was more than ready to go back when I asked her if she wanted to come along with Jared and I this trip. My mom is 64, but you'd never know it by the way she looks or acts. I hope I look half this good at her age!
Here's mom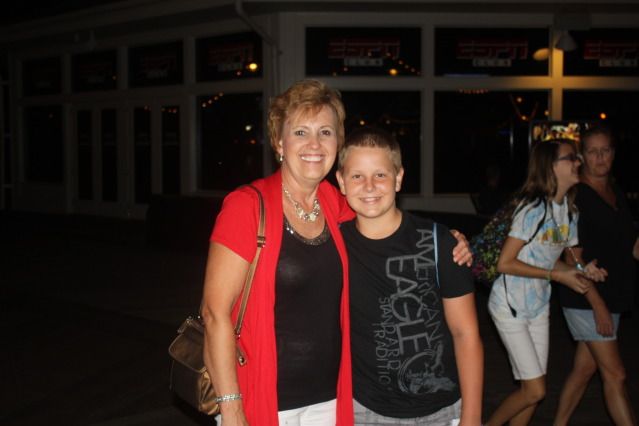 For those of you who did not read my PTR here is a quick recap of the particulars:
September 1st - 9th stayed at the Beach Club Resort, my first time there and I won't leave you in suspense - we LOVED it!
Stay tuned, the start of Day 1 will be coming up soon!
Links to my updates:
Day 1, Too Excited to Sleep!
Day 1, Animal Kingdom here we come