I have been waiting until my son was totally comfortable with swimming and that he was the right age to appreciate DC. Finally we were going!!
On arrival and with much excitement we walk in to the check in area. Greeted by super nice staff. I knew this day was going to rock! Our pictures were taken and we were given our id cards. These have our picture on the front with our dolphin swim time. We checked in at 7:45am our dophin swin was 1:00. I was kinda bummed about a later swim time but it worked out perfectly. I think I was a little too over excited to see the dolphins.
We set out to our breakfast and we were stopped to take a family picture that was included in the price of admission. Then off to breakfast. We had a wide variety to choose from but we went with the basics. Eggs, bacon, and pastries. We ate outside under an unbrella next to another table that was taken by a bird! He was snacking of someone's tray of leftovers.
After breakfast we went and got fitted for vests and wet suits. My hubby and I went with the vest and put our son in a wet suit. My son did end up in a vest in the afternoon. It was rubbing his neck and around his arms. The vest did just fine for him. We were taken to our cabana and told about the fridge, locker, and cabana person. We had a fully stocked fridge with many different drinks. We also had a basked of chips, granola bars, and trail mix. Our cabana guy came by and asked if we wanted any alcohol beverages but we declined. We had fresh towels and a beautiful flower sitting on the table. I loved it! I didn't want to spend the extra money on the cabana but I decided you only live once and why not. I have no regrets!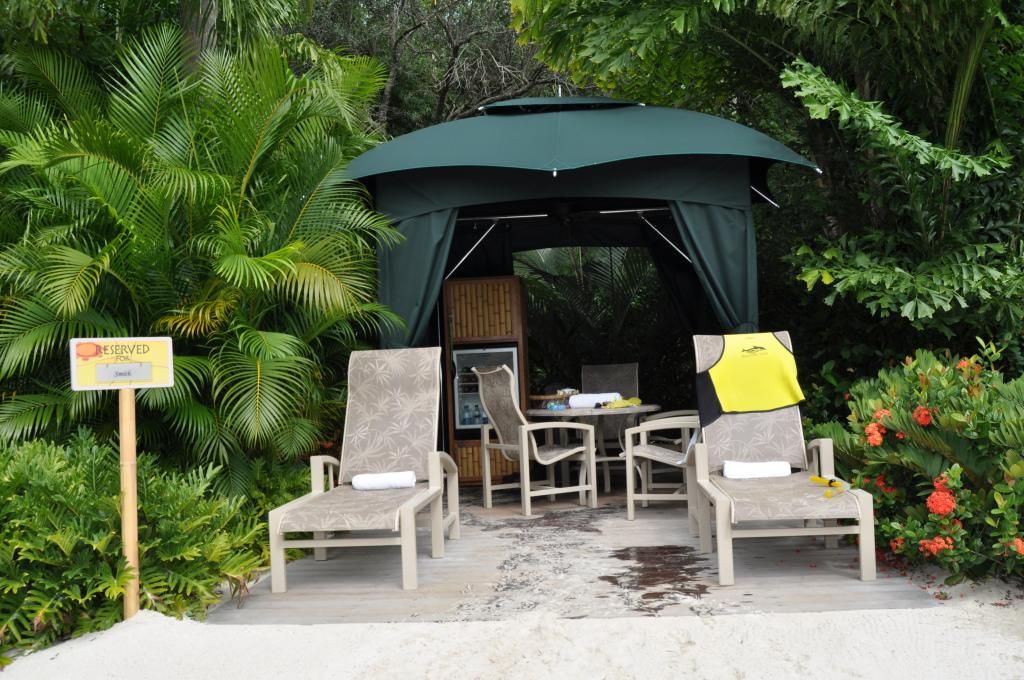 We headed into the Grand Reef which was right in front of our cabana. The sand was freshly raked and clean. The water was COLD! 75 Drgrees. Burrr. We got used to it fast and began our snorkling. My son was a little scared at first but that second flew by. The fish and sting rays are everywhere. It was not crowded at all first thing. By lunch time it was full but not where you couldn't enjoy yourself.
After swimming for awhile I remembered the aviary. I knew people said to get there early because the birds get full quick. So we walked over to them. It was great. We had birds landing on our hands and head. We saw a few birds eating small baby mice, yuck but I know they gotta eat too. We went through the whole aviary and headed out into the lazy river. Oh how I loved it. The water was perfect and it was a slow current with lots of things to see. We went into the Fresh Water Oasis and saw the monkeys and otters playing around.
Now it was time for lunch. We went back to where we ate breakfast which is right in the middle of the park at the entrance. My husband and I both has burgers and my son had chicken fingers. They also offered fish, spaghetti, and a few other dishes. THe snack bar provided frozen lemoade, soft pretzels, chips, trail mix, beer and frozen alcohol drinks. We took advantage of the snack bar often.
After letting our lunch settle it was time for our dolphin swim. We met in a big cabana for a short video and safety procedures. Then we were off into the cold water again. Our group lined up and our first dolphin came to us. Dexter was a playful 8 year old male. He was so funny and ready to play. We heard him make lots of silly noises and he showed us his tail, fin, mouth and tummy. Then came Dash. She is a bigger girl and was 15 years old. She was really shy. She was not wanting to get as close as Dexter. We were told she was helping mother another dolphin. She kept swimming out to make sure she was ok. Dash gave us our rides and she did very well with it. She was very gentle.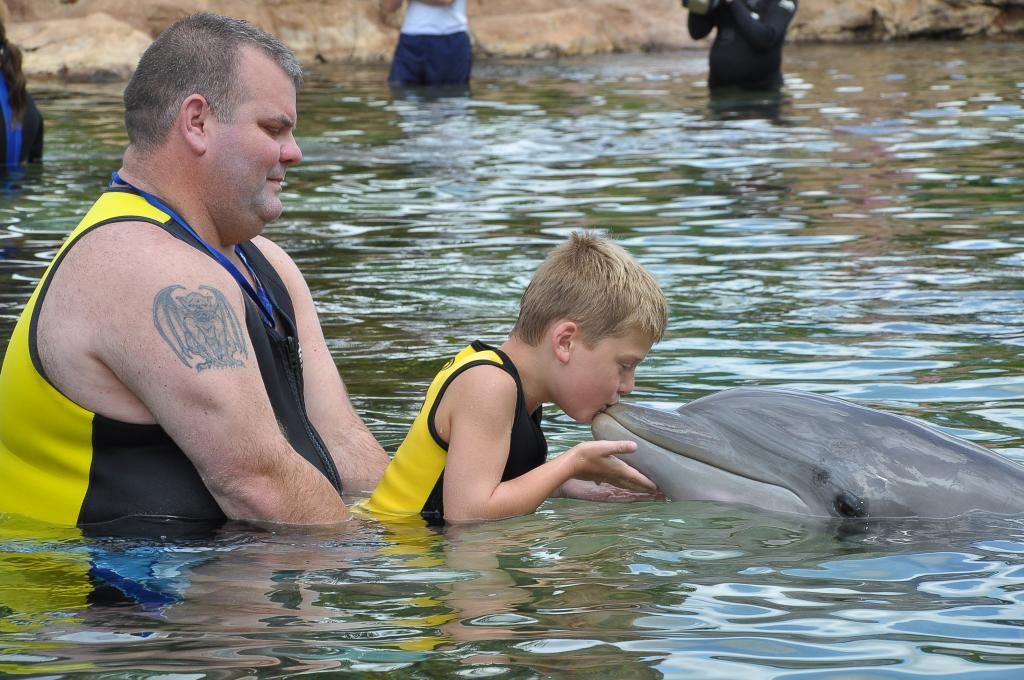 I had planned for my son to get a bouy from a dolphin. THey saved this until the end. They said they needed a helper to show off this trick they were teaching Thelma (the dolphin that brought the bouy) THey picked my son (he was the only child in our group). He was so excited. Thelma who is 21 years old and 600 lbs happly brought it to him. SHe was so big. We took pictures with her then she did a big jump for us. I'm so glad I spent the extra money for this. He loved it.
The trainers were awesome. They were very knowledgable and super friendly.
After our dolphin swim I went to purchase the pictures and we headed back to the Grand Reef. We also made it back over to the fresh water oasis.
All in all it was a perfect day and we were wore out. We left around 4:30. It is a day I will never forget.
Any Questions??? Please ask away...