Caesars Palace opened its Palatium Buffet in the early 1980s, in the space now occupied by the Mesa Grill restaurant near the property's sports book. When this small and dimly-lit space closed in 2003 to make way for Mesa Grill, the Caf้ Lago coffee shop added a buffet line; and this part coffee shop, part buffet restaurant was marketed as the "Caf้ Lago Buffet". This restaurant closed in January 2012 and the space is now used for the all-new Bacchanal Buffet.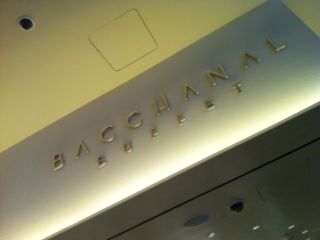 signage as you walk in
The Bacchanal name is not new to Caesars. When the property opened in 1962, it had just two restaurants – a coffee shop called the Noshorium Coffee Shop; and the Bacchanal Room. The Bacchanal featured toga-clad wine goddesses, faux-Roman d้cor and a fixed-price menu – the first in Las Vegas. This pre-celebrity chef era restaurant was in a class by itself and it closed in 2000; and its name has been repurposed for the all–new buffet.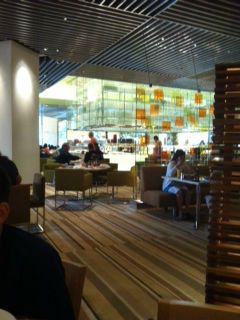 seating area just over DS12's shoulder - some areas were decorated with glass and others with wood.
The old Caf้ Lago space was completely torn out and replace with glass, wood and more glass. Some natural light flows in from the pool area (LOVE this!
); and some tables have a view of the pool. Look for glassware as a design element. There is seating for 600.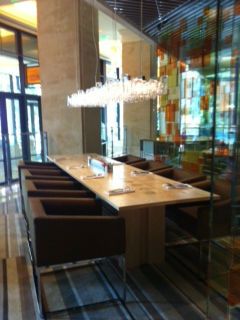 semi-private table for 8 with chandelier made of glassware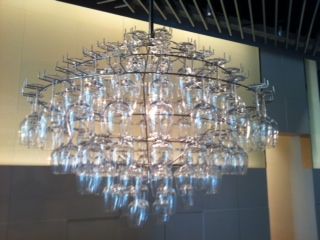 chandelier made of wine glasses
up close look at chandelier made of wine glasses
Expect to wait over an hour at peak times; and a half-hour or less in off-times. We went a little after 2 pm on a Friday afternoon; and waited about 40 minutes in stanchions that were half filled. At peak times, these stanchions would be full of people waiting in line.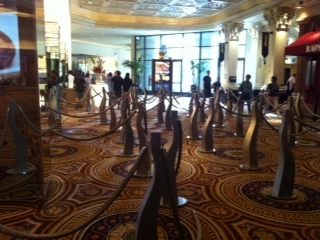 This pic was taken about 4:30 on a Friday as we left.
While we were waiting, DS12 and I left DH in line and checked out the Payard chocolate shop and walked along the hallway behind the buffet that leads to the pool. This will burn up a few minutes of time, if someone in your group can stay in line. There are restrooms immediately opposite the waiting area for the buffet.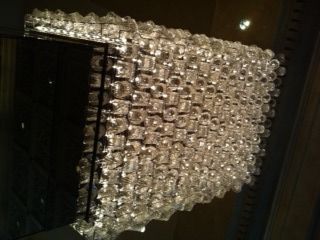 Column wrap adjacent to the buffet entrance - check out the glasses! There are four of these columns and the restrooms are just beyond these columns.
Prices were pretty high compared to locals casino (Stations; Boyd; etc) - breakfast is 20.99; lunch is 26.99 and dinner is 39.99. Brunch on weekends is 39.99. There is a $2 discount if you show your Total Rewards card. We showed one card and received a $2 discount per person for three people. The Bacchanal Buffet is part of the "Buffet of Buffets" that the Caesars properties have; but there is a $15 up charge (just like the seafood buffet at the Rio) After we paid; there was a little bit of a line for the hostess to catch up with incoming guests, before we were seated.
This is the first station you pass as you enter - the seafood station. The glassware in these cases is on display.
The hostess who seated us described the different areas of the buffet and was very friendly. Service was a little disjointed. We were seated a few minutes before 3 pm; and a server took a beverage order and then vanished. About 3:20, another server refilled our drinks and then about 3:45, that server said he was handing off our table to a third server. This lady was very friendly and said a lot of the wait staff in the buffet had transferred from the Bradley Ogden restaurant (which recently closed and the space is being used for something called the Old Homestead steakhouse); and Nero's Steakhouse (which will become the Gordon Ramsey Pub & Grill). She also mentioned that they could transfer to these new restaurants when they opened. Great opportunities for their employees (they have a job and can try and get back into fine or casual dining), but the result is inconsistent service for the buffet guests.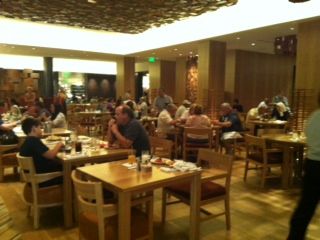 This area was decorated with wood and earth tones.
Something crazy happened right as server #1 was taking our drink order. There was a woman sitting alone at the table to our right; and another server asked her to show her receipt. This woman actually said, you mean I was supposed to pay first? Can I just pay you? HELLO?? Unless you snuck in the exit and you're acting like you're the dumbest tourist on the planet, what did you think all those people were doing in line as you walked right past them when you walked in? Please don't try this; she was incredibly lucky they didn't call security. All they had to do was look at a few minutes of video to figure out how she got in.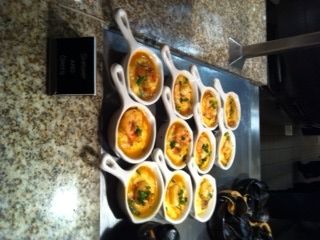 shrimp and grits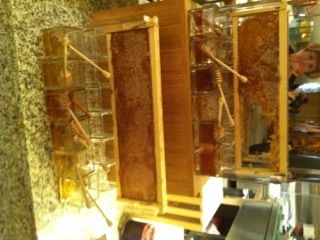 honey selections
There are nine areas inside the buffet: Mexican, Italian, Chinese, Japanese, American, seafood, pizza, deli and dessert. Nearly all of these are on the left side as you enter the restaurant. The Chinese food is the farthest away from the entrance; and the dessert area is in the middle of the seating area.
dessert station
After you are seated, you can proceed to the buffet immediately; but I would suggest waiting for your server to take a beverage order; and then making your way to the buffet. My recommendation is to walk around a look at all of the choices first. Don't pick up a plate, don't take any of the small plates; just look around; and then get a plate & start to serve yourself.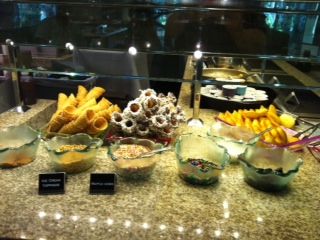 ice cream cones and toppings
As you walk to the back, the seating area just behind the Mexican food has a black wall that makes you feel like you are at the very back of the restaurant. You're not. Turn left at the corner by the Mexican food and you will see the Italian food and pizza; then the deli area, Japanese and then Chinese.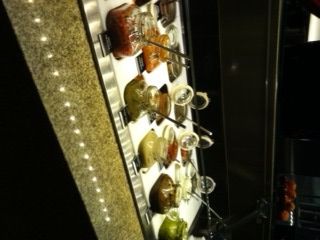 salsa selections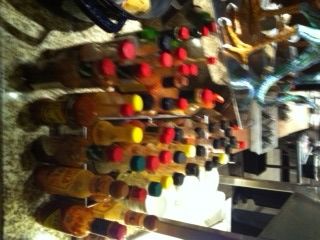 hot sauce selections
A lot of the food is served in small plates or baskets. Some of the Italian dishes were in small cast iron pots; DH tried the lasagna and it was in a cast iron dish. Other dishes you do serve yourself; and some items you ask for, including carving, the tortilla station at the Mexican food; and the sushi people. I would suggest taking a plate and serving what you want on the plate; and then carry the plate in one hand which will free up the other for taking a small plate, or one of these: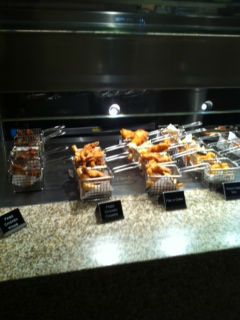 fryer baskets
What I tried:
cheese – gouda, crumbled cheddar, asiago; onion roll; lobster & corn chowder; crab croquettes; brisket & sausage links from carving station, macaroni & cheese; rigatoni & meatballs; tamale.
Best – lobster and corn chowder, meatballs, cheese
Average – brisket (dry IMO); tamale (needed more protein)
Pretty good – rigatoni, crab croquettes, sausage links; macaroni & cheese
For dessert, I tried the sugar-free cream brulee; and one of the chocolate treats on a stick, a red velvet cupcake and a chocolate covered strawberry. The meringue cookies were also tasty.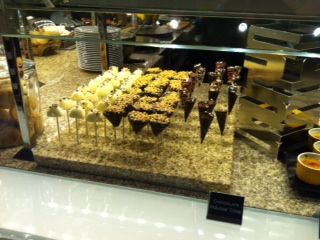 desserts on sticks! I tried the cone-shaped one on the right.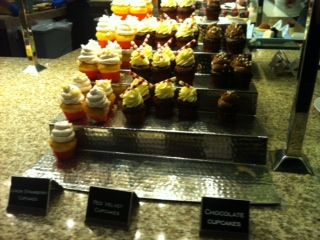 cupcakes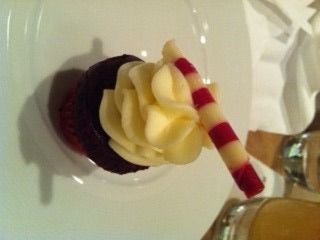 closer view - red velvet cupcake
sugar free desserts
What I wanted to try but didn't get to: sushi, steamed seafood (they will steam the cold seafood if you like); a crepe; fresh tortilla chips; egg rolls; noodle station; pizza. Next time!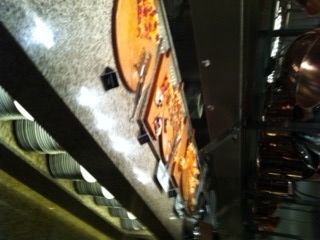 pizza selections
While DS12 and I were walking around as we waited to get in, I had noticed small carafes of what looked like juices in the seafood line, but I didn't see them when we were finally in. The third server said they were part of lunch service; and they are picked up at 3 pm; but she offered to get what was available from the kitchen. We were able to sample watermelon juice; and cucumber juice. Believe they also had strawberry, mango and others.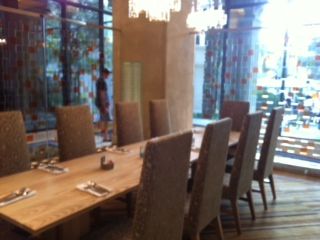 semi-private table for 10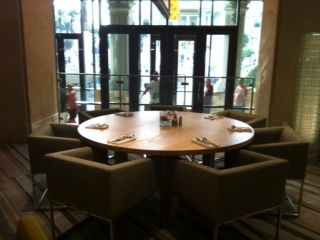 seating for large parties
Overall it was a great dining experience. It was a lot like the Wicked Spoon Buffet at the Cosmopolitan, who really raised the bar for buffets when they opened nearly 2 years ago.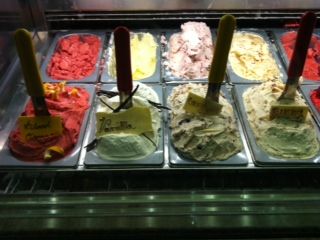 Gelato - there were 8 choices, including "Aztec chocolate" with chili powder.
Any questions, just ask!