Monday 20th August – Orlando at last!
Hurrah! Today we are off to Orlando! Although I absolutely loved the first part of the trip, today I feel like we are 'going home' (and not in that horrible, sinking way when you really are going home but in a 'Woohoo, let's get this party started' kind of way).
When I looked out of the window, it had finally stopped raining and the sky had that beautiful, fresh blue look which comes only after a heavy storm. It was shaping up to be a b-e-a-yoo-tiful day. As we didn't have to check out until 11am and were in no real hurry to get to Orlando, we decided to take a full circuit tour on the trolley.
First, though, breakfast! We headed straight for the Bunnery Bakery and Café again, where we each had a drink and a breakfast item. I was craving bacon and eggs but, knowing what we had in store for lunch, I restrained myself and settled for a delicious cinnamon roll instead. Daniel chose the same, accompanied by his staple breakfast drink of chocolate milk, and Gary opted for a pecan sticky bun. He loves pecans so will normally take any opportunity to indulge while we are in Florida.
A trio of tastiness
All was delicious and reasonable at $15 including tip (to note this is not a table-service eatery but the staff were so friendly, we just put the change in a jar at the counter, specifically for tips).
We left the bakery and wandered to the nearest trolley stop, where we waited a short time for the next trolley.
Beautiful St George Street
It was already incredibly hot and Daniel was goofing around, having spent too much time cooped up the previous day, obviously. I was keen for him to let off any excess steam before we had to spend the next 3 hours in the car with him.
Hyperactive, moi?
Our trolley driver was called Bradley and he was an absolute nutter, keeping us in stitches with his witty repartee as we took the tour. At Stop 1 (the beginning of the tour), the drivers switch over and we gave Bradley a tip for keeping us so well entertained. Our new driver was equally friendly, if not quite as funny. Since we were the only ones on the trolley, though, she spent a fair bit of time chatting with us and made some recommendations for places to visit – we didn't have the heart to tell her we were leaving in a couple of hours.
Beautiful St Augustine architecture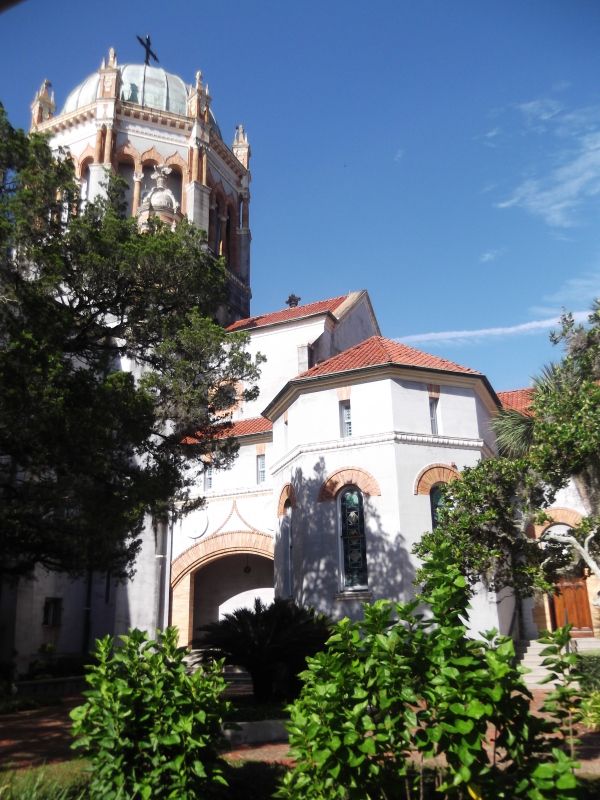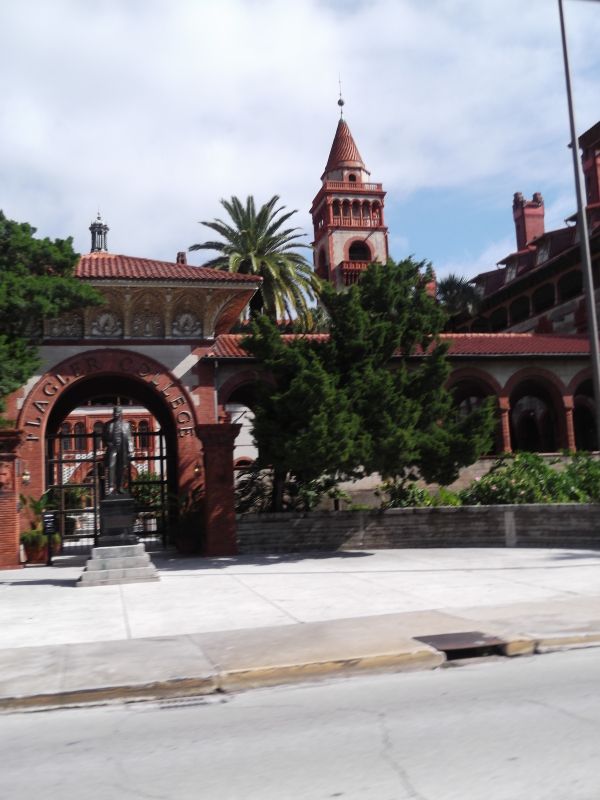 The most beautiful street in St Augustine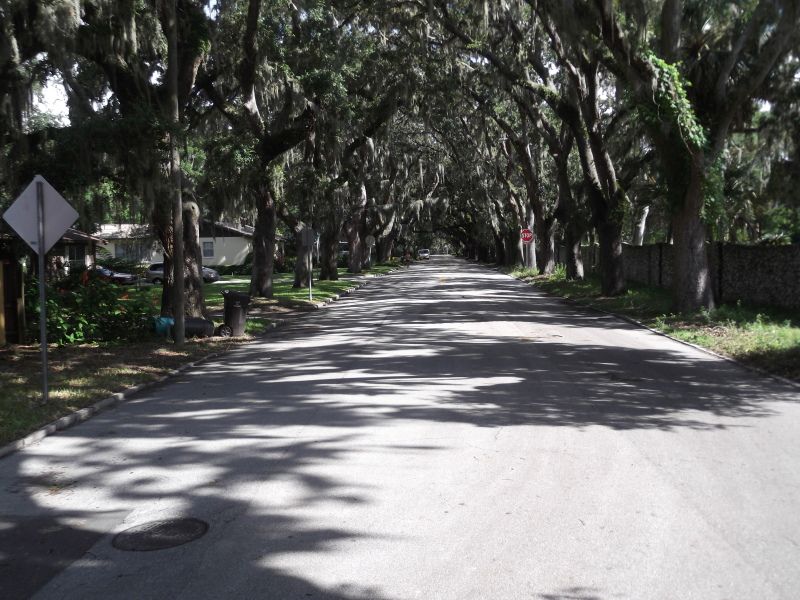 We departed the trolley at the Authentic Old Drugstore
Wow, this building's older than my Dad
I tried to persuade Gary to kiss me under the love tree - legend has it that, if you kiss your true love under this tree, you will b etogether forever. As the trolley driver put it "Forever is a long time so be careful who you kiss under this tree". Clearly, Gary was concerned about just how long he might be stuck with me as he refused
We had a last wander down St George Street. I bought a cute little teddy from Whetstones (the chocolatier) – when you press its hand, he says 'I loooove chocolate'. Daniel decided he just
had
to have some ice-cream and, since it was so hot, we conceded. He chose Birthday Cake flavour, which was quite nice but a little sweet for my tastes.
Non-Birthday Birthday Cake Ice-Cream
Back at the Hilton, we collected all our bags and went down to the valet desk to get the car brought up. One thing I hadn't mentioned previously is that there is no self-parking at the Hilton and a charge of $21 per day is added to your room account, for valet services, if you have a car. Since there are no other real parking facilities nearby, there is little other option if you have a car. We had known about this in advance and, to be honest, it didn't bother me. Other hotels (such as the Universal onsite hotels) charge similar amounts for self parking and, personally, if I have to pay, I would much rather have the convenience of valet. All in all, we really enjoyed the hotel. It is in a very convenient location, right in the centre of the historic district and within easy walking distance of most of the major attractions.
Once the car was loaded up, we set off. It was just before 11 and we had decided to take the straightforward route down the I-95, rather than the more scenic coastal (A1A) drive. I did manage to get a picture of the Daytona Beach sign at the side of the road though - for some reason, I have been obsessed with trying to get a picture of this since our first visit to St Augustine 3 years before.
Daytona Beach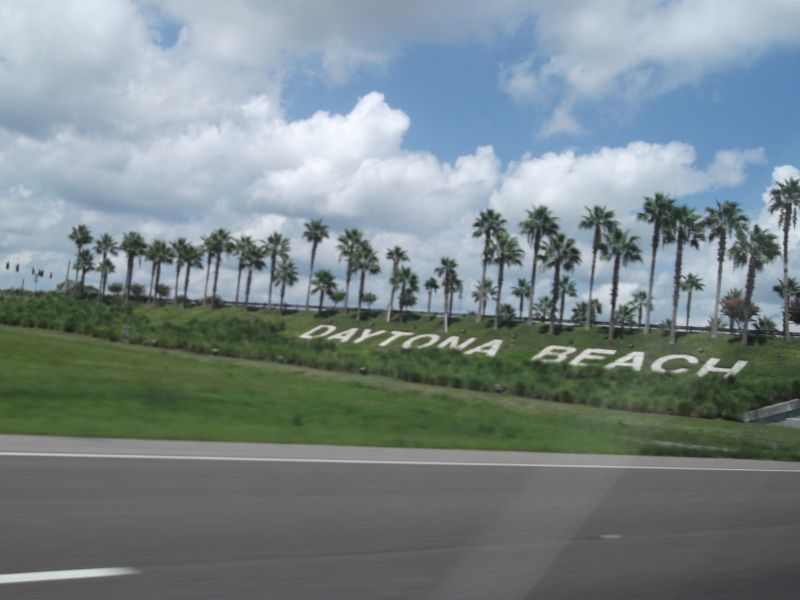 Thanks to a recommendation from our friend, Debbie (UKDEB), we had already decided to stop for lunch at 4Rivers Smokehouse. When we got there, we discovered they had moved (I had noted the address long before we left home and hadn't thought to double check). It was easy to find, though, just a couple of blocks away on the other side of the street in much bigger premises.
The sign of a good eating place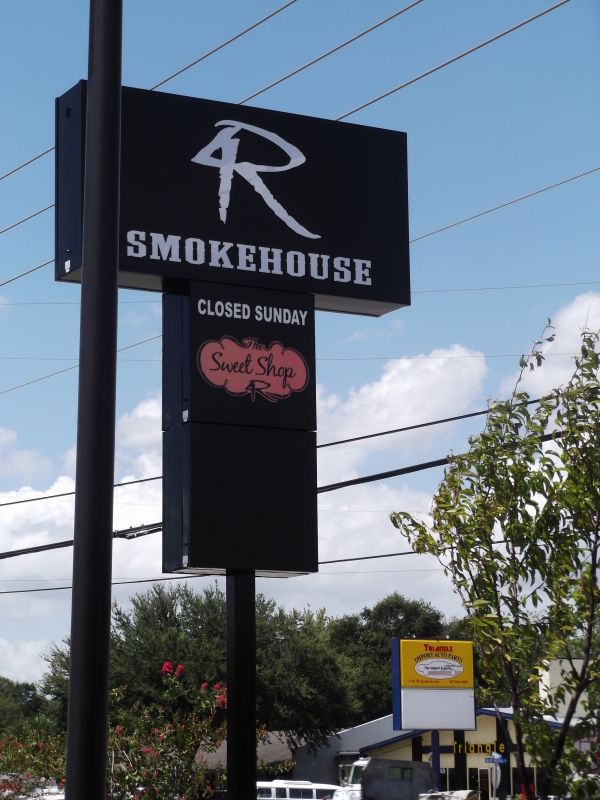 It was a little confusing, at first, to work out where we needed to be as there are a couple of seating areas (one inside, one outside) and the area where you order and collect your food is in a completely different room. There was quite a long line, stretching right through the order/collection area and out the door. This place is obviously very popular.
Another sign of a good eating place
The line moved quickly, though, and we didn't have too long outside in the heat, which was a good thing since the temperature gauge showed just how hot it really was today…
It's getting hot out there
We were served quite quickly, although we did change our mind about what to have several times before we got to the front of the line. In the end, we settled for the pulled pork sandwich with beans and fries and the burnt ends sandwich with cornbread and fries. We also got a massive slice of 'birthday' cake, which looked so amazing, I couldn't possibly resist.
Piggy in a bun
More piggy in a bun
We shared the food between the three of us and, to be honest, it was plenty. If we went again, the only thing I would do is probably get a platter rather than sandwich as you seemed to get a lot more meat. The burnt ends were delicious – crispy and blackened and juicy and so tasty.
As for the cake, it was incredible. Luckily for me and Daniel, Gary is not a big fan of cake so, after one mouthful, he'd had enough. The cake itself was light and fluffy and the frosting was thick, creamy and so sweet. I am drooling now, just thinking about it.
Non-Birthday Birthday Cake
Back in the car, we drove the short distance to Universal, arriving at the Royal Pacific Resort just before 3 o'clock. Gary and Daniel waited outside with the car while I went to check in. I asked about a paid upgrade to club level but they only had king rooms available – and at a cost of $100 per night, which was definitely not worth it for us. Check-in was quick and easy and, within a few minutes, I had our keys and was helping Gary unload the cases from the car. We brought all the luggage in to the lobby, where Daniel and I (and Dogster) waited while Gary went to park up.
Daniel and Dogster waiting patiently
We were allocated room 2612, a 6th floor room in Tower 2. At first, I was disappointed about being in Tower 2 as I'd read that it was furthest away from all the facilities and I also knew it was the pet-friendly tower. However, when we got to our room, I soon perked up. We had a great view!
To the left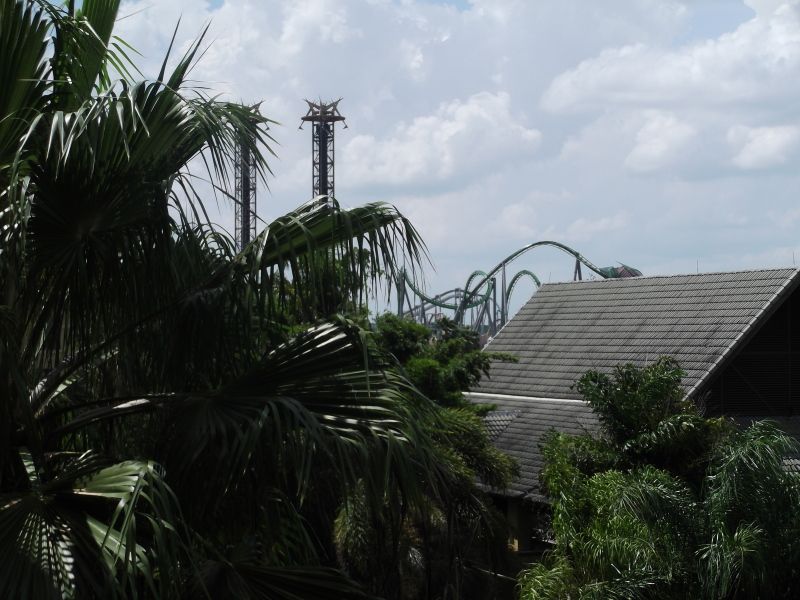 Straight ahead (with zoom)
From our room, we had great views of both Universal and Islands of Adventure. I couldn't have been happier. And, in actual fact, it really didn't feel like we were much further away than when we'd stayed in Tower 1. Admittedly, it was a longer walk to the boat dock and the pool area but not so much that it bothered us. Since we had arranged a mini DIS meet at 6, we decided to just chill out in the room and unpack.
After unpacking, we showered and changed and, just before 6, we headed down to Jake's Bar, where we were meeting Zoe (zippy99) and Sharon (stephensmum) and their respective families. Zoe and her DS, Tommy, were there when we arrived and we spotted each other straight away. We got a couple of drinks and settled down at the bar, while Daniel and Tommy headed off to the arcade.
Pacific Paradise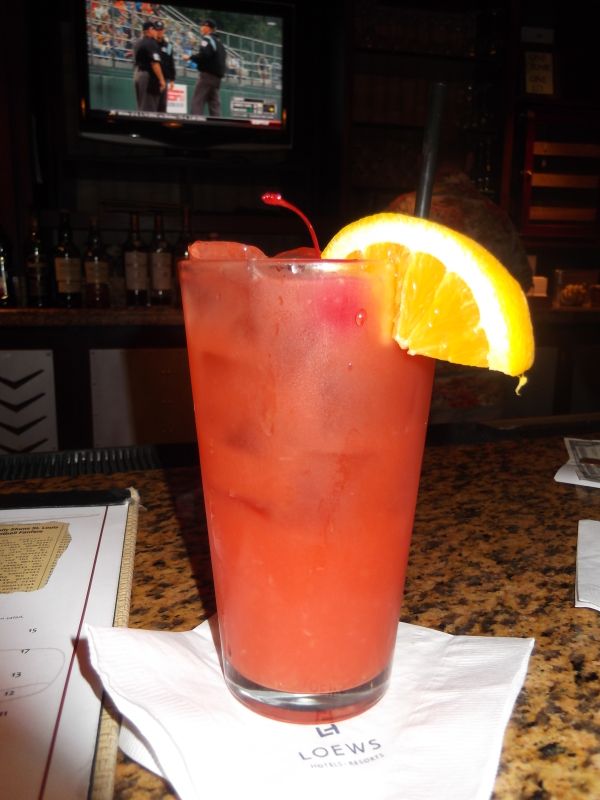 After some initial problems trying to buy game cards, the boys were soon happily ensconced and we didn't see them for much of the evening. Soon, we were joined by Sharon, her husband Norman and son, Stephen (obviously).
DISers
We were soon chatting away about our trips, the hotel and various other subjects. At one point, Daniel and Tommy returned clutching several small bouncy balls which they had won in the arcade. We took a few pictures (keeping some poor, unsuspecting Brit from his meal while we requested lots of various poses with different cameras), then Zoe and Tommy headed off up to their room as none of them had eaten.
More DISers
Some kind of cocktail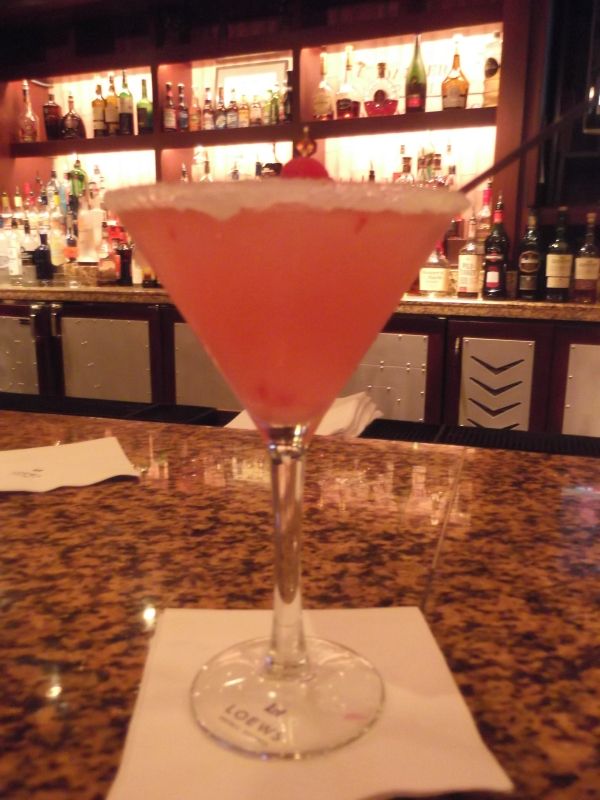 The rest of the evening is a bit of a blur, I'm afraid (I blame the generous pouring hand of the bartender) but I do know that the rest of us were still in the bar until almost 11. After a quick trip to the arcade with Stephen, Daniel had gone back to the room earlier and, after we settled our tab ($135 inc tip
), we made our way back to the room too, where we found Daniel in bed, watching TV and eating crisps. Not long afterwards, we were all sound asleep – but not before setting the alarm for 6.30am. Yes, boys and girls, laid-back, go-with-the-flow Joh is no longer. Commando Joh is back and ready to take Orlando's theme parks by storm.