Good afternoon!
Since last report I did 5k+biking on Friday, 10k race on Saturday, and 13k on Sunday.
My 10k race was the Oasis Zoo 10k in Toronto. It was a grey and rainy morning, but the rain mostly held off. I stepped back a couple of corrals to start with my sister, but we agreed to run our own races. I intended to run well, but not race as my bigger race goals are around the corner.
The race took place on some roads outside the zoo and inside the zoo. It was quite hilly over the course of the 10k and the most ridiculous was the last 1.5k which was very hilly and with switchbacks, and the last 200m was on a very good incline! I also didn't like that you couldn't see the finish line until you were right on it.
I had to stop for med help at 2k because I had severe chafing under my arms. I think that my arms brush against the boning of my bra and create two hotspots. I forgot my BodyGlide that morning.
So I stopped for some bandaids for about 2 minutes and was able to carry on pain-free. I would have toughed it out but the hotspots were almost bleeding and with 8k to go I couldn't think of anything else.
Unfortunately that med stop lost me a PB by about 20 seconds. My watch showed a running pace of 7:21/km without the stop included, so I am happy with that! That was awesome for me to keep up that pace for the 10k. The time I was actually running was very good! Had I not stopped I would have shaved 2.5 minutes off my PB. Oh well. My first 5k took me 39.5 minutes and my second took me 37 minutes, so you can see the effect of my med stop. Anyway, had to happen. I gotta let it go and learn from it!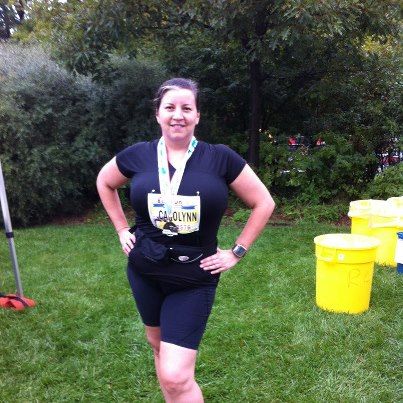 And the medal: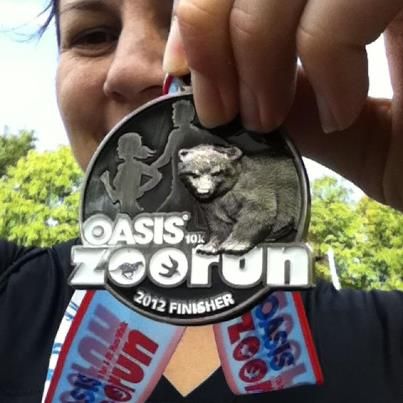 Unfortunately, after the race my right knee was quite sore and a little stiff. Subway sandwiches had a little tent where you spin a wheel which selects an exercise to do and when you complete it you win a prize bag. I selected lunges which my knee did not like. I won a nice shoe bag and water bottle though!
I came home and iced my knee and tied to stay off of it. It was swollen overnight and in the morning felt quite a bit better. I had an 18k to run as part of my training schedule, so I hemmed and hawed and finally decided to try. I made it to the turnaround point of 9k and got a ride 2k down the road, so that I could go slowly and not hold up my pace group. I made it another 2k and decided that my knee was just too sore and I was being foolish, so I called my mom to come pick me up (I had DH's truck as we were camping nearby) and by the time she got me I had walked/run another 2k, for a grand total of 13k at about a 9:00/k pace with all the walking.
I have imposed 48 hours of rest before re-evaluating. I am prepared to not run much at all until Saturday for the 5k in the morning and then the 16k. I would prefer to get out for a gentle run on Wednesday if my knee is up for me, rather than rest all the way to Saturday.
I'm going to watch my diet this week as my mileage will me done. Sitting at around the same as before. I just can't eat as light as I need to to lose weight for very long! I try and I try, but I love food. So, I guess I have to be content with my 1-2 months lost per month, or try harder.