The stage-hands brought the three contestants out on stage together. Along with John there was a young man named Matthew who was a preacher. (He was there with his wife and their children. There were six or seven of them altogether and they were all dressed in matching tie-dye outfits that the wife had made. Kind of like the Von Trapp family singers on acid.) We sat on the same row with his family and Larry talked to Matthew's wife a bit. There was also a young girl, around 18 or 19. Her family sat on the row in front of us and we never got a chance to talk to them.
Rehearsal
You couldn't really hear what the stage-hands were saying to the contestants but you could figure out that it was where to sit and stand and walk about. John was up first and they brought him center stage. They showed him where the words to the song would appear at the back of the auditorium then cued up the music and he was singing. John did SUCH a good job with his song. I must confess that I shed a tear or two at seeing him up on that big stage. Michael and Ed, on either side of me, were both watching for the waterworks and weren't disappointed when the tears started.
Tie-Dye Guy went next. He sang "Circle of Life" and did a really good job. I leaned over to Larry and mentioned that Matthew was going to be John's competition. Larry said he had seen Matthew when John was auditioning and that Matthew hadn't even practiced with the iPod. Tie-Dye Guy's wife said that Matthew had competed at this before and had won the finale. Due to his age, he couldn't use the Golden Ticket that gets you a front-of-the-line pass to any American Idol audition in the nation (you have to be between 16 and 28 years old for that), but he just enjoyed the experience.
The girl sang "Walking on Sunshine." She had a decent voice as well.
Before we knew it, it was time for the actual show. I think I was probably more nervous than John. When John was brought out on stage, the host chatted to him for a few minutes about why he was at Disney and what he planned to do in the future. John did a good job of answering the questions and didn't sound nervous at all. Then it was time for him to sing.
I tell you right now that I absolutely could not have been prouder of him. He did such a good job with his song. The crowd seemed to really get behind him and they clapped and cheered in all the right places.
Tie-Dye Guy was up next and he did amazing. A few people even gave him a standing ovation. The girl rounded out the show. She did an okay job with the vocals but the crowd never did get behind her like they had with John and Matthew.
Tie-Dye Guy
Ultimately, Tie-Dye Guy won the show. I don't think John was too disappointed—he was just thrilled to have the chance to sing for that many people and to have done so well. For his first time ever singing in public, I think he did a tremendous job. For the rest of the day John had random people come up to him and say what a good job he had done and how they had voted for him. Yep, he was pleased with his performance.
Pleased AND starving, that was John. And, once we thought about it, we were all pretty hungry so we scooted off to the Backlot Express. Ed, Michael and Larry all had the Bacon Onion Angus Cheeseburger; John had a hot dog; and I had the Grilled Vegetable Sandwich. It's amazing how good food tastes when you hadn't realized that you were hungry and you remember you haven't eaten in a long time.
With the American Idol Experience under John's metaphoric belt, it was time for some rides. We headed off in the direction of Tower of Terror and Rock 'n' Rollercoaster. Michael, John and Ed hurried ahead of us to pick up Fast Passes for Tower of Terror while Larry and I took our time. When we got to RnRC, we assumed that the boys had gone on ahead to the Single Rider Line, so Larry took off to the ride as well. In just a few minutes, the boys turned up. They had stopped for a bathroom break. I sent them on to catch up with Larry. I had to call back home and tell everyone about John's performance.
When Larry finished his ride he joined me on a bench outside. He had struck up a conversation with a CM who worked on the Rock 'n' Rollercoaster who also happened to be British. After talking to him for a few minutes the CM offered Larry five Fast Passes good for any ride at Hollywood Studios. Score! It looked like those Fast Passes had "Toy Story" written all over them!
After the boys all came off the ride, we still had a few minutes before our Tower of Terror Fast Passes kicked in, so everyone but Ed went for the Single Rider Line again.
Now it was time for Tower of Terror. When John was at WDW earlier this summer, he didn't do Tower of Terror so this was his first time. He sat between me and Michael and held our hands tightly for the entire drop sequence. Afterwards, he said he liked it. When I asked if he'd ride it again he said "Yes. When I'm older."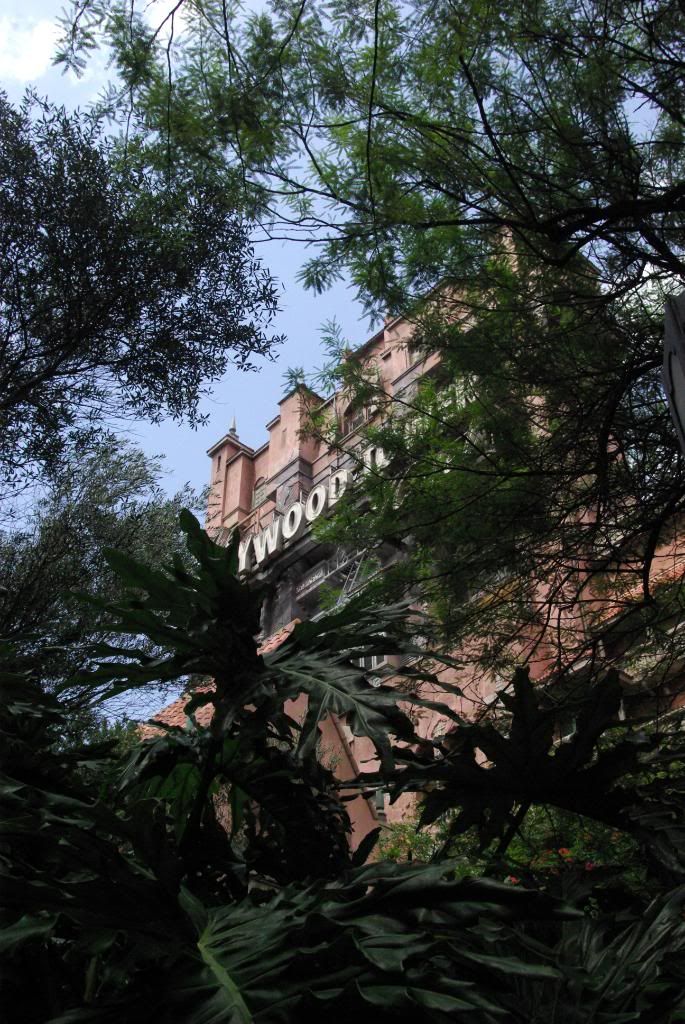 I sure hope they got their sign fixed.
Larry's Fast Passes were burning a symbolic hole in our pocket so we went to Toy Story Midway Mania next. Larry rode with Ed, Michael rode with John, and I took the lonely car by myself. This time Michael came out on top with Ed hot on his heels. I think I was third, John fourth, and Larry last.
It was almost time for 4:00 performance of Beauty and the Beast and, since we had vowed to get John in to lots of shows, we crossed the park yet again. We were all thirsty so we decided to stop and get something to drink before we went into the theater. We were all hurrying so as not to be late for the start of the show. As we rushed up to Catalina Eddie's to order drinks, suddenly my left leg snapped in two! Well, it didn't REALLY snap in two but it felt like it had.
You see, I have bad knees. Both my sisters have bad knees. My mother has bad knees, HER mother had bad knees….well, you get the picture.
Why is it that you always inherit the BAD attributes from your parents? Bad knees, wide hips (I've often tried to imagine what it would be like to be rail thin. Unfortunately, my daydreams about being skinny are always interrupted by the sound of my own chewing.) and poor vision—thanks, Mom! I suppose I got straight teeth from her. And mad beat box skills.
Anyway, I injured my left knee about 10 years ago and, since that time, it has been known on occasion to pop out of joint. It always pops right back in but the dislocation tears all of the tendons and the knee hurts like heck and swells up like a Mama Bear for a few weeks until everything settles back into place.
So, as we were hurrying to get our drinks, I wasn't paying much attention to how I stepped and the pavement was sloped and that bad boy just popped out of joint. Usually, if I'm upright when this happens, the knee completely buckles as well and I involuntarily prostrate myself on the ground so I suppose I'm lucky that I didn't face plant into the concrete.
Michael was right beside me when it popped out and he heard me yelp in pain and stagger a bit. He grabbed hold of my arm and asked what was wrong. I told him my knee had gone out of joint but that it was okay.
I lied.
Something didn't feel quite right inside my knee. It was almost like the knee was still slightly out of joint or the kneecap was displaced or my leg had snapped in two as I originally thought. I limped up to the counter where everyone else was waiting. I told Larry that my knee had gone out. He asked if I wanted to sit down but I said that we should get our drinks and head across the street to the Beauty and the Beast and I could sit down there.
We got our beverages and made our way to the theater. Ed found some decent seats about halfway down. My knee didn't feel too bad while I was walking but as soon as I sat down on the bench a sharp pain that made me want to vomit ran down the length of my leg. "Sh-ugar," I believe was the word I used to convey my discomfort. I didn't want to frighten Michael (who was sitting next to me) but tears were rolling down my cheeks from the pain. Also, my knee wouldn't bend. At all.
Larry noticed my predicament and asked if we needed to leave. I told him to wait till after the show and then I'd go back to the hotel. This was probably not the best thing to do for my knee but I wanted the nausea to pass before I tried walking again.
And here is our theatrical interpretation of Robin's knee going out...
After the show, Larry said he'd take me back to the ASMo. We told the boys to stay and have a good time (they still had some Fast Passes and John wanted to watch the American Idol finale at 7:00. Larry and I slowly made our way out of the park. I wasn't sure how I was going to manage the tram but I figured that, if we could get the double row at the first of each of the cars, I could keep my leg straight and manage alright.
We let one tram pass because all of the double rows were full and we queued up for one of the double rows on the next tram. The next tram arrived only a few minutes later and I managed to hoist myself aboard and sit down without bending my leg with only a small wave of nausea. We were set to go when, unfortunately, a family of four or five came up at the last minute and got on the double row with us. Obviously, they had no way of knowing that I needed the extra room to stretch out my leg and they piled on in so Larry and I had to scrunch up and I had to put my leg on the floor. Sweet Valley High, I thought I was going to pass out!
Mercifully, they got off at the first tram stop. Our car was at the second stop and I oh-so-gracefully managed to disembark. Luckily, our car was at the very first of a row so we didn't have far to walk. I managed to get in the car without bending my leg and Larry drove me back to the hotel asking if I was sure I didn't rather he drive me to the emergency room.
"Stubbornness" and "Denial" being two more things that I inherited from my mother, I declined saying that it would be okay if I could just rest it for a while. It was not my best logic. It was kind of like reasoning that the goldfish suspended at the top of the fish tank would be okay if he just "rested" a bit more while floating upside down.
We made it back to the ASMo without too much trauma. As we cut through the food court to go to our room, we stopped to pick up some food for dinner as I wasn't planning on leaving the room again tonight once I got there. Larry got the made-to-order Salmon Salad and a rice krispie treat while I ordered a Ham sandwich on Foccacia bread and a slice of carrot cake.
Back in the room, I sat on the bed and propped my leg up in front of me. Larry napped while I talked to my mom, being sure to thank her for my knees, and watched TV.
When Larry woke up, he headed back to Hollywood Studios so he could meet up with the boys and watch the American Idol finale with them. As it turns out, Tie-Dye Guy won the whole shebang. John was quite pleased for him and congratulated Matthew after the show. Since Tie-Dye Guy was too old to take advantage of the Golden Ticket, he signed it over to a girl who, in Larry's opinion, had come in second to Matthew. I thought that was a pretty decent thing to do.
After the American Idol finale, I think Larry and Ed watched Fantasmic! (in it's entirety this time). John and Michael ran into Zack and Tiffany (the Texas cousins from the first night at the Magic Kingdom). They were staying at the Beach Club and they invited Michael and John to come back to their hotel with them to swim in the pool.
Michael called me to ask if that would be okay and to ask what was the best way to get back to the All Stars from the Beach Club when they were done. They had to come by the ASMo to get their swimming trunks anyway so I told them they could take the car if they'd be careful.
Michael, John, Zack, and Tiffany wound up on the same bus with Larry and Ed. They invited Ed to go swimming with them as well so, after a quick stop to pick up their suits, they left for the Beach Club. It was almost 11:00 by this time and I knew that Stormalong Bay usually closed at 11:00 so I was doubtful that they'd get to swim there. Sure enough, it was closed by the time they got to the Beach Club. They went to the quiet pool instead and met a bunch of CM's from Germany who worked at Epcot and who had come to swim as well. They must have had a good time because they didn't make it back to the hotel until 3:00am. I sincerely apologize if anyone was staying at the Beach Club near the quiet pool that night and was disturbed by our kiddos!
Larry and I went to bed fairly soon after the boys left with me promising Larry that, if my knee wasn't better in the morning, I would go to the doctor. I was hanging on to the hope that it would all magically pop itself back in its rightful place during the night.