Sunday 19th August – I'll have the alligator…and make it snappy
We all slept very well last night and it was 9.15 before we were ready to leave this morning. We had planned to have breakfast at the Harbourview Café, just down the street from our hotel, but there were no available tables and not even any open spots at the counter.
Rather than hang around, we opted to see what was available on St George Street. We ended up at the Spanish Bakery, which was just about to open at 9.30. Unfortunately, they only had coffee on offer to drink so no tea for Gary. We bought three cinnamon rolls ($4.50). Sadly, the frosting was maple-coffee flavour and the rolls just weren't that nice. Neither Daniel nor I liked ours very much and Gary ended up eating most of them.
A poor excuse for a cinnamon roll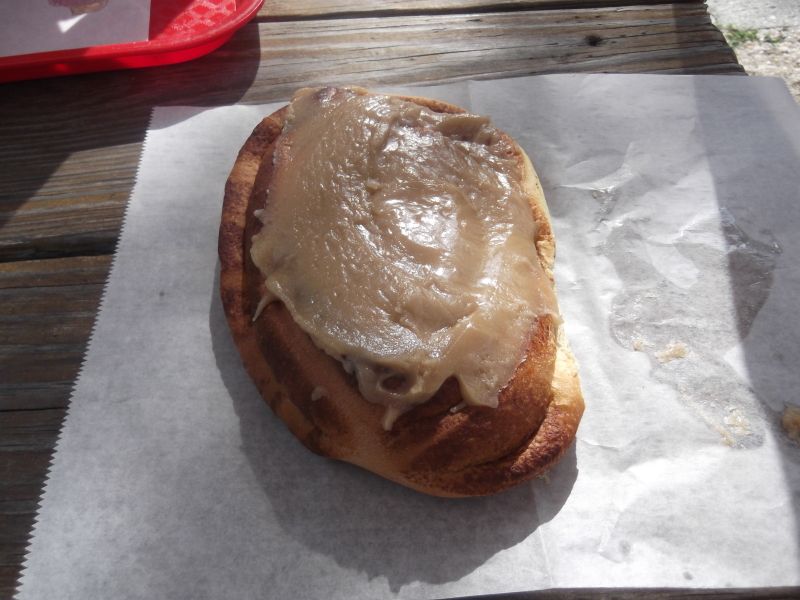 In search of hot tea, we set off down the street and, on a whim, I popped in to Luv Berry, who did sell hot tea but, unfortunately, had run out of tea bags. They recommended the Bunnery Bakery and Café at the other end of the street. This place was more like it. We ordered a tea, orange juice and chocolate milk and Daniel and I decided to have another attempt at breakfast so we also got a cinnamon roll and a chocolate croissant, which we shared. Both were delicious.
That's more like it
After breakfast, we walked down to Potter's Wax Museum, where we caught the Beach Bus to Anastasia Island (the beach bus was free with our trolley pass), where the Alligator Farm is located. We exchanged our tickets and got our hands stamped with a snazzy little alligator tattoo. St Augustine Alligator Farm is the only zoological facility which exhibits living examples of all 23 species of crocodilian and, it has to be said, that they certainly do have a lot of reptiles
St Augustine Alligator Farm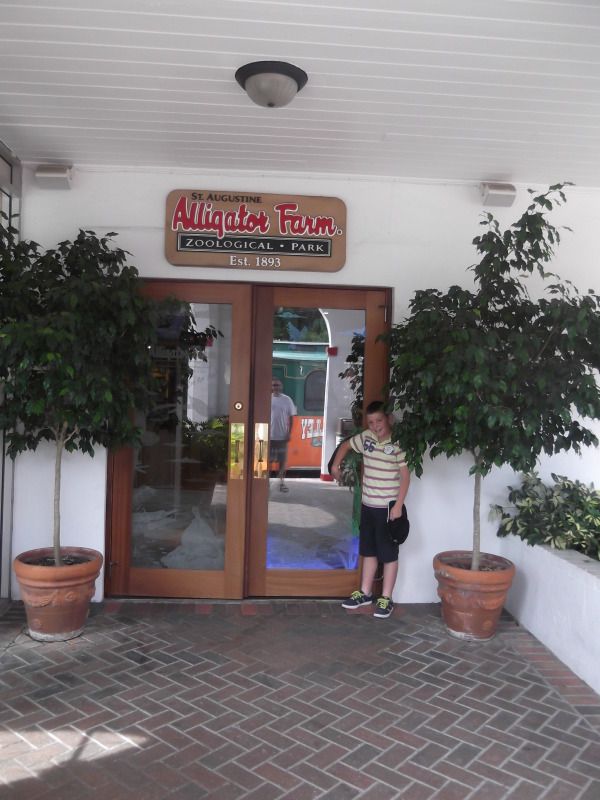 Get ready, get set, run for your life…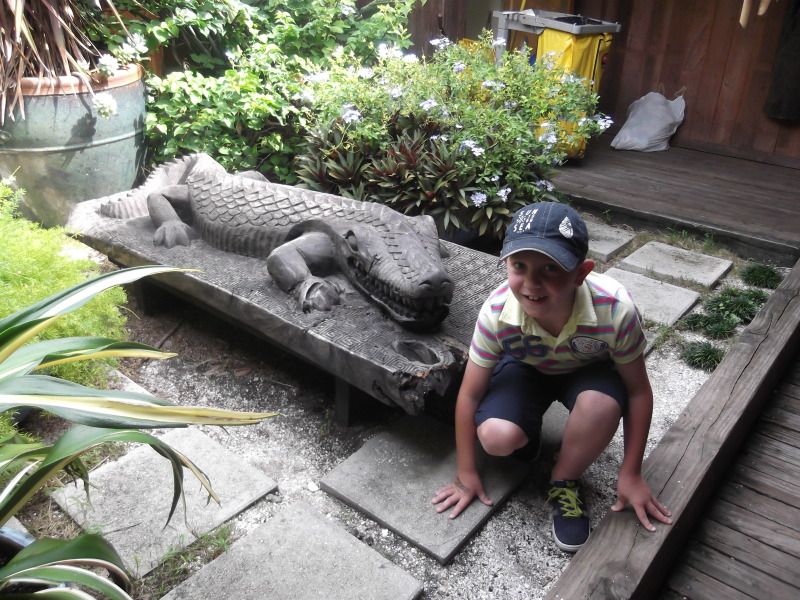 Daniel was in his element here as he loves alligators, lizards, snakes etc. He was making little notes to himself as we went round so he could tell Dogster all about it when we got back. Dogster, apparently, loves alligators too.
The first creatures we spied were the albino alligators, which are rather strange looking. They just don't look real at all, more like giant marble statues.
Ghost gators
Next, we came across the main alligator enclosure. There were literally dozens of gators here and some of them were pretty big. Gary joked that anyone who fell in would probably be quite safe as they all looked well fed.
Big fat gators
This really was a great park with lots of really cool benches and sculptures, carved out of wood.
Aaarrgggghhh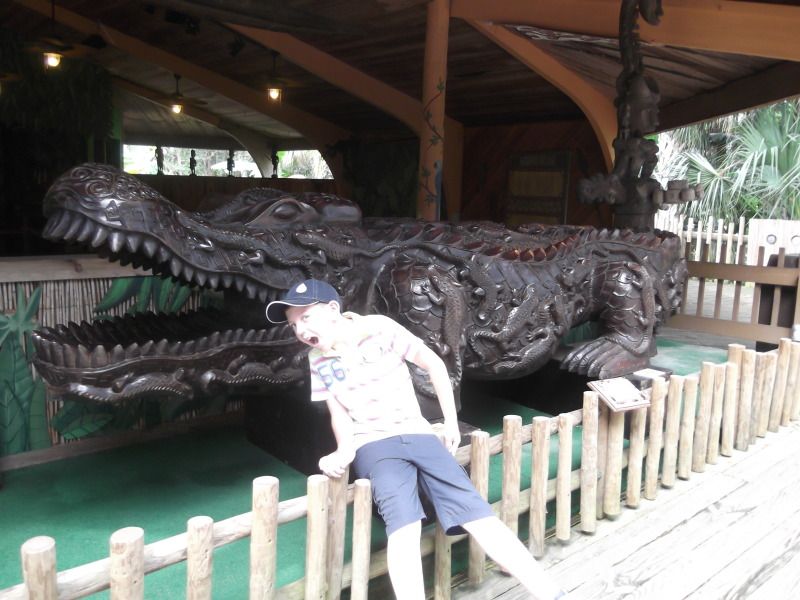 Dangerous Animal!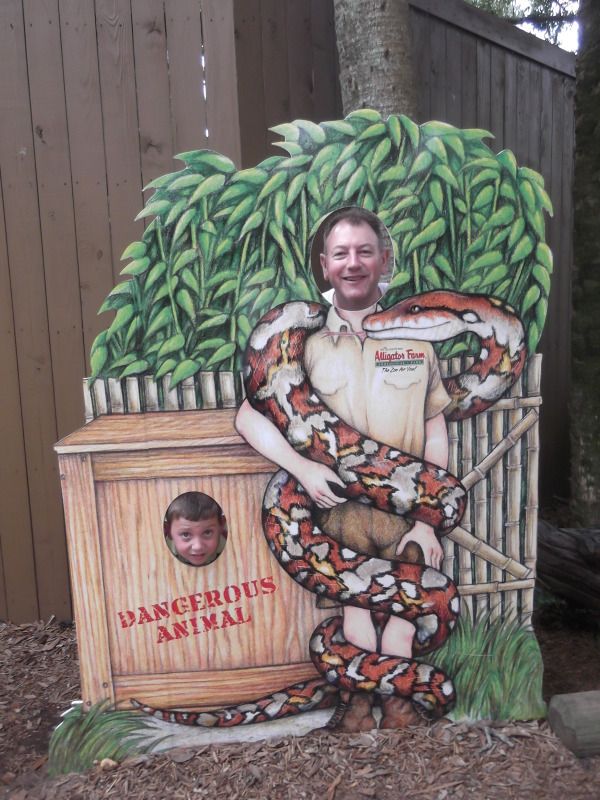 It's an alli-bench
Daniel lost his head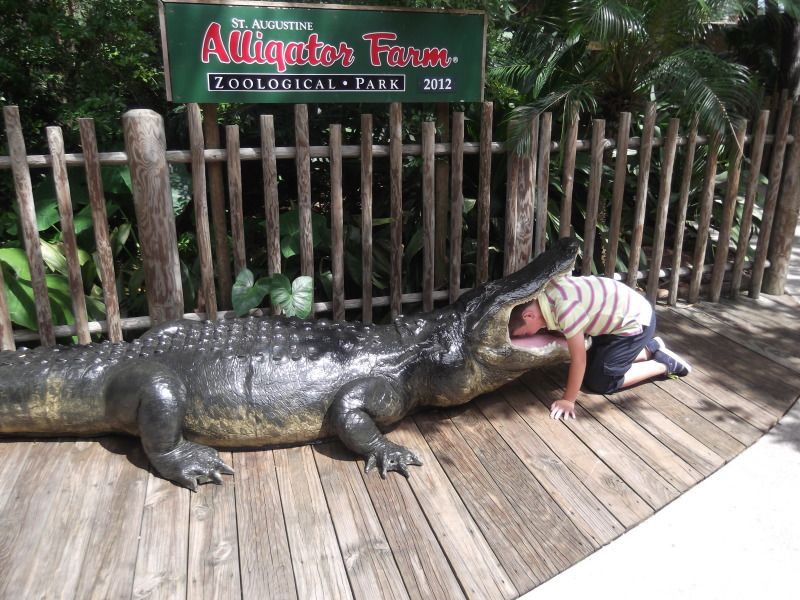 Next, we went in search of Maximo, a 15-foot 'saltie'. Sadly, he was half-in, half-out of the water so it was hard to get an idea of his size. His rear end certainly looked impressive though!
The back side of a 'saltie'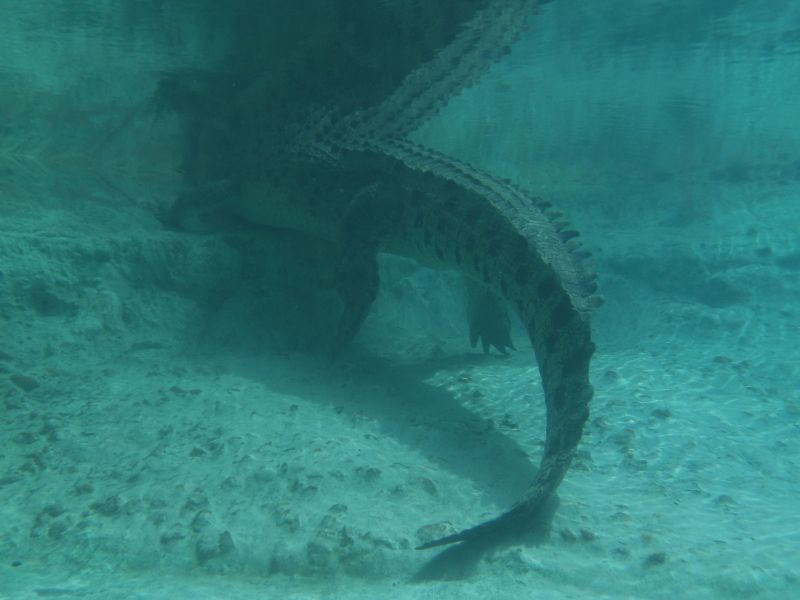 And the front!
After Maximo, it was time to visit a much larger (but less harmful) croc! At a massive 18 feet long and weighing nearly 2000 lbs, Gomek was one of the largest crocodilians to ever live at a zoo. lived out much of his adult life at the Alligator Farm and is now tastefully preserved and displayed for visitors to gawk at. He is pretty impressive.
Gomek!
One of the most awesome things about the Alligator Farm is a wooden bridge/walkway which crosses the alligator swamp. Surrounding the area is the wading bird rookery. There are some amazingly beautiful birds hanging out in the trees while literally hundreds of alligators swim underneath and around you. It is pretty amazing.
Gators, gators everywhere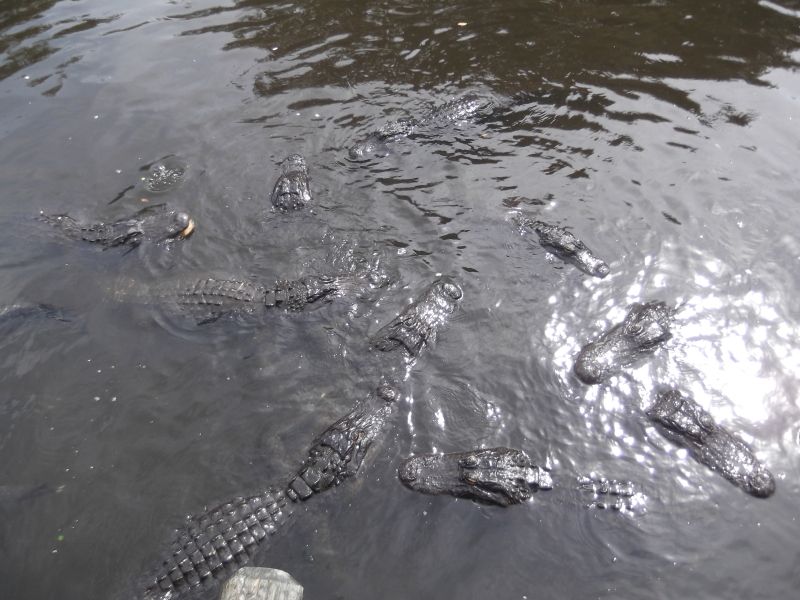 I'm no ornithologist but I think that's a heron
Twins!
Next, it was time for the gator feeding. This is where one of the park staff foolishly climbs in with these huge, man-eating beasts and offers them a measly bit of chicken when in fact I'm sure they'd far rather eat her!
Hmmm, tasty!
After watching several hungry alligators eyeing up a tasty piece of meat, we went to explore the crocodile exhibits. As I mentioned before, St Augustine Alligator Farm boasts that they exhibit every single species of crocodile – and who knew there were so many.
In a lot of the enclosures, the crocodiles were actually submerged in the water and it was good fun trying to figure out where they were.
This one was my favourite – I just wish I could remember what species it was.
I like to call it the 'Pinocchio Croc'
As well as crocodiles and alligators, there were also a huge variety of birds and other reptiles, such as snakes and lizards, and some small monkey species too. Daniel's favourite was the reticulated python – go figure!
Polly want a cracker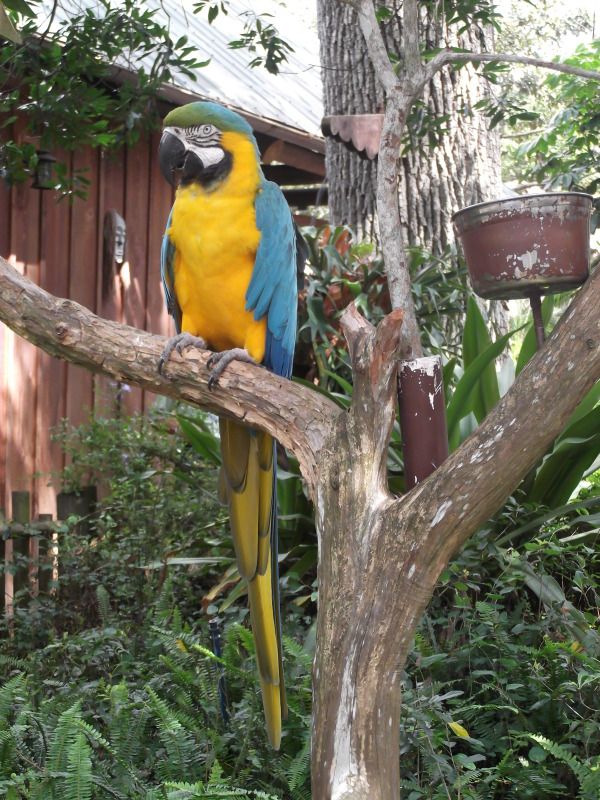 I can't stress any more how enjoyable this park was. If we'd been staying longer, we would have definitely returned for a second visit, there was just so much to see. Before we left, we bought some drinks. After the blue slushie episode the day before, I made Daniel get an orange slushie. We also got a diet coke, which came in a souvenir cup. Sadly, the orange slushie just turned Daniel's mouth orange – not quite as bad as the blue but still not attractive.
From the Alligator Farm, we caught the beach bus back and hopped on the trolley to Ripley's Believe It or Not! We had toyed with visiting a Ripley's museum on several previous visits to Orlando but never got round to it so decided to take the opportunity while we were here.
Ripley's – Believe It or Not!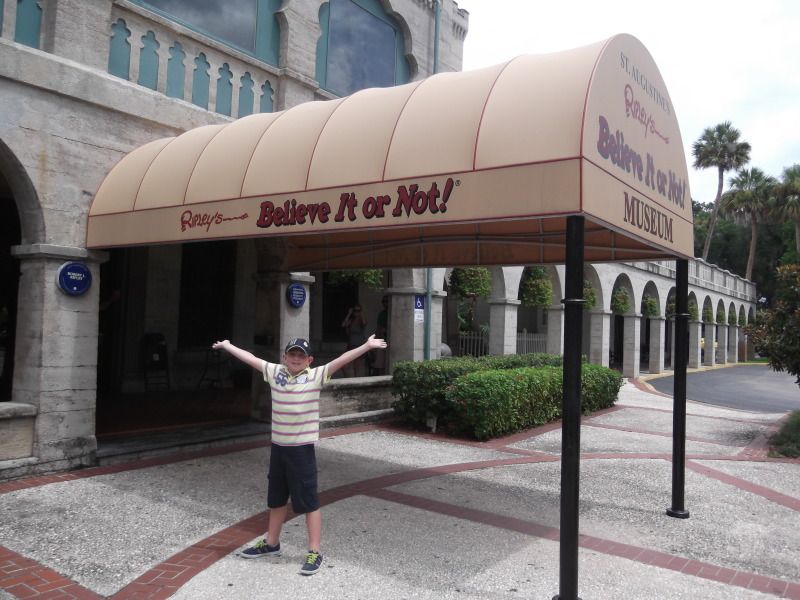 Continued in the next post....