Welcome Everyone!
To my November PTR! Before we even start, if anyone is wondering what my PTR title means, it's a Friends quote...probably one of my favorite Chandler Bing quotes ever...it's from the one where Phoebe thinks she found super comfy maternity pants, but really they are Santa pants?
Chandler: Your pants!
Phoebe: Oh, yeah! You like 'em? I just... I went to a used clothes store and got, like, a bunch of maternity stuff. These are so comfortable!
Joey: Uh, Pheebs, those are, uh, those are Santa pants.
Phoebe: What?
Chandler: Santa pants. Santa Claus's pants.
Phoebe: Nuh-uh! They're maternity pants. Look, they even came with a list of baby names. See, these names are good, and these names are bad. ...Oh.
It actually has nothing to do with my PTR, I just thought it was funny, and a tiny bit Christmasy. And my PTR will be a tiny bit Christmasy too, so I suppose it makes sense in a weird way, right?
Anyway, I'm sure many of you know me by now, I'm Jen, severe Disney obsessed dork!
This will be my 11th trip to the World, which is crazy for me to even think about! I love everything about Disney-the rides, the food, the resorts, the monorail, the boats, the music, EVERYTHING! I absolutely cannot wait to go back!
Joining me on this trip will be my DH, Brandon:
This will be his 7th trip to Disney, and he loves it more and more with each trip, although don't tell him I told you that, because he pretends not to!
He loves Epcot the most out of all of the parks, and I'm guessing his favorite Disney activity is drinking around the World!
We have been to Disney at different times of the year-May, September, October, November and December, and our absolute favorite time to go is November! You can have the best of both worlds if you time your trip properly-you get to enjoy the end of the Food and Wine festival: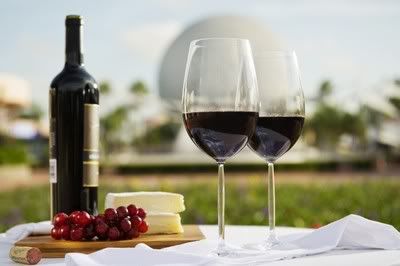 AND you get to see the beginning of the Christmas magic!
Our trip is the week before Thanksgiving, and we have always had pretty good luck with this week in terms of crowds and weather, which also makes it a great time of year to go! However, I'm guessing this trip might be a little more crowded because of Veteran's Day and the Food and Wine half marathon going on, but we'll make the best of it! I'm so excited for this trip, you have no idea!
So please stop in and say hi, I can't wait to share all of the fun details with all of my old DIS friends, and I love meeting new Disney freaks too!
Hope you will all enjoy reading along and helping me plan for the next 8 weeks as we chat about resorts, Disney restaurants, itineraries, changes (you know this trip won't happen without some kind of changes from me, right?
) and anything else Disney we can think of along the way!
Stay tuned, because up next, I'll be revealing our resort!
If anyone wants to take any guesses as to where we're staying this year, feel free!