Sunday 12th August - The Upper Keys
As tradition dictates, I was awake bright and early. The clock on the bedside cabinet told me it was just after 4am. I got up and decided to write up my notes. It wasn't long before I was joined by Daniel, awake but still tired and just a little bit grumpy. We watched TV for a little while, then decided we would get dressed and explore the resort a bit as it was starting to get light. I started trying to find shower gel, shampoo and some clothes for Daniel and I. Meanwhile, Daniel decided to jump in the shower to try and wake himself up a bit. When I went back into the bedroom to find towels, Gary was awake so we all got showered and dressed. We went out on the balcony, to check out our view and were ridiculously pleased (ridiculous since we were just about to leave) to see that we had a sea view.
Room with a view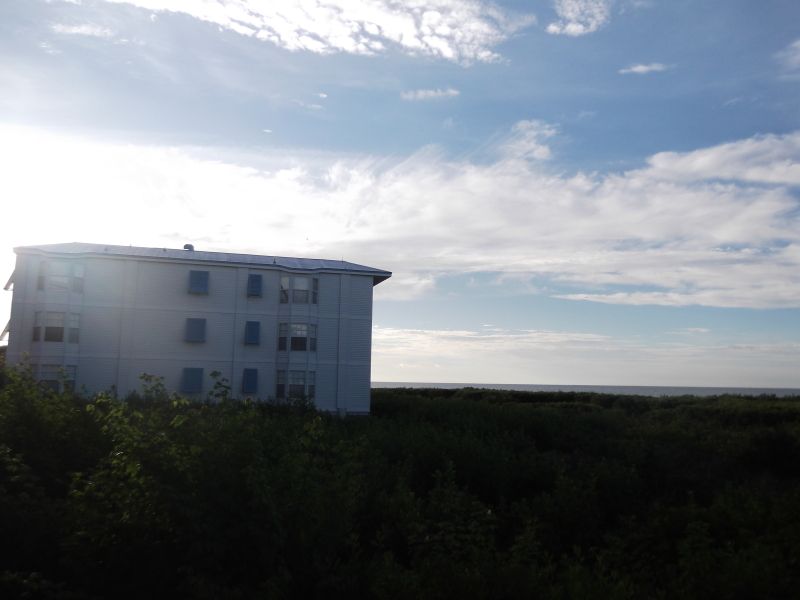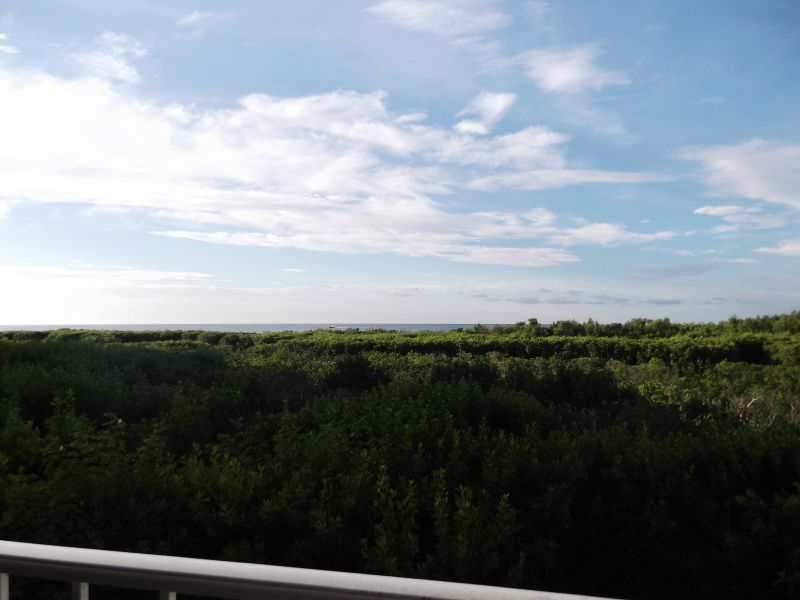 As long as you use the zoom lens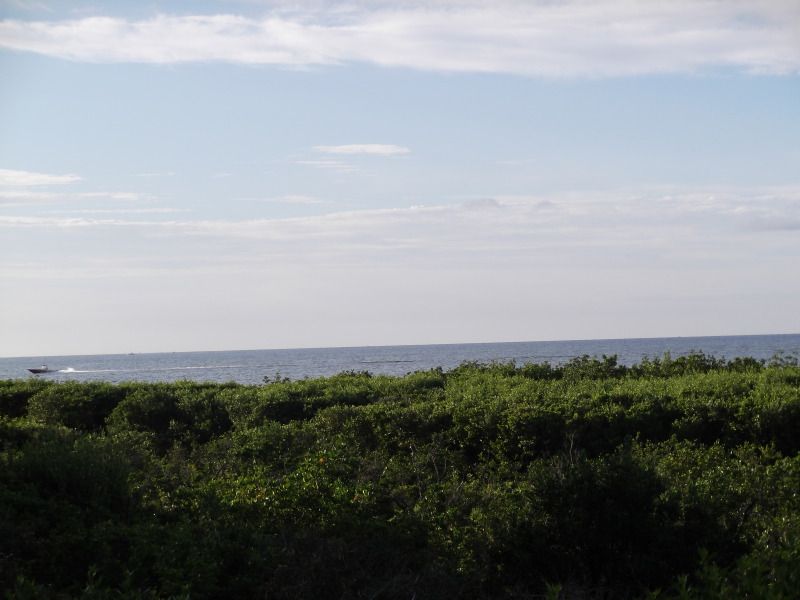 Below the balcony we also spotted some feral cats and kittens and spent a little while watching them playing.
Cute little kitty
Whilst packing the wash bags back in the cases, I noticed a picture on the wall of the lounge that I hadn't seen the night before but, in particular, the frame. It was exactly the same as the frame on a mirror we have hanging on our landing at home.
Ocean Pointe Suites frame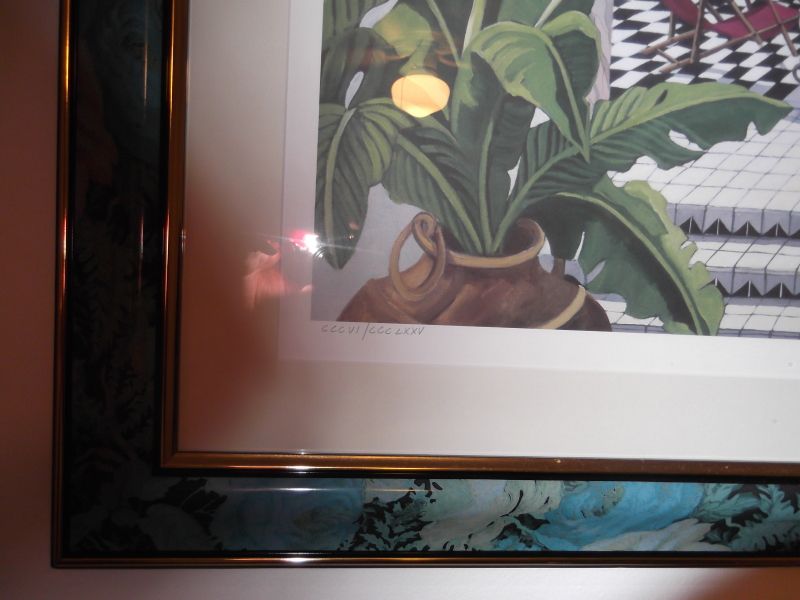 Alcock Family Mirror frame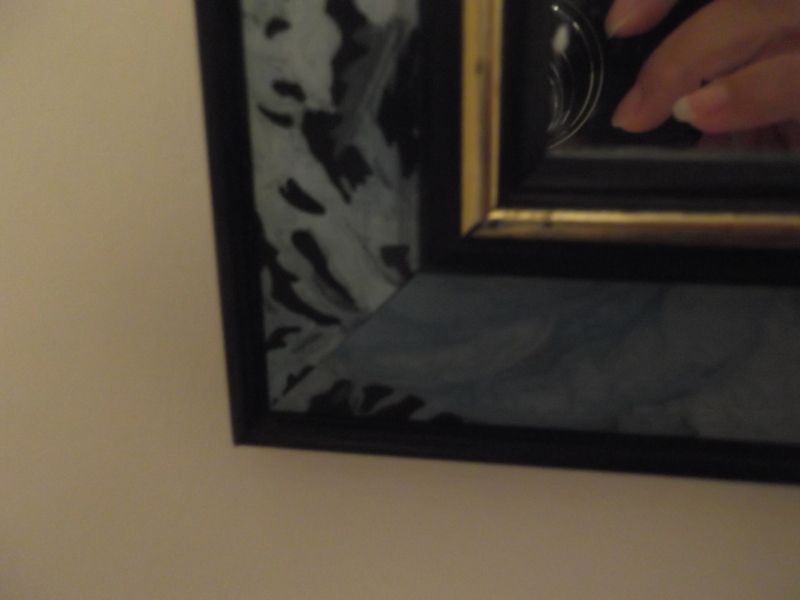 We packed the cases into the car and took a few pictures of the outside of the apartments.
Ocean Pointe Suites Building 2
We drove up to the main reception building to hand in the key and I took a picture of the dock area. It looked very pretty in the early morning sunshine and I wished we'd been staying longer and had more of a chance to explore the resort.
A nice place to dock
We were going to explore some of the Upper Keys this morning but first we needed sustenance. Apparently, Harriette's has the best breakfast in the Keys.
Harriette's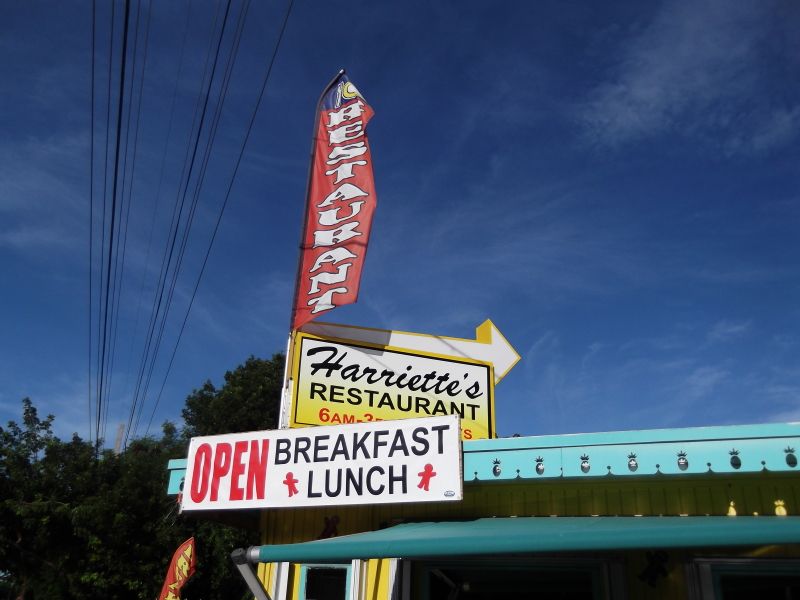 A hungry Daniel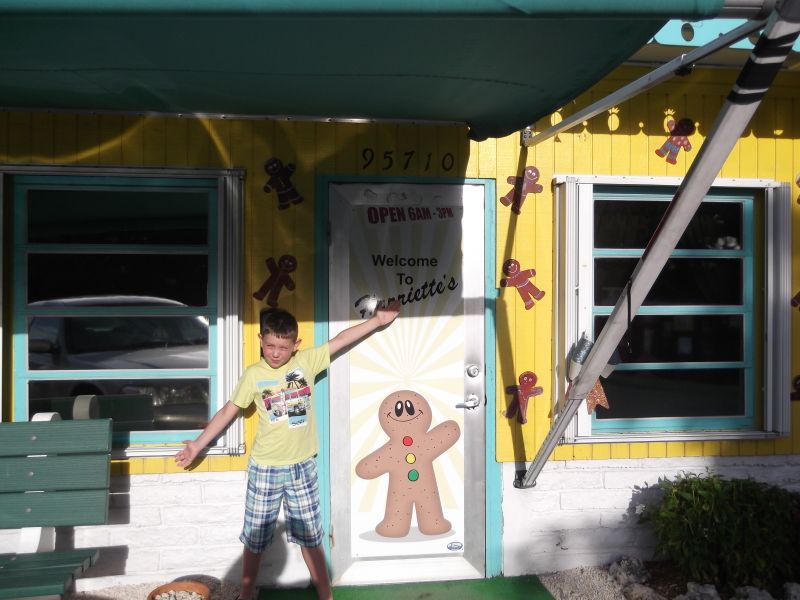 Again, Harriette's was just a small, unassuming place situated by the side of the road but we were welcomed warmly when we went inside and led to a small table for four.
Harriette's has an extensive breakfast menu and we were all hungry. Daniel decided on two eggs with hash browns, bacon and sausage accompanied by his usual Florida breakfast beverage of choice, a chocolate milk. Gary ordered conservatively, suspecting that Daniel's eyes were bigger than his belly, and chose the French toast (with plenty of hot tea, of course) I decided to sample Harriette's famous hotcakes (similar to pancakes) with bacon.
A big breakfast for a little boy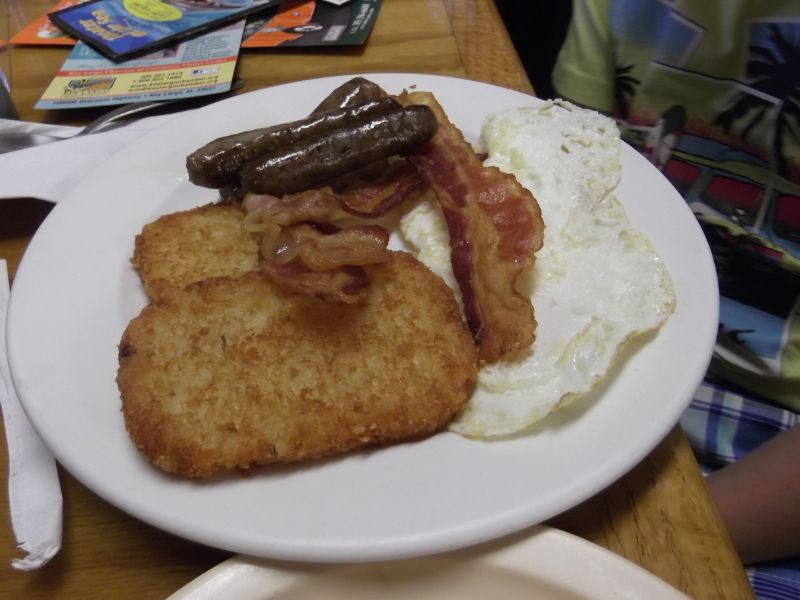 Famous (and delicious) hotcakes
French toast (or Eggy Bread, as we call it)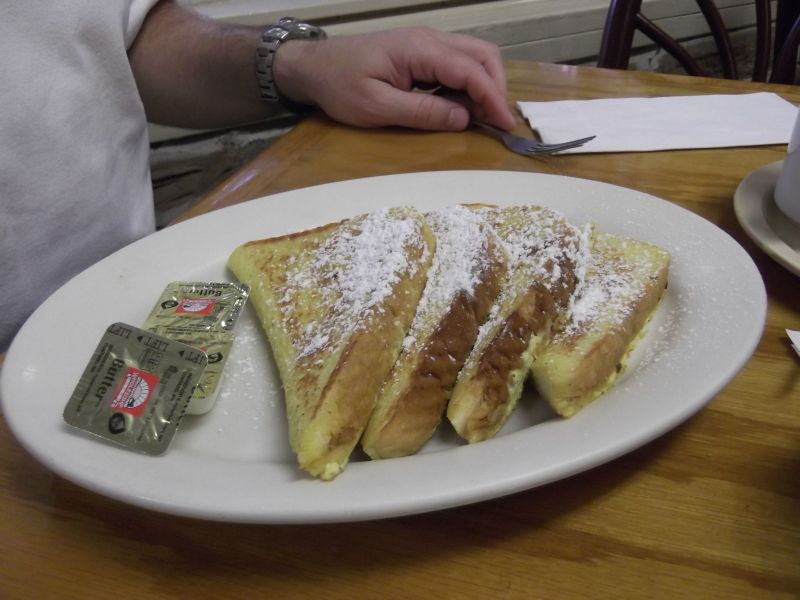 The food was served up promptly and was fresh and hot. Immediately, I had food envy and wished I'd ordered the French toast. I quickly struck a deal with Gary to swap a hotcake for a piece of French toast. As predicted, Daniel barely managed half of his breakfast – a valiant effort – and Gary had to leap in and help him out. I am ashamed to admit that he also had to finish my hotcakes for me as I just couldn't manage them all.
We paid the check ($31.29) and left a $6 tip for our waitress. It was a beautiful morning and, since it was still early, we decided to take a drive down the Overseas Highway. We drove as far as Islamorada, stopping a couple of times to take in the scenery. I was a little surprised to see people literally sunbathing at the side of the road. Every so often, there were little pebble-beach areas and several people were in the water and sunbathing on the bank. Some people had even set up a portable grill by the side of the road and were cooking breakfast. It was all very bohemian.
The drive itself was just as I'd imagined, miles of road with water literally on both sides and, at times, within a couple of metres of the road. It was so beautiful.
I can see the sea
It's not a Dodge Charger but we don't mind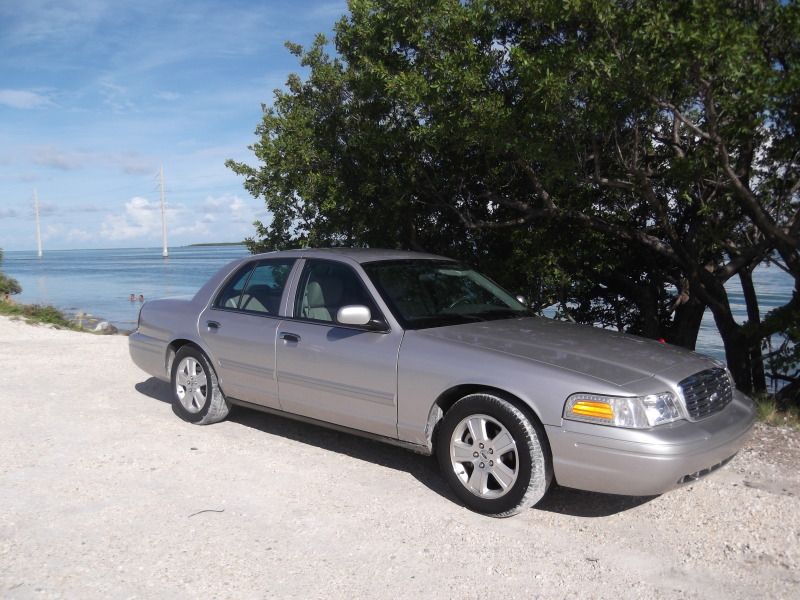 Pretty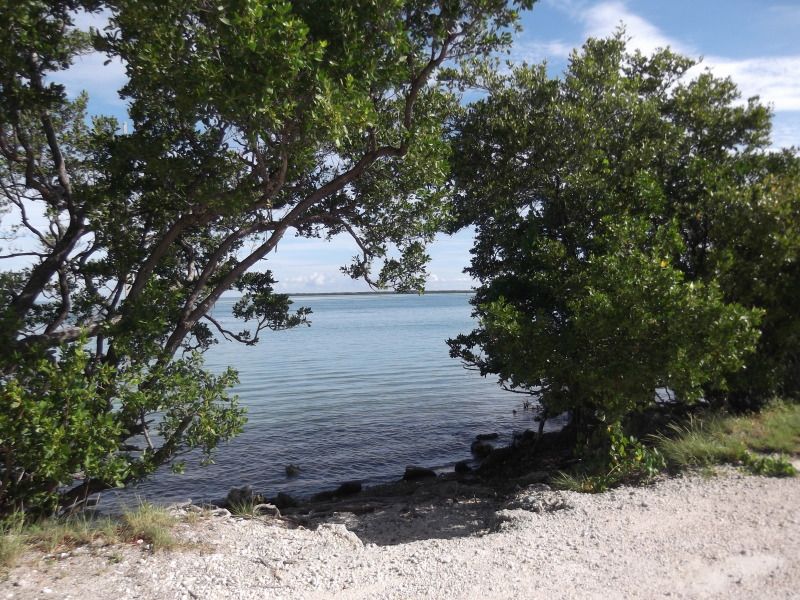 Road…and sea
Our original plan for today had been to visit John Pennekamp State Park but, as we only had one day in the Upper Keys, we decided against it as there were a few other things we wanted to do as well.
Continued in the next post...