Saturday 11th September - Travel Day
Before we get started, I would just like to introduce a new member of our travelling party. Technically, he is not 'new' and he has been with us on previous trips but he has only ever had a bit part. However, this particular member of our group is featured more heavily in this trip report so I thought it only fair to introduce him properly.
Meet Dogster...
Dogster (otherwise known as Henry) was given to Daniel when he was born, by my Dad and step-Mum. He was always known as Doggy but, now Daniel is a bit older, having a 'Doggy' is not cool so he has been renamed Dogster. Dogster and Daniel have slept together every single night except for 3 nights in October 2009, when he was accidentally left in the car when we went on a Disney cruise. Daniel was distraught at the thought of being separated from Doggy but he coped admirably, however they've been together ever since and Daniel is always careful not to leave him behind now.
So, having introduced the fourth member of our party, back to the trip report...
After a particularly poor summer, the weather had finally taken a turn for the better a couple of days before we were due to fly to the Sunshine State – thanks to the law of sod – and, consequently, the night before our flight, was hot and humid. For that reason and, thanks also to a cacophony of car alarms, barking dogs and noisy daughters, none of us slept very well. I finally dozed off around 4am, only to be woken at 5 by the alarm. Gary and I showered, dressed and finished off the last bits of packing before waking Daniel, who did NOT want to get up.
Let me sleep
He was tired and moaning about having to be up so early, which was ironic since he has spent most of his childhood years waking us at 5.30am at the weekend. I finally managed to persuade him to get dressed and he was soon showing a little more enthusiasm for the day ahead. We covered over the final Mickey on the countdown chart and, with the realisation that it was finally time for our holiday, after 9 months of waiting, the excitement was mounting.
We're going to Walt Disney World
You may recall that, thanks to a 'minor sporting event' taking place in London during August, we had been unable to find a reasonably-priced hotel at Heathrow for the night before our flight so had booked a taxi to take us to the airport. One of my major worries had been that the taxi would not turn up and we'd end up either having to drive and park at the last minute or we would be late for our flight. I was worrying unnecessarily (as usual, Gary says) and our taxi, together with lady driver, turned up promptly at 6.10am. After loading the suitcases into the car, issuing some last minute instructions to Sian about heating, hot water, dishwashers and washing machines, and lots of hugs and kisses, we were on the road by 6.20. Considering it was a Saturday morning, the roads were fairly busy but we arrived promptly at Heathrow at 7.45. After paying the taxi driver, we dragged our cases into Terminal 3 and quickly located Zone A, where we would place our luggage into the safe hands of Virgin Atlantic. We originally chose the wrong queue (for my American readers, that's a 'line' but fear not, I will start to use the correct terminology once on the other side of the Atlantic) as we stood for a good ten minutes and didn't move, however I quickly persuaded Gary to switch and we were soon moving along nicely. I had completed online check-in the day before and printed our boarding passes so we just had to have our cases weighed and checked. I had managed to secure three seats in the 'bubble' and I was worried that we would be informed that we no longer had the seats but it didn't happen. I wasn't prepared to believe it just yet though, and we hadn't told Daniel as we didn't want him to be disappointed if it didn't happen (you may remember from previous trip reports that, ever since Daniel learned there was an 'upstairs' on the plane, he has been obsessed with wanting to sit up there). Once our cases had been safely deposited with our lovely check-in assistant, we joined the short queue for security. Gary put his rucksack onto the conveyor belt, then went through. The security lady asked me if there were any laptops or i-Pads in the bags and I said 'No', completely forgetting that Gary had more technology than PC World in his rucksack. No laptops or i-Pads but a touchpad and a tablet, which both should have gone through separately. Of course, his bag then had to be checked, which involved the painstaking removal and individual inspection of every item, rescanning of the bag and then trying to repack everything back where it was originally. Finally, we were through security and into departures. We headed for 'The Bridge' so we could get breakfast. Gary and I ordered diet cokes and Daniel opted for a Mango Tango (a combination of Mango, Orange and Pineapple juices).
Do the Mango Tango!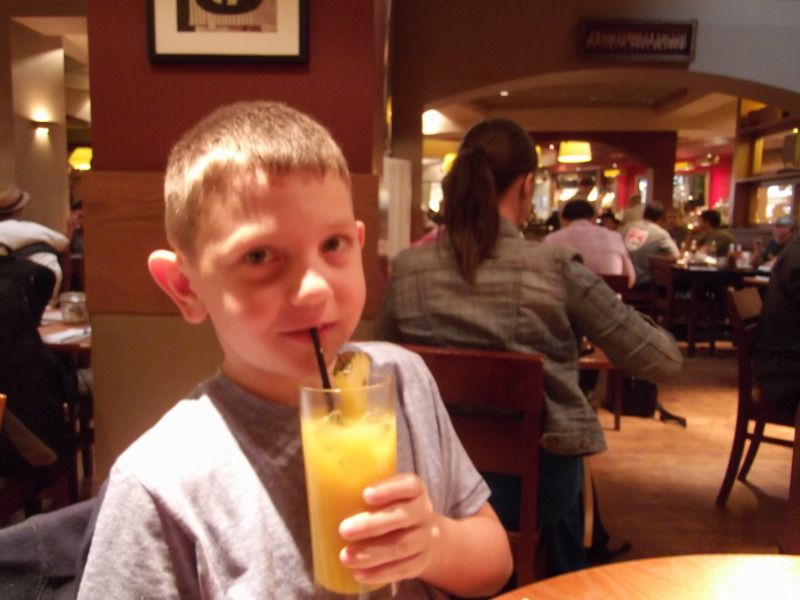 Although Daniel had been harping on about wanting a bacon roll, he ended up ordering a croissant. I chose a bacon roll and Gary decided to have eggs and bacon. When the food arrived, Daniel's croissant was cold so he decided he didn't want it. Being the nice Mummy that I am, I let him have my bacon roll.
Oh well, it looked nice
Anaemic bacon and eggs
While we were eating, the kids at the table next to us were squabbling – "Stop it", "No, YOU stop it", "Mum, tell him to stop it", "Ow, he just kicked me". I glanced over to give the poor Mother a sympathetic look but just got glared at. Oh well, at least it wasn't Daniel playing up (for now).
Breakfast was soon finished. The food was just OK, nothing special and fairly overpriced for what it was. The bill (check) was £9.55 and we left a £1.50 tip.
With two hours left until boarding, we set up 'base camp'. Daniel and I wandered around and found a play area, which had a Wii, but it was for children aged 8 and under only. So, yes, I told a lie. I said that Daniel was 8 and he got to go in and play on the Wii. After about half an hour, he said he wanted to leave and, when we walked away, he told me that he hadn't felt comfortable because he was worried they would find out how old he really was. I felt very guilty. We walked back to 'base camp', calling in at WHSmith for drinks and crisps. £5.58 for 2 packets of crisps, a Pepsi Max and a Ribena – daylight robbery! Daniel spent his time running back and forth to the information board and finally announced that we were boarding at Gate 5. It was a long walk to the gate, which Gary reckoned was to give you the opportunity to stretch your legs before being confined to your seat for the next 9 hours.
We were soon at the gate and joining the long line of people waiting to board. Gary spotted a couple being pulled to the side and he overheard them being told their seats had been changed. Of course, this started me worrying again about not getting our seats upstairs. We were finally through to the boarding area, though, and I figured we were home free. We began boarding just before 11 and our seats were called quite early on in the process. We let Daniel go first, with the boarding passes. When the cabin crew directed him upstairs, his face was an absolute picture. He just kept repeating "Are we really sitting upstairs?"
Happy to be here
The bubble rocks!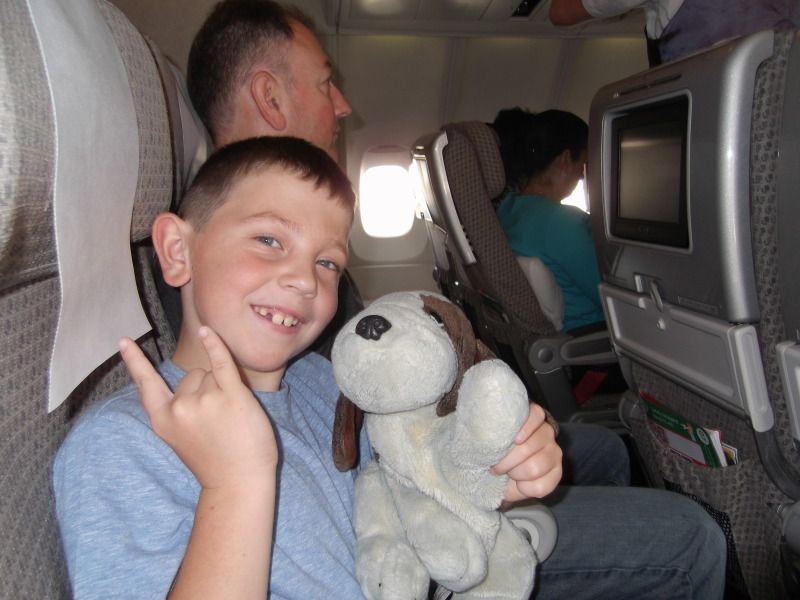 Family self-portrait
The seats in the bubble were pretty good. There seemed to be a lot more room to the side of the seats but not much space in the overhead lockers. Gary had to take quite a bit of stuff out of his rucksack to get it to fit.
The 'bubble'
Not much headroom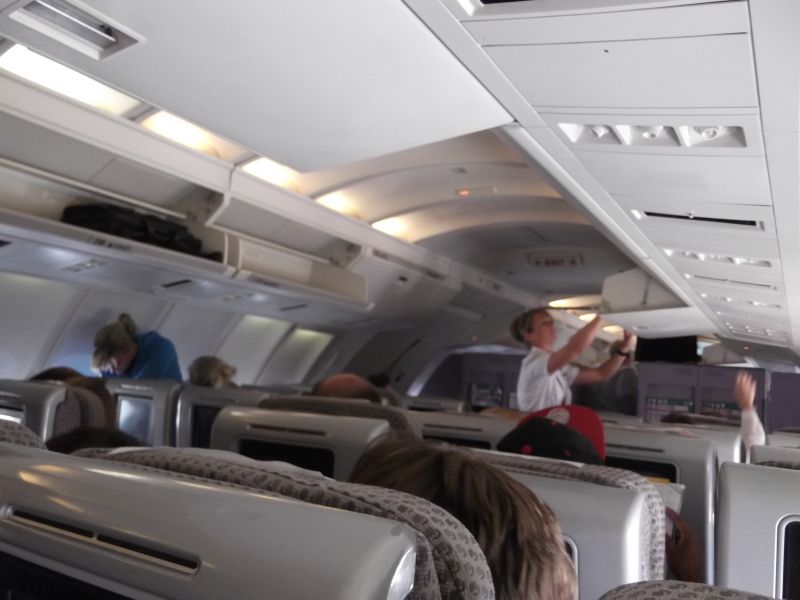 There was a handy 'ledge' in between the window seat and the window. I'm not sure if this was there before but it really did make it feel more roomy. In fact, for me, the only downside to the seats is that upper class is at the front and the food for the first class passengers is prepared at the back so, when it is carried past, you get a glimpse of how the other half live. While we were being offered disgusting cheese and onion or egg mayo sandwiches, our upper class counterparts were getting delicious burgers and petit-fours.
The flight was boring. Not just 'stuck on a plane for 9 hours' boring but 'stuck on a plane for 9 hours and can't get into any of the films or concentrate on reading my book' boring. The first two hours went relatively quickly, what with lunch being served. Despite the fact that I didn't eat any of it, it was a welcome diversion. Lunch was shepherds pie, a chopped salad, the usual cold, hard bread roll and a mango and passion fruit cheesecake (which Daniel really enjoyed).
Lunch (or something resembling it)
Daniel's kids' meal consisted of pasta bolognese, which he said was a bit bland and needed more seasoning (that's my boy, the food critic), salad and a chocolate banoffee pudding.
Kids' lunch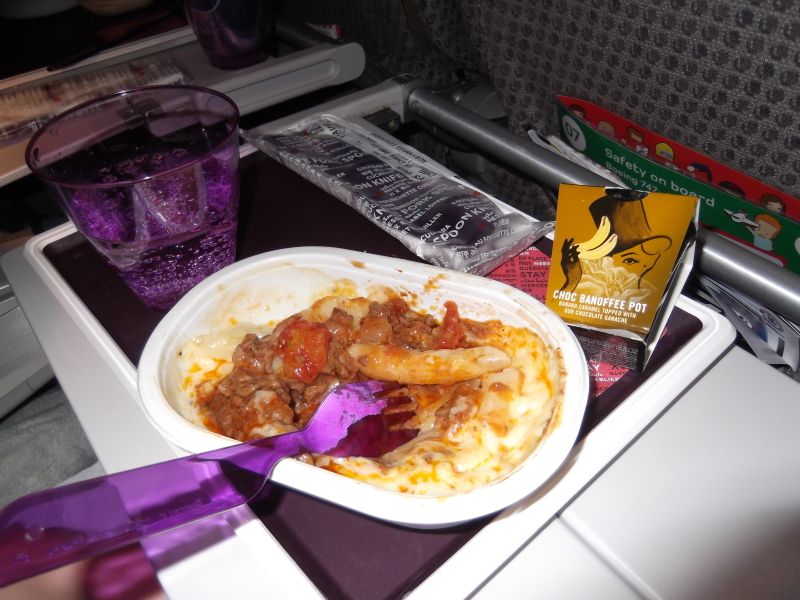 He's smiling so it can't be THAT bad
I'm not sure if this is part of the 'new' Virgin Atlantic refreshment arrangements but there was no welcome drink offered (just the usual drinks offerings with the meal) and no tea/coffee served after lunch. Two hours before we landed, as I mentioned earlier, we were offered sandwiches (cheese and onion for the adults, egg mayo for the kids) and a rather yummy cupcake. We were also offered ice-creams during the flight, which would have been great had we not seen the tubs of Haagen Daazs being taken through the cabin to the first class passengers, while we were being given Skinny Cow strawberry lollies
We finally landed at Miami International Airport at 3.50pm (local time), 15 minutes early. The Captain must have accidentally turned off the seatbelt light because everybody stood up, then he turned the light back on but nobody sat down. So, of course, we had to wait for everyone to sit down, before he would turn the light back off. It was then that we discovered the other bonus of being upstairs. We got to get off the plane first (after upper class, of course). It was a desperately long walk to passport control, which was a complete zoo. There were people everywhere and, as usual, there seemed to be no control over who was going where. Finally, we were through immigration and then experienced another really long wait for our luggage. After another long walk to the lifts for the monorail to the car rental centre, we discovered another massive line at the Dollar desks. There was a sign telling Dollar Express members that they could proceed directly to the garage so that is precisely what we did, only to be told that it doesn't apply if you have a pre-paid voucher (i.e. if you haven't booked directly with Dollar). Luckily, they didn't send us back and agreed to help us 'just this once' out in the garage. We had booked a full size vehicle and there were only 3 left to choose from – a white, silver or black Ford Crown Victoria. A nice enough car but not the Dodge Charger Gary had been hoping for. Still, we managed to fit all three cases easily into the trunk (see, I am speaking American now
) and we were soon on our way to the Florida Keys. Or were we? No, because Gary could not figure out how to release the brake. Every time he thought he had found it, it was something different – the hood popped open or the trunk unlocked or a window opened.
Finally, we were on the road, a mere 2 and a half hours after landing. It was exactly the same when we flew into Miami back in 2007 and I had hoped that the changes made with the car rental centre and the immigration hall might have improved the time it took to get through but, unless we were just unlucky, it appears that nothing has changed and I honestly think that this might prevent us from flying into Miami in the future. It is just not what you need after a long flight.
Anyway, we left the airport and drove through downtown Miami, heading for the US1 South. The traffic was horrendous, stop-start all the way to the end of the Palmetto Expressway, but we had expected this. What we hadn't expected, though, was the torrential rain. It was horrible, you could hardly see a foot in front of you and I didn't envy Gary, having to drive in it after such a long flight and being so tired. Luckily, the rain didn't last long and, by the time we joined the South Dixie Highway (US1), it had more or less stopped.
Raining cats and dogs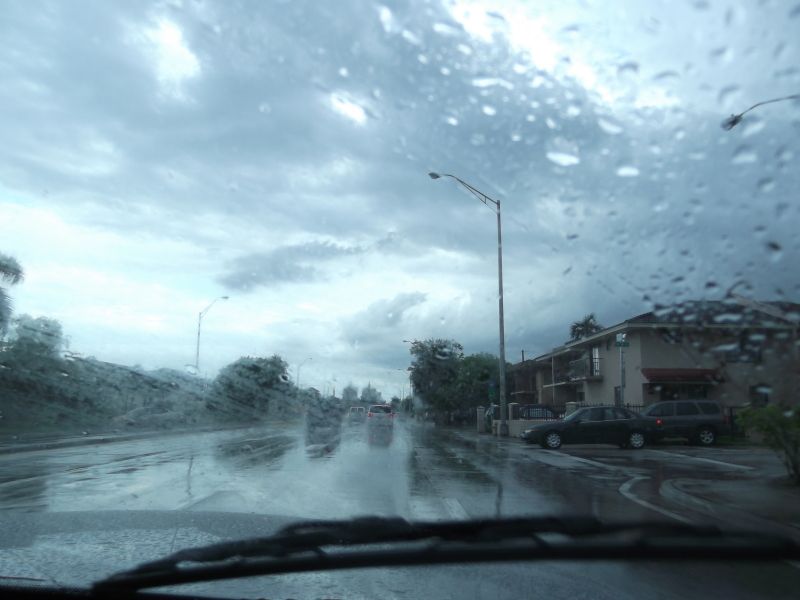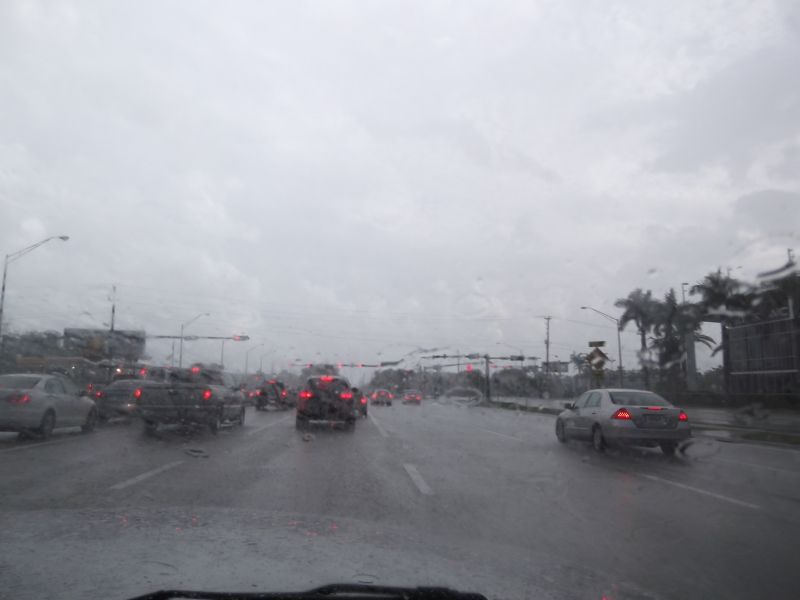 South Dixie Highway
Welcome to Key Largo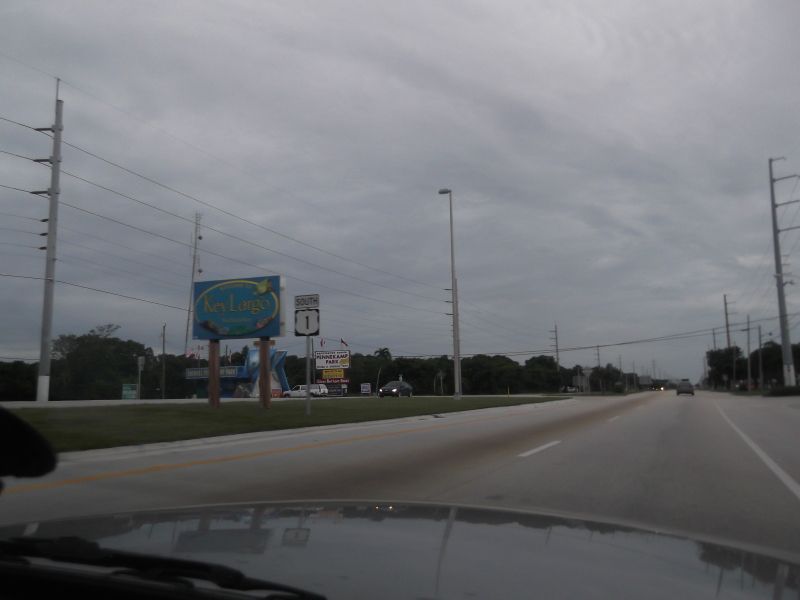 Continued below...