It was now coming up on 12:30 PM, we were now getting pretty hungry, and DD was starting to get hot and tired and cranky. I continued to try and "choose to be amused", so I suggested since I wanted to grab FP for Splash Mountain that we lunch at the "Hungry Bear" down at that end of the park.
By this point, we had walked through or by every land in the park, and I have to give DL a lot of credit. While I realize it is about 50 % smaller than Magic Kingdom, they've managed to somehow make it "feel" larger. There is a LOT of stuff in this park to do – way more than MK, and yet it somehow doesn't feel overcrowded with the attractions right on top of each other. (Now, it DOES feel pretty darn crowded with people.) Really impressed by that!
So, lunch at the Hungry Bear – was REALLY GOOD! I had the "Fried Green tomato Sandwich - cornmeal crusted fried green tomatoes layered with two slices of freash heirloom tomatoes, topped with havarti, romoulade, jicama mango slaw and served on a multi grain roll"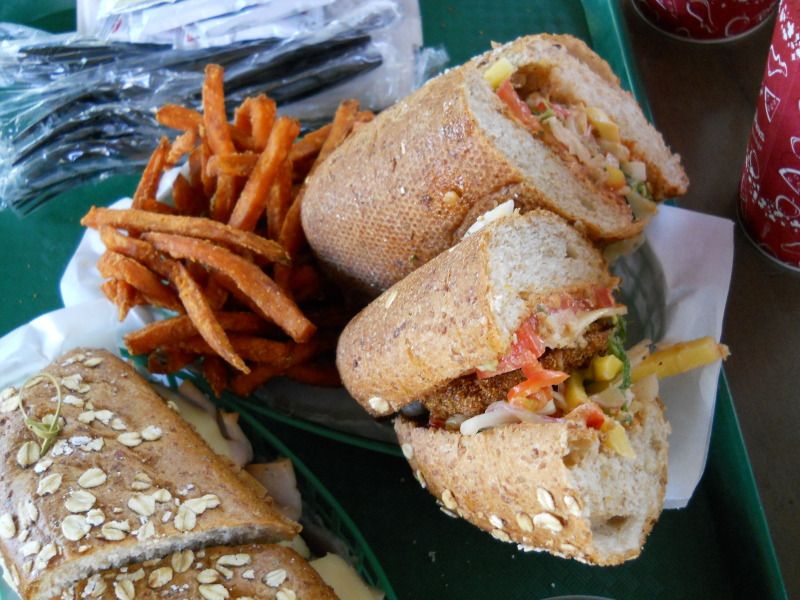 Holy crow was this a good sandwhich! I loved it! And the sweet potato fries were also great. Of course I love sweet potato fries as there is a place down by the river here in Buffalo that serves them with honey….yummm so good. DW had the "Turkey and Provolone Sandwich - With lettuce, tomato and basil mayo on a multigrain roll. served with roasted slaw"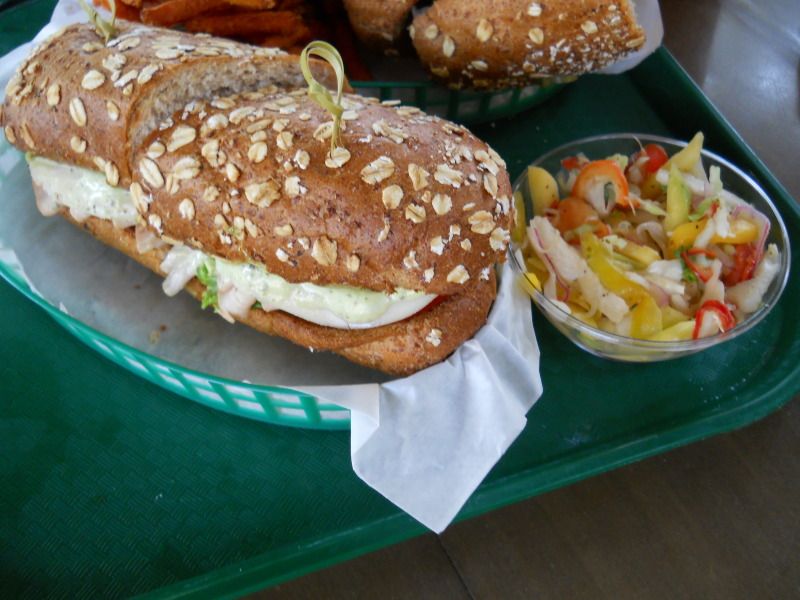 This is the same slaw that came on my sandwhich, and it was also delicious. Both meals were very large as well. DD had a "Kid's Power pack - String cheese, nonfat yogurt, sliced apples with wholegrain Goldfish crackers" Once the lunch was done, we decided we were all in need for a break and wanted to go back to the hotel, we decided to take the DL Railroad from New Orleans Square. DD wanted a frozen Minute Maid Lemonade.
The train was a very slow way to get back to the front. It stopped twice, once in Toontown/FL, and again in Tomorrowland. What was really unexpected about this ride, was that after Tomorrowland, the ride went through this Diorama area where they had a bunch of anamatronics of the grand canyon and then Jurassic Park (OK, not really) - actually the dinosaur scenes looked very similar to what you see in "Ellen's Energy Adventure" at Epcot. (Sorry, no pictures) A neat little surprise.
Also, on the very back of the train we were on was the "Lily Belle", the private train car that's named after Walt's wife Lilian. I only noticed this because I know as part of the Backstage Magic trip we are taking next June you actually get to RIDE on that car!
Anyways, back to THIS trip. By the time we got back around to the front of the park it was about 1:30 PM, and we were ready for a rest. (In case you are not keeping track – that's 17 rides that we have done already!) But not before getting a photopass photographer to give us a snap:
…and then another one of DD by a bench she thought was pretty cool.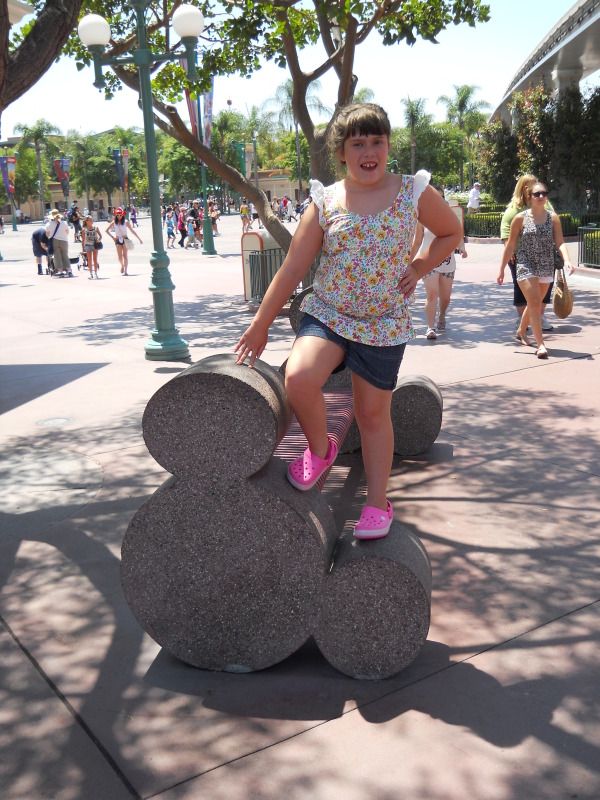 Once we got back to the hotel, we took about 40 minutes to go for a swim, which felt really good, and then returned to the room for about an hour long nap.