So, I have had such a fun time reading the PTRs of other Disers that I decided to try my hand at one as well..no promises.
Here it goes!!
When: Departing from NC on 11/23 and returning on 11/29
Where: AoA LM room with FD and upgraded to DDP (thank you for that nice little pin number that came in the mail).
Who: Myself (35), My DH, DSD6 and DS (almost 10 months at time of the trip)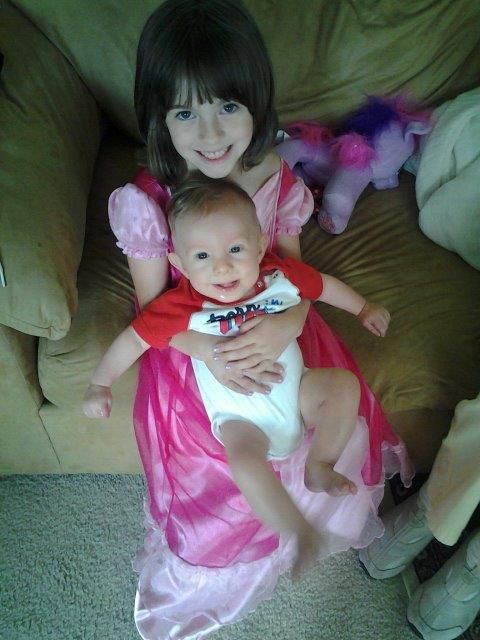 My sweet Stepdaughter (DSD6) and my little boy (DS7months)
Me and my husband
A little background:
I have been a Disney Nut for years, I grew up in the Florida Keys so it was a 6 hour drive to Disney. We would go every year for School Disney Trips and then of course family trips.
I got married on 2/26/11 and convinced my husband to go to WDW for our Honeymoon, I told him it had always been my dream. I could tell he was not too excited about the idea, but he went along with it. He had only been to WDW once and it had been 30 years ago. I tried to explain the magic about WDW but I could tell he was just going for me (good hubby). His daughter had been to WDW with her Mommy a few years before and we knew that this would probably be our only time to go as a couple. Overall we had a great time and my husband did discover the magic I had talked about, but unfortunately my hubby had a cracked tooth and was in alot of pain for the majority of the trip.
We had planned to take my DSD in November of 2011 however I was about 5 months pregnant with my son and we didn't think it was the best timing. So, that brings us to November of this year! This will be my first trip as a Mommy so the planning has definitely been more intense.
11/23/12 8:00am - Pick up Rental Car:
So the DH and I decided to rent an Intermediate SUV because of all the junk (I mean stuff) we need to pack! Since we are leaving the day after Thanksgiving I have a few days off before hand to get everything packed up and ready to go! We will drive to Savannah, GA on Friday and stay there for the night. When my DH and I went for our Disneymoon we drove right through, but decided a 10 hour car ride with the kids would be a bit too tough on them and us.
So, we found that Savannah is about the half way point for us. Luckily, we won't be in too big of a rush that morning since we are just heading to GA. However, I'm sure that evening will be full of school work for my DSD since she is missing a week of school. Luckily she is only in 1st grade and I think I can still handle her work...if not I have my niece who is a 1st grade teacher on speed dial.
I think the biggest thing I keep trying to decide about is whether or not to pack my son's PNP or just get a bed rail or PNP from the hotel. We are getting a room with 2 beds so I think it would be do-able to have one of the kids sleep with me and the other one sleep with my DH. I'm not quite comfortable with both kids in the same bed yet...they would beat each other black and blue! I know if we take our own PNP it will take up some room in the vehicle, but my DH is a bit of a germ-a-phobe so he doesn't like the idea of using a PNP from a hotel. I'm actually leaning toward just getting a bed rail. So, any input from Disney Parents on this would be great!!!
11/24/12 -- AoA here we come!!!!
So, that Friday will be the big day. My Step-daughter is so excited about staying in the LM room. I have not stayed on site in years so I'm excited as well, I figured it would be easier staying onsite with the kids. If the baby gets cranky one of us can always take him back to the room. However, I am planning on having afternoon rest periods for the kids. I just feel that they can get so overloaded about everything and end up having a big breakdown. So, I'm hoping for an afternoon break to go back to the room to watch a movie or swim (weather permitting).
We will leave Savannah first thing in the morning (I want to be on the road no later then 8am). I'm planning on doing the Online Check-in before hand so I'm hoping that will make things a bit smoother. We should get to AoA around 1pm, so not sure if a room will be ready or not (fingers crossed it will be). If not, we will have lunch at the resort and wait on the room.
We will head over to MK as soon as we can unload stuff in our rooms. We have ADRs at Crystal Palace at 7:30pm that night. This is the first time I have used the dining plan and after looking at the cost of the Character Dinners I felt it was a better deal for me to upgrade to the DDP (especially since we had the Quick Service for free, we only had to pay about $180 difference to upgrade which was well below what we would have paid for if we paid for the Character Dinners separately).
My son's room is decorated in Winnie the Pooh so I'm very excited about this Character Dinner!!
I'm also curious to see how he will react to the Characters, I'm hoping they don't scare him too much. My Step-Daughter is not too thrilled about this one, but she knows it's for her little brother.
Does anyone have any feedback on the dinners at Crystal Palace? Like I mentioned before this is a completely different trip for me as a Mommy. Usually I just go with friends or family and we just go as we please and stop at quick service places when we feel like it. It's been a long time since I ate a TS restaurant.
After dinner we plan on watching the parade and fireworks...I figure this is a great way to start our Disney Trip!!
I will provide my 11/25/12 update soon. I would love any feedback or suggestions!