Hello, and thank you for joining in! My name is Helen and I am a stay-at-home mom to my 4 beautiful children!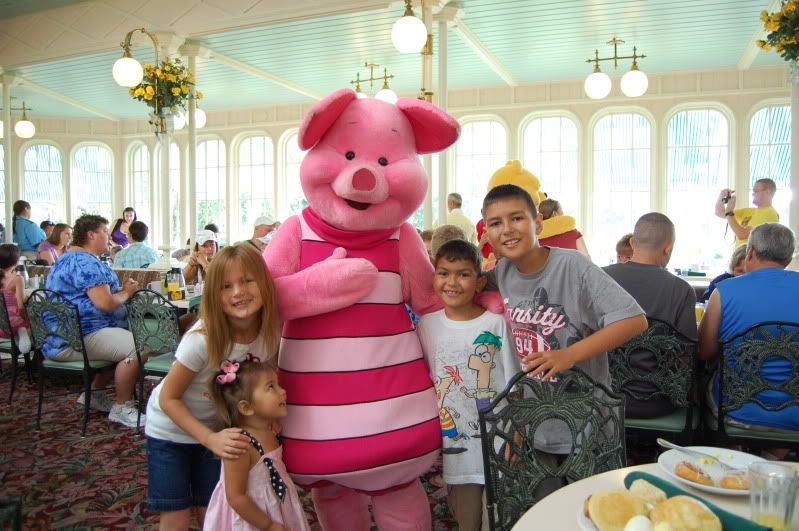 My husband, Larry, and I have been married for almost 12 years (we will be celebrating our anniversary during our vacation- it's actually on 9/9, but close enough
). We will be taking our umpteenth trip to WDW from 8/27 to 9/1. Joining us will be my SIL sister-in-law and her family (husband and 2 boys). We will be staying at ASMovies 8/27-31 and then the Polynesian CL for one night (anniversary present
).
I have had 6 months to make ADRs, cancel ADRs, change times on an ADR...you name it, I've done it. Only a couple of weeks to go and I think that I am finally settled on a solid dining itinerary
Oh wait, I lied. Akershus was supposed to be a "girls only" (my 2 daughters and I) breakfast, but Larry has informed me that he does not want to miss the look on our daughters' faces when they meet the princesses. My boys, on the other hand, could care less
So now I have to change our ADR from a party of 3 to party of 6 (keeping my fingers crossed that something opens up soon!).
Anywho...on to my ADR list
Monday, Aug. 27
B
- Akershus
L
- Via Napoli
D
- Cape May Cafe
Tuesday, Aug. 28
D
- 50's Prime Time Cafe
Wednesday, Aug. 29
B
- Crystal Palace
Thursday,Aug. 30
B
- Hollywood & Vine (Play n Dine)
L
- Sci-Fi
D
- Hollywood & Vine (F! dining package)
Friday, Aug. 31
D
- 'Ohana
Saturday, Sept. 1
L
- Kona Cafe
The restaurants in pink will be the ones we are trying for the first time
My youngest daughter and I have been to 50's PTC before, but just for a snack (PB&J milkshake and onion rings
). I can't wait for the rest of the family to try it, and am really looking forward to try the fried chicken! We have been to H&V before, but this will be the first time for breakfast.
I think I have settled on where we will be eating for counter service, but that is always subject to change- especially with 4 picky children
After spending a few hours calculating and re-calculating, we will not be on the DDP. Just didn't seem to be the right route to take with the numbers I was coming up with. But we will be using the TIW card. Larry had me take care of the all the ADRs, but he does not want to see how much we will be spending. He knows it will be a lot of money, but ignorance is bliss- right?
Hence, the title of my PTR
Next up: Snacks, drinks, and CS choices