Welcome to my Destination D Trip Report! For those of you who have read my previous reports you know that I try to take copious notes and report back with as much detail as possible. I am working for that same goal on this TR as well.
So let's get down to the basics. My name is Alison, and my partner Fran and I joined D23 within a couple months of the club starting. We have been to both Expos in 2009 & 2011 (Premiere level at the last one). Here I am at the last Expo with Steven Clark and I can't remember this gal's name, but she is the one who pretty much makes sure that EVERYTHING gets done, she is AMAZING!!!! Notice that all of us have bags under our eyes, this was the end of the show and everyone was tired!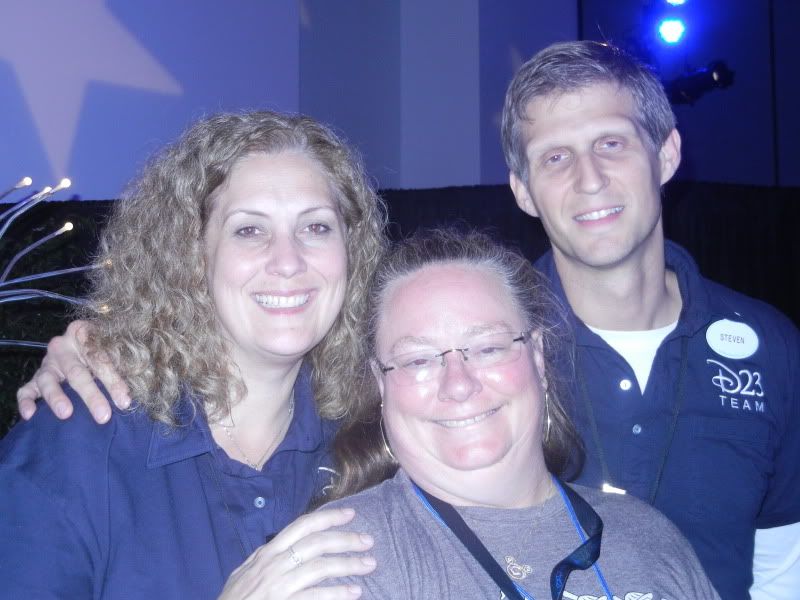 I had to look long and hard to find a picture of Fran, but here it is.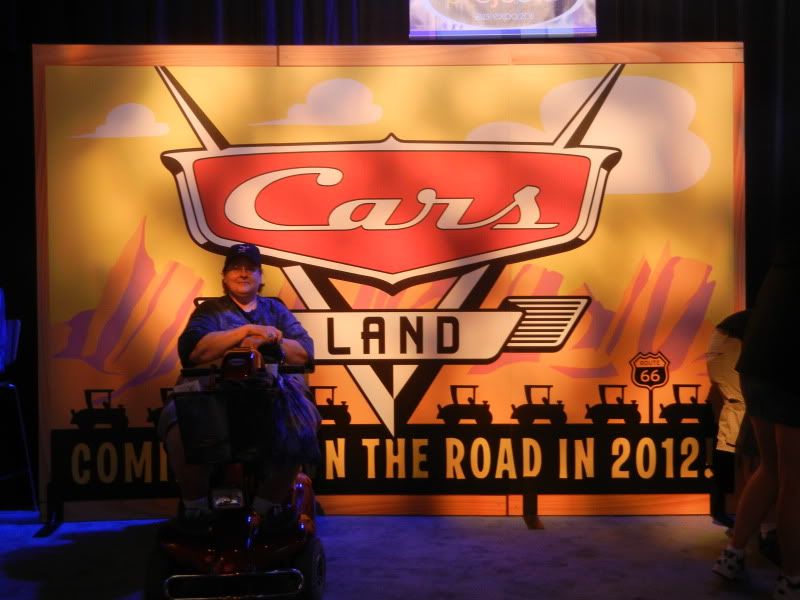 We have also been to both of the previous Destination D events at Disneyland and WDW. If you are not familiar with Destination D, it is a weekend "seminar" on Disney on a very intense scale. The first one, for DLs 55th Anniversary was all about DL, the making of it, the funny and weird aspects, and the mouseketeers even did a panel. At WDW, it was for the 40th, they shared all kinds of neat and funny stories about WDW it's opening and challenges they faced on expanding. This weekend is all about Animation. I haven't seen a schedule yet, but it will go something like this:
Friday:
12:00 noon, registration opens, we can shop for the special merchandise. Check in at VGC, 1br villa. Dinner at the Carthay Circle Restaurant.
Saturday:
Morning session 9-12 lunch break, afternoon session 2-5, dinner break. 8-10 Dick Van Dyke and the Vantastics will entertain us.
Sunday:
similar schedule, with Alan Menken as the evening entertainment.
Because we paid the big bucks, we will have reserved seating for all the sessions, plus on Monday we have a tour of the Walt Disney Studios in Burbank. We check into a one bedroom villa at the VGC on Friday. During the event I'll be making all our meals in the room. Partially to save money, but more to give us a chance to take a power nap in-between the sessions. Oh and there will be food porn, both the Disney kind and my home cooked meals!
Here are Disney's official descriptions of what we will be seeing as of June 4, 2012:
Destination D: 75 Years of Disney Animated Features includes exclusive previews of upcoming films from Walt Disney Animation Studios, salutes to the great Disney animators and artists of the past, hands-on activities, an extraordinary reunion of Disney animated voice talent, a glimpse at how the Disney animated features have influenced the Disney parks, rare and never-before-seen artwork and film footage, plus a special salute to Snow White (the film that started it all), and numerous surprises. Saturday ends on a "Jolly Holiday" note with a concert by Dick Van Dyke and The Vantastix performing timeless Disney songs and pop standards. We cap Sunday with a rare concert appearance by eight-time Oscar®-winning composer/songwriter Alan Menken, who will perform some of his most memorable songs from many modern-day Disney film classics, and more.
If you love the Disney animated features, this event will be a dream come true—an unprecedented celebration of the art, storytelling, music, voices, imagination, and innovation of Disney's benchmark films. Presented at the newly re-Imagineered Disneyland Hotel, this is one D23 event that will leave you truly animated!
D23′s Destination D series has become one of the fan club's most popular member events. Past "destinations" have celebrated 55 years of Disneyland and 40 years of Walt Disney World Resort. Now it's time to celebrate the diamond anniversary of one of the most universally beloved and unique film genres—the world of Disney animated features.
D23 Destination D: 75 Years of Disney Animated Features
adds Joe Hale, Burny Mattinson, Ted Thomas, Dave Bossert, Roy P. Disney, Don Hahn, Tony Baxter, Kim Irvine, and Kuniko Okubo to its Saturday presentations, and an evening concert with Dick Van Dyke & The Vantastix.
From Walt Disney's groundbreaking Snow White and the Seven Dwarfs to the upcoming Wreck-It Ralph, guests will go on a two-day journey filled with fun, laughter, and rarely or never-before-seen artwork, photos, and film clips—all the while surrounded by some of the most beloved imagery and characters the world has ever known. There are more announcements to come but we wanted to share with you the most up-to-date plans (current as of June 4, 2012) on what promises to be an extraordinary celebration (additional participants and presentations to be announced in the weeks ahead). Here are the Saturday, August 11 highlights so far!
Walt Disney and the First Golden Age of Disney Animation
Walt and his original team of animators and artists invented an entirely new genre of filmmaking storytelling. Together they created unparalleled bodies of work that continue to delight audiences around the world. Join our panelists who participated first-hand (or witnessed) the remarkable creation of Walt Disney's feature animated films:
• Joe Hale
—43-year Disney veteran who contributed his artistic talents to such films as Peter Pan, Lady and the Tramp, Sleeping Beauty, One Hundred and One Dalmatians, and Mary Poppins.
• Burny Mattinson
—Disney Legend and 50-year veteran of Disney animation who contributed his artistic talents to such "Golden Age" favorites as Sleeping Beauty, One Hundred and One Dalmatians, and The Jungle Book.
• Ted Thomas
—Son of legendary Disney animator Frank Thomas and director/writer of the acclaimed documentaries Frank and Ollie and Walt & El Grupo.
Roy E. Disney and the Second Golden Age of Disney Animation
Roundtable discussion of Roy E. Disney's influence on the "Second Golden Age of Disney Animation"—from The Black Cauldron and The Great Mouse Detective through the modern-day classics of the 1990s. Join our panelists who participated first-hand (or witnessed) Roy E. Disney's remarkable stewardship of Disney's contemporary animation renaissance:
• John Musker
—Noted Disney animation writer, director, and producer whose directorial Disney film credits include some of Disney's most successful animated films The Great Mouse Detective, The Little Mermaid, Aladdin, Hercules, and The Princess and the Frog.
• Ron Clements
—Noted Disney animation writer, director, and producer whose directorial Disney film credits include some of Disney's most successful animated films The Great Mouse Detective, The Little Mermaid, Aladdin, Hercules, and The Princess and the Frog.
• Dave Bossert
—Author of an upcoming book on Roy E. Disney, and creative director and head of special projects at Walt Disney Animation Studios; artistic coordinator and visual effects supervisor on Fantasia/2000 and associate producer of the short "Destino" among many other accomplishments.
• Roy P. Disney
—Son of Disney Legend Roy E. Disney, former Disney Imagineer, and first-hand witness to Disney animation's second "Golden Age."
• Don Hahn
—Noted author, Disney animation historian, and producer of some of Disney's most successful animated films of the second golden age, including Beauty and the Beast, The Lion King, The Hunchback of Notre Dame, and The Emperor's New Groove.
Inside Walt Disney Animation Studios Today
In a presentation created exclusively for Destination D, fans will be treated to a never-before-seen peek into the exciting current and upcoming projects from Walt Disney Animation Studios. Exclusive sneak peeks and footage from the comedy Wreck-It Ralph, the 2013 feature film Frozen, and short films Paperman and Tangled Ever After will be revealed by the filmmakers themselves. Hosted by Disney animator Darrin Butters, take an inside look at how the legacy of Disney animation lives on and grows today.
The Greatest Disney Animation You Never Saw
Enjoy a "Behind-The-Magic" peek at the art of Disney feature animation. Academy Award®-nominated film producer and author Don Hahn and Creative Director for Walt Disney Animation Studios David Bossert present rarely seen (or never before seen at all) Disney artwork and animation from more than 75 years of Disney animated features.
Animating The Disney Parks
Disney Parks owe a great deal of their creative development and design to the roots of Disney animation. Join current and former Disney Imagineers as they discuss how legendary Disney Imagineers, including Marc Davis, Mary Blair, Claude Coates, Herb Ryman, John Hench, and many others, successfully transferred their skills and talents from the world of Disney feature animation to "animating the Disney Parks." Join our panelists who personally worked with many of these Disney animation and Imagineering greats:
• Tony Baxter
—Senior vice president, Creative Development at Walt Disney Imagineering, whose project credits include Disneyland Paris, Big Thunder Mountain Railroad, Indiana Jones™ Adventure, and Splash Mountain.
• Eddie Sotto
—Noted experiential designer, mixed-media producer, conceptualist, and former Disney Imagineer, whose projects included the design of Main Street, U.S.A. at Disneyland Paris, early work on Indiana Jones™ Adventure at Disneyland, plus Mission: SPACE at Epcot and Pooh's Hunny Hunt at Tokyo Disneyland.
An Evening Concert: Dick Van Dyke & The Vantastix
The fun continues into the night with an unforgettable evening of harmony provided by Dick Van Dyke & The Vantastix. The popular vocal quartet is comprised of legendary television, Broadway and film star Dick Van Dyke and three renowned west coast musicians—Mike Mendyke, Bryan Chadima, and Eric Bradley. Songs from Van Dyke's varied entertainment career, in addition to many well-known Disney hits and timeless pop standards, will be performed by Van Dyke and The Vantastix in a show rich in humor, pure entertainment, and sing-along favorites. It's a once-in-a-lifetime experience you won't want to miss!
Exclusive Screening: Walt & El Grupo—The Director's Cut
Presented exclusively for D23 Members and their guests is the definitive director's cut (not available on DVD) of the acclaimed 2009 film documentary Walt & El Grupo. Hosted by Director Ted Thomas and Producer Kuniko Okubo, the film chronicles the amazing 10-week trip that Walt Disney and his hand-picked group of artists and filmmaking talent (later known as "El Grupo") took to South America in 1941 at the behest of the U.S. Government.
Sunday August 12, 2012
D23′s Destination D: 75 Years of Disney Animated Features adds Jerry Beck, Eric Goldberg, Mindy Johnson, Margaret Kerry, Andreas Deja, Dick Jones, Kathryn Beaumont, Lisa Davis, David Frankham, Bruce Reitherman, Chris Sanders, Marge Champion, Gabriella Calicchio, and Don Hahn to its Sunday presentations, and an evening concert with Disney Legend and Oscar®-Winner Alan Menken.
Wacky and Wild Disney Animation
Go on a wacky and irreverent ride through some of the most psychedelic and visually stunning animation ever put on film in this fun and humorous retrospective of Disney feature animation. Along the way you'll learn of the contributions of such "characters" as Disney Legend Ward Kimball, renowned artist Salvador Dali, and many others. Your hosts through this animation "Wonderland":
• Jerry Beck
—Well-known animation historian, with 10 books and numerous articles to his credit. Jerry is an animation producer, and industry consultant to Warner Bros., and has been an executive with Nickelodeon and Disney and is also a popular blogger on the subject of animation.
• Eric Goldberg
—A veteran director, designer and animator, his Disney credits includes being the supervising animator of Genie in Aladdin, co-director of Pocahontas, animator of Phil in Hercules, followed by Fantasia/2000, which he directed, wrote, and animated two critically acclaimed sequences: "Carnival of the Animals" and "Rhapsody in Blue." His animation work can also be seen in the Tokyo Disney Seas attraction Magic Lamp Theatre and the recently unveiled Gran Fiesta Tour Starring The Three Caballeros at the Mexico Pavilion at Epcot.
Tinker Bell: The Evolution of a Disney Character
Have you ever wondered how a character becomes a "Disney" character? As we take you on a fascinating trip through the decades in a presentation filled with never-before-seen art, photos, and film clips, you'll see how Tinker Bell developed into one of Disney's most iconic characters. Your tour guides include:
[B]• Mae Whitman/[B]—Official voice of Tinker Bell, Mae Whitman was the first actress to portray the famed pixie in a speaking role and has voiced her in every film since. At Disney, she has also played both Rose and her alter ego Huntsgirl on American Dragon, and co-starred with Haley Joel Osment as the voice of Shanti in Jungle Book 2.
• Peggy Holmes
—Director of the upcoming Tinker Bell film Secret of the Wings, Peggy has a long history with Walt Disney Studios. She has worked there as a dancer, actress, choreographer, and now director. Peggy was choreographer on Walt Disney Pictures' Newsies and Hocus Pocus. She appeared in Totally Minnie alongside an animated Minnie Mouse. She also applied her dance background staging all of the Jim Henson puppeteers' performance sequences in the film, The Country Bears. She then choreographed two musical sequences for the animated feature The Jungle Book 2, before directing and choreographing the animated short Belles On Ice, starring Minnie and Daisy. Peggy's first animated feature directorial debut for Disney was with The Little Mermaid: Ariel's Beginning.
• Ginni Mack
—One of the original Ink & Paint "girls" from the early days of Disney Feature Animation who continued with the Studio through the completion of Beauty and the Beast.
• Mindy Johnson
—Author of the upcoming book Tinker Bell: An Evolution—(new for Fall 2013 from Disney Editions).
• Margaret Kerry
—Live-action reference model for Tinker Bell in Walt Disney's 1953 animated film classic Peter Pan.
Disney Feature Animation Stars—Drawing With Personality
The Walt Disney Studios is often credited with perfecting "personality animation," creating from paper and pencil characters that seemingly live and breathe. In this entertaining and educational presentation you'll discover the secrets behind the creation of some of Disney's most beloved animated stars, plus you'll get the chance to design your own Disney animated character under the guidance of a master Disney animator. Your instructor:
• Andreas Deja
—30-year Disney animation veteran, whose impressive body of work includes serving as supervising animator on characters in several classic Disney animated features, including Gurgi in The Black Cauldron, Gaston in Beauty and the Beast, Jafar in Aladdin, Scar in The Lion King, Mickey Mouse in Fantasia/2000, Lilo in Lilo & Stitch, Mama Odie in The Princess and the Frog, and Tigger in Winnie the Pooh. He's also a noted Disney animation historian and authority on the work of legendary Disney animator Milt Kahl.
Hearing Voices: A Salute to Disney Character Voice Artists
Meet the artists behind the voices. We put a spotlight on the many men and women who have supplied some of the most familiar voices ever to grace movies screens. This unique reunion of Disney character voice talent highlights some of the great voices of the past as well. Our roster of Disney character voice talent stars include (to date—more to be confirmed over the next few weeks!):
• Bill Farmer
—Official voice of Goofy, Farmer has contributed his voice talents to several Disney animated features including Beauty and the Beast, The Hunchback of Notre Dame, Hercules, and Brother Bear.
• Dick Jones
—Voice of Pinocchio (Pinocchio, 1940)
• Kathryn Beaumont
—Voice of Alice (Alice in Wonderland, 1951) and Wendy Darling (Peter Pan, 1953)
• Lisa Davis
—Voice of Anita (One Hundred and One Dalmatians, 1961)
• David Frankham
—Voice of Sergeant Tibbs (One Hundred and One Dalmatians, 1961)
• Bruce Reitherman
—Voice of Mowgli (The Jungle Book, 1967) and Christopher Robin (Winnie the Pooh and the Honey Tree, 1966)
• Chris Sanders
—Stitch (Lilo & Stitch, 2002)
Snow White: Still "The Fairest of Them All"
Walt Disney's animation masterpiece Snow White and the Seven Dwarfs introduced an entirely new filmmaking genre—the Disney animated feature—and put in motion the creation of an unparalleled library of films that remain unrivaled in their artistic and storytelling achievements. Join us as we salute this groundbreaking film with a rare west coast appearance by 93-years-young Marge Champion, the live-action reference model for the character of Snow White. Also joining the presentation will be Gabriella Calicchio, CEO of The Walt Disney Family Museum, to provide insights on the museum's upcoming Snow White exhibition and an exciting new D23 opportunity.
An Evening With Disney Legend and Oscar-Winner Alan Menken
Please "Be Our Guest" as we conclude our celebration with a rare musical concert by Disney Legend Alan Menken. With eight Academy Awards®, Alan Menken has received more Oscars than any living person. He has written songs and scores for some of the world's most beloved films: Tangled (Oscar nominee), Enchanted (three Oscar nominations) The Little Mermaid (two Oscar wins), Beauty and the Beast (two Oscar wins), Aladdin (two Oscar wins), Pocahontas (two Oscar wins), Hercules (Oscar nominee), The Hunchback of Notre Dame (Oscar® nominee), Little Shop of Horrors (Oscar nominee), Home on the Range, and Newsies.
Menken is currently the first songwriter in 13 years to have three new shows running concurrently on Broadway (Sister Act, Newsies, and Leap of Faith). His Broadway successes include The Little Mermaid (Tony Award® nominee), Beauty and the Beast, Little Shop of Horrors, and Sister Act (Tony Award nominee). His other stage productions include King David, Newsies, God Bless You Mr. Rosewater, The Hunchback of Notre Dame, and Aladdin.