INDEX
DAY 2 - Mall @Millenia - Pool - Manny's (1)
DAY 3 - Parasailing over Bay Lake - Pool - Texas Roadhouse
DAY 4 - Clearwater - The Little Toot Dolphins - Manny's (2)
DAY 5 - IHOP - Premium Outlets - Hard Rock Cafe
DAY 6 - OKW - Hoop Dee Doo (1)
DAY 7 - Magic Kingdom - Portobello Restaurant DTD
DAY 8 - Disney's Hollywood Studios - The Cheesecake Factory
DAY 9 - Typhoon Lagoon (1) - 50's Prime Time Cafe
DAY 10 - 1900 Park Fare - EPCOT Walk Around The World
DAY 11 - Animal Kingdom - DTD - Manny's (3)
DAY 12 - Florida Mall - Teppan Edo (1)
DAY 13 - Magic Kingdom - Mara - Chef Mickey's - MK EMH
DAY 14 - Flo Rida Concert - Tutto Italia
DAY 15 - Tusker House - Animal Kingdom - Grand Floridian Cafe
DAY 16 - Blizzard Beach - Garden Grill
DAY 17 - Summerland Golf - Art of Animation - Teppan Edo (2)
DAY 18 - Discovery Cove
DAY 19 - Magic Kingdom EMH - Manny's (4) - Disney's Hollywood Studios
DAY 20 - Typhoon Lagoon (2) - T-Rex
DAY 21 - Premium Outlets - Hoop Dee Doo Review (2)
DAY 22 - Disney's Hollywood Studios - Ohana's
DAY 23 - Florida Mall - Yak n Yeti - Polynesian
DAY 24 - Epcot EMH - Sanaa - Polynesian
DAY 25 - DTD - Les Chefs de France - Magic Kingdom - DTD
DAY 26 - Packing - Disney's Hollywood Studios - Narcoossee's
DAY 27 - THE FINALE!!! - Magic Kingdom - Home
DAY 1 - OUTBOUND & HILTON ORLANDO BONNET CREEK
The final sleep in our beds for a month was planned to be an early one, however the few things remaining to cross off our check lists, meant we finally made it to bed around 23:00. The alarm was set for 4:00, so at least we could manage a good 5 hours of slumber&&& WRONG !!!!!!! Around 1:30 we were woken by a house alarm at the opposite end of our cul-de-sac. This continued ringing for a good 20 minutes before resetting itself, however the blue light remained flashing. We both ended up clock watching until our planned alarm finally sounded.
As usual, Emma was very difficult to wake, but the words we are going to Disney did the trick. The car had been loaded with our suitcases the previous evening, and parked in the garage, so it was just a matter of grabbing our hand luggage and we were good to go.
We were on the road at around 5:30, and the journey north along the M6 soon passed.
Parked up on T2 Long Stay we boarded the shuttle bus and headed toward the terminal.
We were greeted at Virgin P.E. check-in desk by a not so friendly looking assistant. I had checked-in online the previous day, so handed over the relative paperwork together with our passports. On weighing my hand luggage, I was informed that it was 4kg overweight and that some items would need to be transferred into the suitcases. I had a netbook, sat nav, DSLR with 3 lenses and a compact camera, none of which I was prepared to be allowed to be thrown around by the baggage handlers. With some careful swapping between our 3 pieces of hand luggage, I managed to get the weight to just over 6kg, which seemed to please the assistant although she still didnt break into a smile. The holdall carrying my electrical chargers and leads was singled out to be received at a check-in desk the opposite end of the building. Once through security, we had a browse around Duty Free where Sue purchased some Chanel perfume. I was looking to purchase an iMac from Dixons to collect on our return when we landed. Martin (burt) had called the previous day from here, to let me know the prices. After checking the model numbers, they were the older models, so I did not bother. Breakfast was from Burger King, which managed to fill an empty gap, and soon it was time to make our way to Gate 300A. This was down one level from the usual gates and meant we caught a shuttle bus to our awaiting Airbus A330-300 Mademoiselle Rouge. We had chosen the same seats as our return leg last year. (Last year??? it seems only a few days ago that I was writing this in my trippie !!). We were offered a glass of sparkling wine, whilst the rest of the passengers boarded.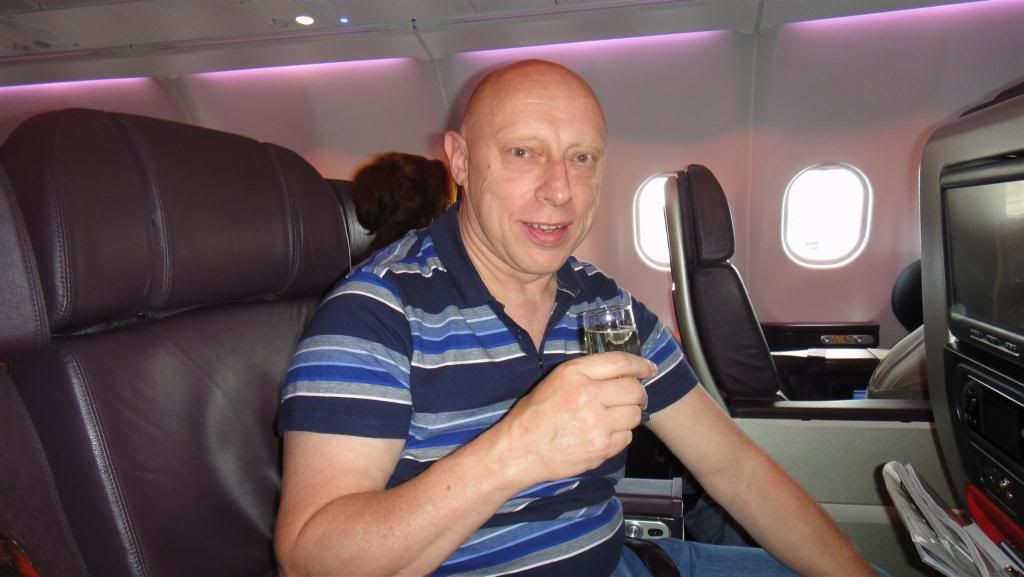 I received a text message from a work colleague who had found the plane on his Virgin app. Soon all of the 304 passengers and 13 crew were seated (thanks Captain!), and we were rolled out, 3 minutes before schedule.
Food served throughout the journey was very good.
Sue and Emma both donated to me, their starter of &&Smoked salmon with crème fraiche and rocket leaves. Main course was&&Diced chicked breast with creamy mushroom and red pepper sauce, broccoli, masked potatoes and carrots, served with a small crusty roll and butter. Dessert was&&Chewy Belgian chocolate cake, which I did not fancy, so Sue managed to dispose of it. This was washed down with a small bottle of Shiraz.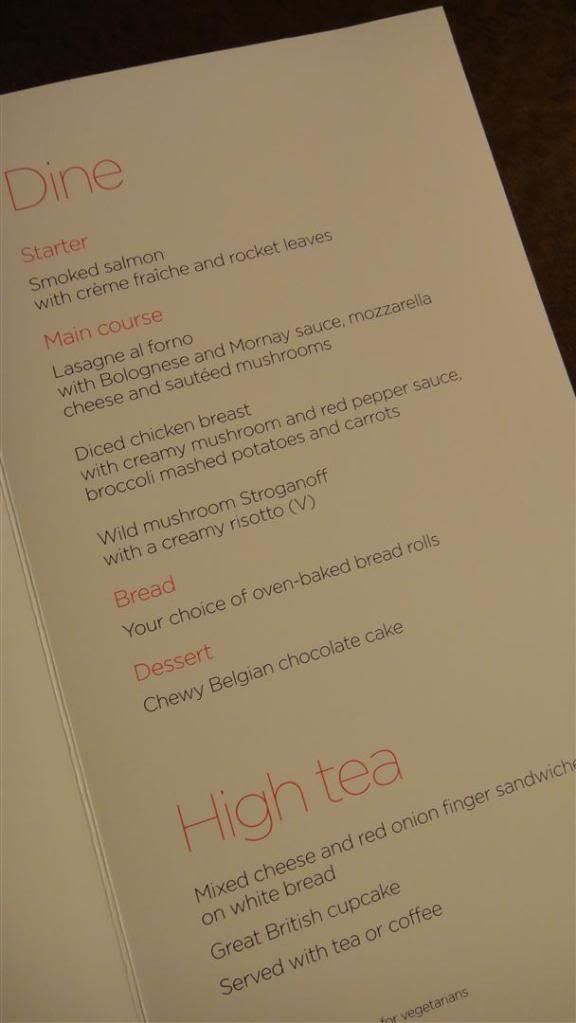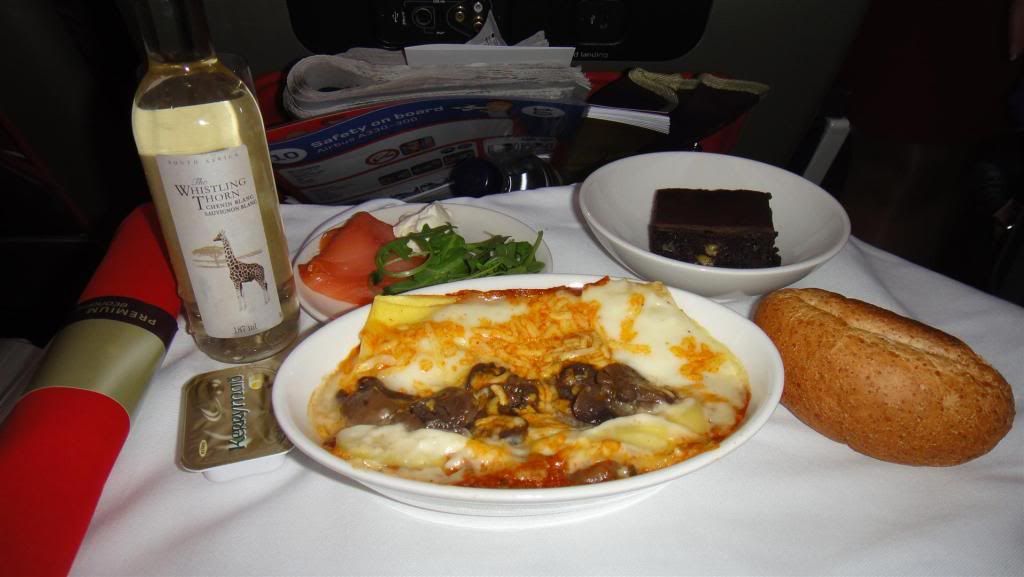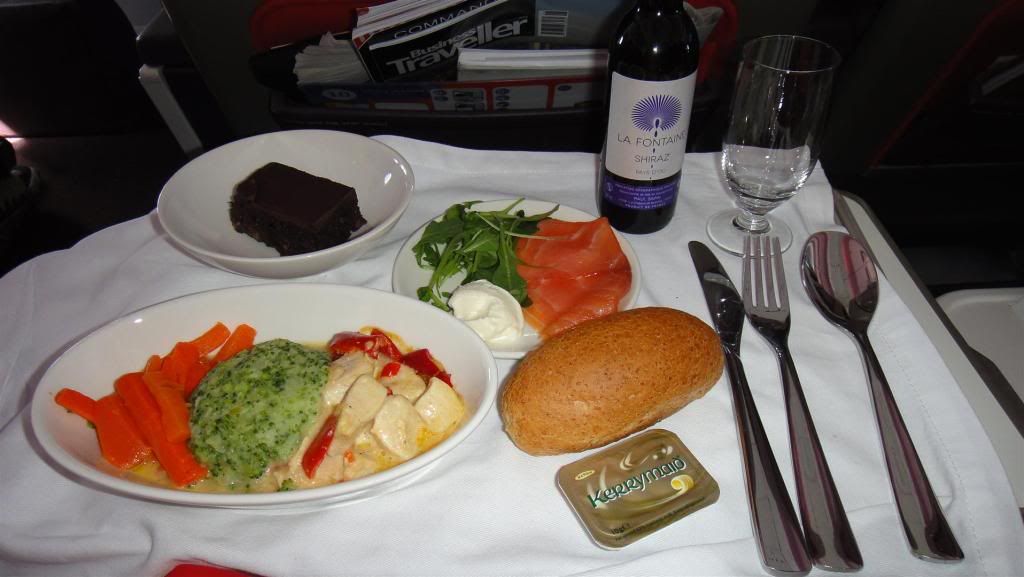 I am not much of a film fan, but still managed to keep myself occupied with the vast selection of music on demand available from the in-flight entertainment system. Half way through the flight, the captain flashed a message on our screens that Andy Murray and Ben Ainslie had both won Olympic Gold for Great Britain&& Hey!!! this is supposed to be the Olympic Free Trip Report and here we are, 40,000 feet half way across the Atlantic and we still cant get away from it! (Only joking, I tend to watch most sports, particularly the cycling&.and didnt we do well). Back to the journey, High tea consisted of Cheese and onion finger sandwiches, together with a cupcake and coffee.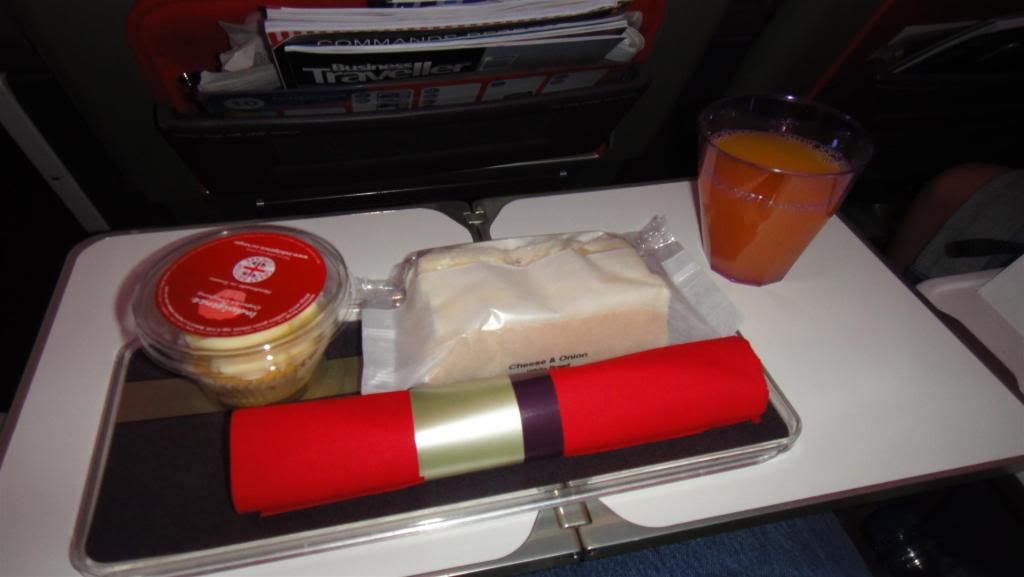 I managed to grab a few cat-naps and soon we were starting our descent into Orlando. The cloud base was quite low, which meant that the turbulence encountered, gave some of the parks, white knuckle rides a run for their money. The Captain announced that the Gatwick 747 was a few minutes behind us, and made a great effort in unloading our plane before they reached the terminal. I had purposely pre booked the rental car for 5:00 pick up, to tie in with the drop off for our late departure return journey. We landed at 14:40 local time and this proved to be the quickest airport exit we have ever made. Security was empty as we entered the hall and we were cleared within 5 minutes. Over to the luggage carousel and we had got our 4 items before Sue had managed to collect a trolley. In an effort to kill a little more time, we chose to send the suitcases via the conveyor into the terminal building, whilst we made the short trip across on the monorail. We arrived at Level 1 8A carousel and the conveyer burst into life. Yet again, our luggage appeared within seconds. Things were going too smoothly for my liking. Over now to Dollar Express kiosk across in the garage. Only one person was being attended to and then I was called forward. Handing my rental voucher, together with my Driving license and Dollar Express card, no hard sell of ePass or any other necessities` was made, but this assistant did comment on the charge that was being shown for a tank of gas. After processing, she then noticed that due to arriving before my pre-booked time, I was being charged an extra days rental, together will all taxes CDW etc&&.She kindly gave me a 2 hour free grace period, which would be refunded onto my card, at the kiosk, providing I return the car before 5:00 on my final day. This note was electronically added to my account and also written on my rental documents. We were given the choice from a row of SUVs and based on last years car, yet again, decided on a Ford Edge. We were soon out on the road, but managed to get distracted on leaving the airport exit and ended up doing a full lap of the airport before eventually getting back on track, heading for our home for the next five nights Hilton Orlando Bonnet Creek. Traffic was busy along the Greeneway, and we soon encountered our first taste of Florida rain. Arriving at the Hilton, I unloaded the luggage onto the pavement, where Bell Services collected it together on a trolley. Sue went to check in, while I parked the car in the nearby multi-storey car park. The only DIS-like I have of the Hilton is the daily car park charge however I seem to think that this cost has been reduced since our two previous visits last year. We were allocated room 1776 on the 17th floor overlooking Downtown Disney.
Bell services soon arrived with our entire luggage. I received a welcome text from Martin, who was on his way to Sea World. We had originally planned on our first visit to Mannys this evening, but I had developed a headache since our arrival. I had a nap on top of the bed and woke with what felt like a migraine. Not sure if this was due to tiredness, based on our encounters with the burglar alarm at home, but we decided on giving Mannys a miss for tonight and headed off to Walmart on SR535 to pick up some supplies. Our final stop was a quick call into McDonalds near to All Stars, for a snack before heading back to the Hilton. I took a few headache tablets and went to bed around 9:00.
I woke up around 02:30, fully refreshed and headache gone!!!.
The 2012 OLYMPIC FREE TOUR trippie, has begun!
Coming up next An expensive shopping day Pool Time Mannys Chophouse