Hi there DISworld! Welcome to my second trip report. My name is Suzi. I was lucky enough to go to Disney World a few times as a child, then I took a 20 year hiatus
and just returned to the magic for the first time in Feb of this year with my husband and little boy.
We had a wonderful week and thanks to my parents spending a little time with us we were able to stay at the Poly! It was beautiful. But you can read all about that if you click the link in my signature below. This TR is about my July trip.....
Back on track...
This trip was all about celebrating my cousin, Danielle's high school graduation. So hubby and DS5 didn't get to come with me this time. I knew how hot and crazy busy it was supposed to be and I didn't want to have to worry about keeping my little one hydrated and happy the whole time. Plus, with just Dani and I, we could get up early and stay up late with Extra Magic Hours all week. And we did.
So here we are having dinner with Minnie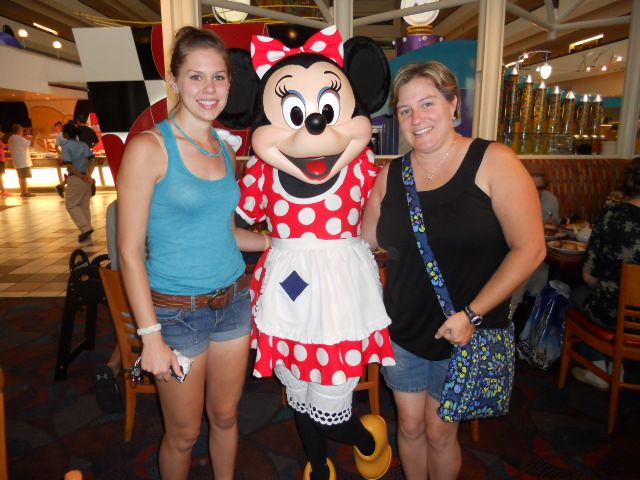 Umm...Dani is the skinny one, in case you were wondering
She is such a good kid and I am so glad I could do this for her. She was the valedictorian of her class, a sports star in everything she does, a wonderful big cousin to my little guy...he just worships her, and she has aspirations to become a vet. She was accepted into Bates College in Lewiston, ME (which is very hard to get into if you are wondering) and we are all very proud of her!
We were at the world from July 18-23rd. We stayed at Port Orleans French Quarter. We hit all four parks and for the first time I got to experience lots of new thrill rides that either weren't there 20 years ago, or I couldn't go on with my son in Feb. This was Dani's first trip ever and she had a blast!
So thanks for joining me on this ride. I will apologize ahead of time that I don't have as many pictures as I would've liked, but for some reason I focused mainly on the food....so get ready for some Disney Food Porn! Yum yum!