Hi all! I know we arent going til November BUT the DxDP is calling our name!!!!!
~*~*~Cast Of Characters~*~*~
Me: Erin(30) lover of all things Disney-especially EEYORE
DH: Jim(33) he likes the rides and will eat where ever but doesnt 'like' Disney like I do. I cant to this day figure out what is wrong with him
DD12 Kacey: we are celebrating her 13th Bday!!!
DD8 Courtney: loves all things Disney like her mama
DD4 Madysen: this willbe like her first trip! Her first trip was when she was 2 so she doesnt remember much
DDad Bill: He has been only 1x before and only went to MK and Epcot so 8 days is a first for him!
DMom Donna: Has never been... so she wont know what hit her
I cant wait! Shes gonna love it!
DBro Adam: went with us in 2010 and had fun but cant wait to go back with his GF
DBGF Erin: NEVER been to Disney
cant wiat to show her everything!
DGrandMom JoAnn: lives in FL so she goes to MK alot but has never been to DHS or AK
DGrandPop Bill: same as Grandmom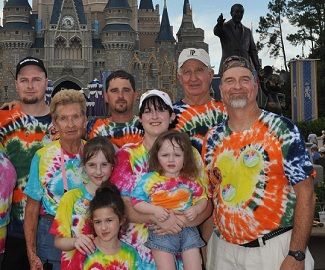 The only ppl not pictured here are my mom and my brothers girlfriend BUT this was from 2010 on our last big family trip!
~*~*~When~*~*~
We are spending 8 wonderful days in WDW Nov 25th-Dec 2nd with FREE DINING
upgraded to the DxDP. Staying at Port Orleans Riverside in a Royal Guest Room
*************DIsclaimer**********************
Please note: I am a notorious for changing my plans 600 times before we go
I hope you are along for the ride
~*~*~List of Dining ADR's:~*~*~
Sunday Nov 25th
L. CS ot POR
D.Be Our Guest
Monday Nov 26th
B.Hollywood & Vine
L. 50's PT cafe
S. Starring Rolls ~CUPCAKE!
D. Sci-Fi
Tuesday Nov 27th
B. Tusker House
L. Rain Forest Cafe
D. Whispering Canyon Cafe
~ MVMCP~
S: Dessert Party if offered
Wednesday Nov 28th
B. 'Ohana's
L. Coral Reef Candlelight Processional
D. Cape May Cafe @7
Thursday Nov 29th
B. Crystal Palace
L. Cinderella's Royal Table
D. 'Ohana's
Friday Nov 30th
B. 1900 PF
L. CS at Blizzard Beach
D. T-Rex
Saturday Dec 1st
B. Akershus
S. Karamel Kuche
L. Le Cellier
D. 1900Park Fare Cinderellas dinner
Sunday Dec 2nd
B. Chef Mickey's
L. LTT
So right now thats the plan! Thoughts on any of these places???