Hi Everyone!
I know it seems a bit crazy to start a planning journal this far out, but I'm sure most of you share the same excitement for your big day as we do. Let me give you some details about us:
HOW WE STARTED:
I met my husband Paul when we were cast as romantic opposites in a musical for a dinner theatre. It was truly love at first sight- I swear time stopped as he walked through the door the first time I saw him. However, we were both involved in other relationships and in complete denial of our feelings for each other. We shared our first kiss on stage and kissed 27 times over the course of the production. After the show closed we met for dinner one night and after we walked to our cars in the parking lot and we did not want to say goodbye...so we hugged for 2 hours straight. At that point we FINALLY realized we had pretty deep feelings for each other. We broke off the other relationships, began dating, FINALLY shared our "real life" kiss and fell deeply in love.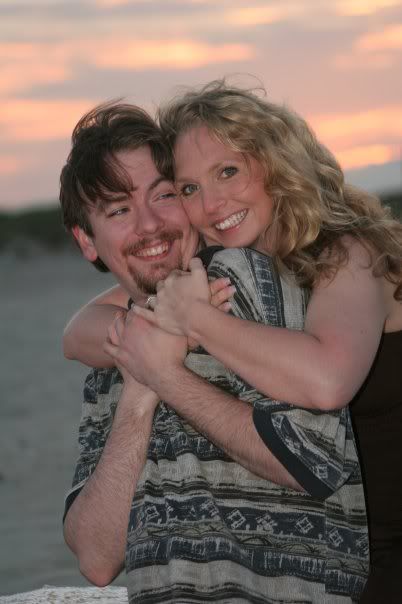 THE ENGAGEMENT:
We were dating for about a year when Paul proposed. He had come over to my house and we had dinner together. We were listening to music in my living room and I was getting very sleepy. Over the course of the evening Paul had been setting up the proposal "scene" in my bedroom ...he had taken every candle in my house (which was ALOT...about 20) and scattered them all around the bedroom. I guess he was planning on lighting them while I went into the bathroom to get ready for bed and then propose, but that didn't happen. I fell asleep on the couch...and I am a DEEP sleeper. So he ended up just putting me to bed. When I woke up the next morning I noticed the room kind of smelled like a Yankee Candle outlet and I was confused! Paul had made me breakfast and brought it to me in bed. Then he started to sing to me as he has many times...but he changed the words of the song to include a proposal: "I want to be the first man you remember, I want to be the last man you forget. I want to be the one you always turn to so marry me- my love you won't regret". As he sang to me he reached behind my pillow and pulled out the ring (which I had unknowingly slept on all night). Then he pointed out all the candles he had smuggled into the bedroom over the course of the evening the night before. He was disappointed it didn't happen by candlelight like he intended but it was beautiful, romantic, heartfelt and uniquely "us". Plus we can always laugh at how completely oblivious I was!
OUR WEDDING:
Once Paul proposed we couldn't wait to be married. We set our wedding date 13 weeks out (which brought us to the 4th of July). Our 13 week engagement was a whirlwind because of all the planning but it also seemed so long...we just couldn't wait to be married! Our budget was modest ( 10,000), but we pulled off our dream wedding successfully. We wanted an intimate wedding that would capture our love, so on July 4th 2006 we were married in the woods in in back of my inlaws house (they own 27 acres so it was on their property). The theme was "romantic Broadway". All the music, programs, table names, favors etc had a slight nod to the romance of Broadway (but nothing was kitschy). I wore my mothers 1958 chantilly lace wedding gown and Paul (who is always in a tux when he sings at events) wanted something special for him to wear so he chose a pirate shirt and vest with tux pants. He looked like the prince of my dreams! The highlight of our ceremony was when we sang our wedding vows to each other!!! After, we had a tent reception in my inlaws backyard. The end of the evening concluded with our friends and family circled around us holding sparklers while we danced and then a fireworks finale lightly choreographed to music! It was a romantic and spectacular day that we will always cherish.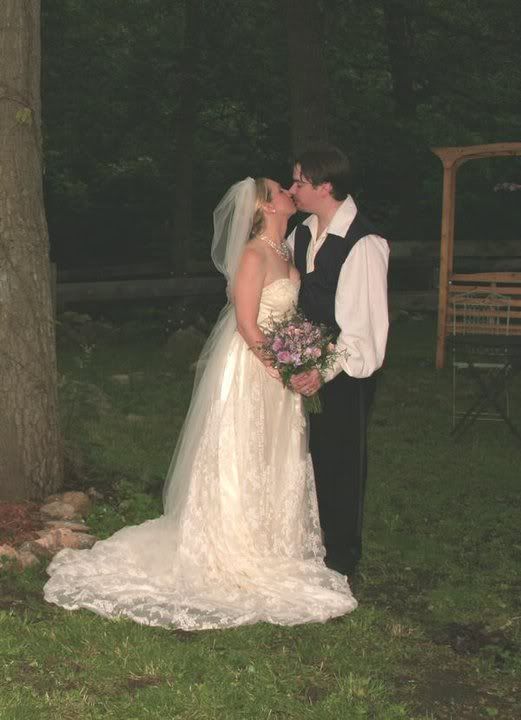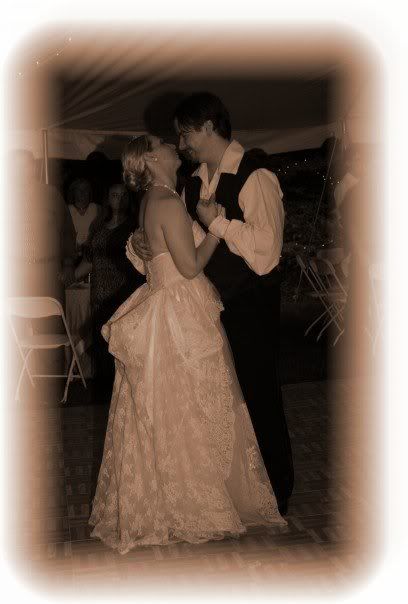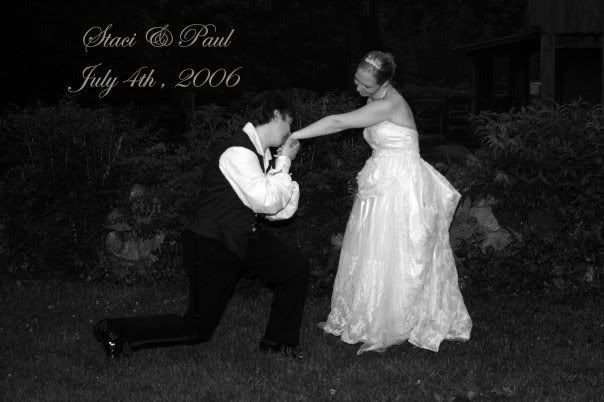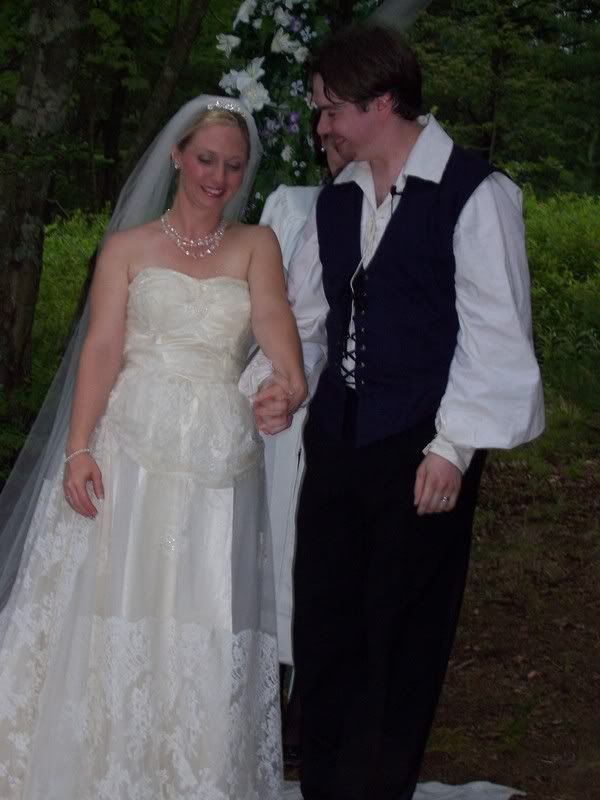 WHY A DISNEY VOW RENEWAL:
OK, so some of you may be asking why are we choosing to renew vows if everything went so perfectly? Well, if time and money hadn't been a concern we absolutely would have wanted a Disney wedding. Don't get me wrong..we ADORED our wedding day and wouldn't trade it for ANY wedding in the universe. But we both are kind of obsessed with Disney and what better way to complete our real life fairytale than renewing our vows in our favorite place on earth right?
THE PLANS:
We decided on our first anniversary that we would someday renew our vows in Disney. Unfortunately, although we went to Disney World for our 5th anniversary we were not able to afford the renewal. So we are now preparing to budget and plan for a 10 Year Vow Renewal! Right now we are trying to decide between an Escape package with lots of upgrades or a Wishes package. Here is the list of things we are certain we want (providing that things don't drastically change over the next 4 years):
~guest list of about 18 (the list will be comprised of our close friends who we did not know when we were first married)
~ a 2:30 ceremony in the wedding pavillion
~ champagne and cake reception on the commanders terrace of GF (if we choose the escape package)
~ a 5:00 celebration dinner at the California Grill (we are going to request the wine room)
~Tomorrowland Terrace Wishes Dessert Party following dinner
We Also Want to Add On:
~Cinderella's Coach
~the Mk bridal portrait session
~An Illuminations Welcome Cocktail Party
~ Videography
~ and host a farewell breakfast
We are looking at a Monday ceremony sometime in late May or early June of 2016. We don't want to do it on our actually anniversary (July 4th) since it is peak season and the weather is more unpredictable. Plus they usually change the fireworks in the Magic Kingdom to a more patriotic theme.
Since it's a vow renewal we don't need an actual officiant, but we don't think anyone on our guest list would feel comfortable performing our ceremony so we may have to hire a Disney officiant anyway.
I know it's early but if anybody has any suggestions I would appreciate and welcome all opinions.
Thanks!