HI!!!

So excited to be doing my first PTR....although not my first trip to Disney. So please bear with me as I learn the ropes!!

First....introductions!!

ME

My name is Wendy...I'm 30...mother, wife, Special Education teacher (starting a new position in the fall) and I LOVE DISNEY!!!! I would go every year if my DH allowed it....(he's the one who is NOT enthused!!
)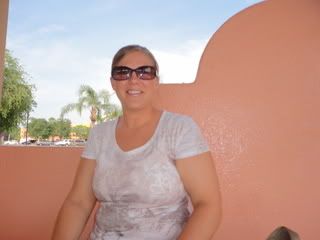 (DD took this photo on our last trip!)
Callie-DD-6

Then there is my little "me". Callie shares the same love for Disney as I do! This will be her 3rd trip....and she knows what she does and does not want to ride and see (which doesn't necessarily agree with what I want and do not want to ride and see!!!) She just finished kindergarten and is excited for 1st grade next year. She wants this trip NOW....but I said..."Don't rush it...because then it means summer is over and it's time to go back to school!"
(Waiting for TOT...her exact words after the ride..."I will NOT ride that again til I'm 80!!")
Carson-DS-2.5
Here's the one I'm worried about. He's SO EXCITED to see Buzz and Woody....but he has no idea where he is about to go! We talk about Disney...and he says he wants to ride everything...but deep down...he's kind of a chicken!! But a busy chicken....this kid goes, and goes, and goes, and goes....let's just say he's all boy! I'm anxious to see what he thinks about all the Magic!! I'm sure he'll fall in love...as his sister has!
DH - Marty

Oh DH.... unfortunately, he does not share our love for Disney...at all!! He wishes we'd never go....he says he'd go every 10 years...but I'm NOT having it!! He doesn't even want to be around when I mention the "D" word...and whenever I ask him for advice, I get..."Whatever" or "It's your trip...you do what you want!" So, ok....I will....good thing he doesn't see the credit card statement!!
He's a "farmer," well, does farmer type things....so he'd rather be at home, working. Crazy....I know!!
However, I'm hoping seeing the Magic in his children's eyes will totally melt and change his "disliking Disney Heart!!" Here's to hoping....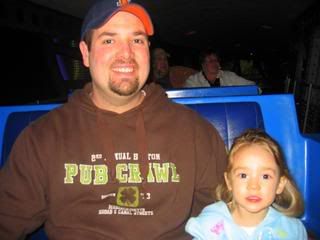 (On our 2009 trip....see...he does look happy!!)
INDEX
How I came to LOVE Disney
When to go....where to stay?
Decisions, Decisions
ADRs
Our Schedule
Some of our Favorites
How we're getting Excited
Magic Kingdom
Carson's Surprise
Epcot
Hollywood Studios

Animal Kingdom
Quick Service Dining
In Case of Emergency
A thought on DH
Step Away from the Credit Card
My Princess
Garden Grocer
Denver Wedding
Stressing out...one more week
And we're packing
It's Time