Good morning everyone! I thought I should get arrival day up and completed and maybe get part of our first full day in Disney up today too! We'll see how the day goes!
Shanleigh has to work at noon so I figure that I'll drop her off, stop and get groceries, gas.... you know all the things I didn't do yesterday because it was housework and laundry! I can never quite figure out why I look so forward to the weekends when it seems it's nothing but chores! Ok enough of that....on with the TR!
We were so excited to be on the ME bus that we were just taking everything in....everyone was so excited and you knew that it was a first visit for all the people around us. Sure did put a smile on our faces.
We were to make one stop before hitting Pop and that was at Caribbean Beach so off we went. What a beautiful resort that is but I couldn't really appreciate it because at this point I just wanted to be checked in at our resort! It took no time at all and we were on our way.....thank goodness Pop is literally around the corner so we were "home" in no time.
We got off the bus and headed to check in....did I think to do online check in, of course not! Where my brain was, I'm not sure, but it wasn't on things it should have been.
The most wonderful young man helped us and before we knew it we were on our way! Remember the brain thing, yup, no pics of check in, the lobby, the store ... nothing nadda.....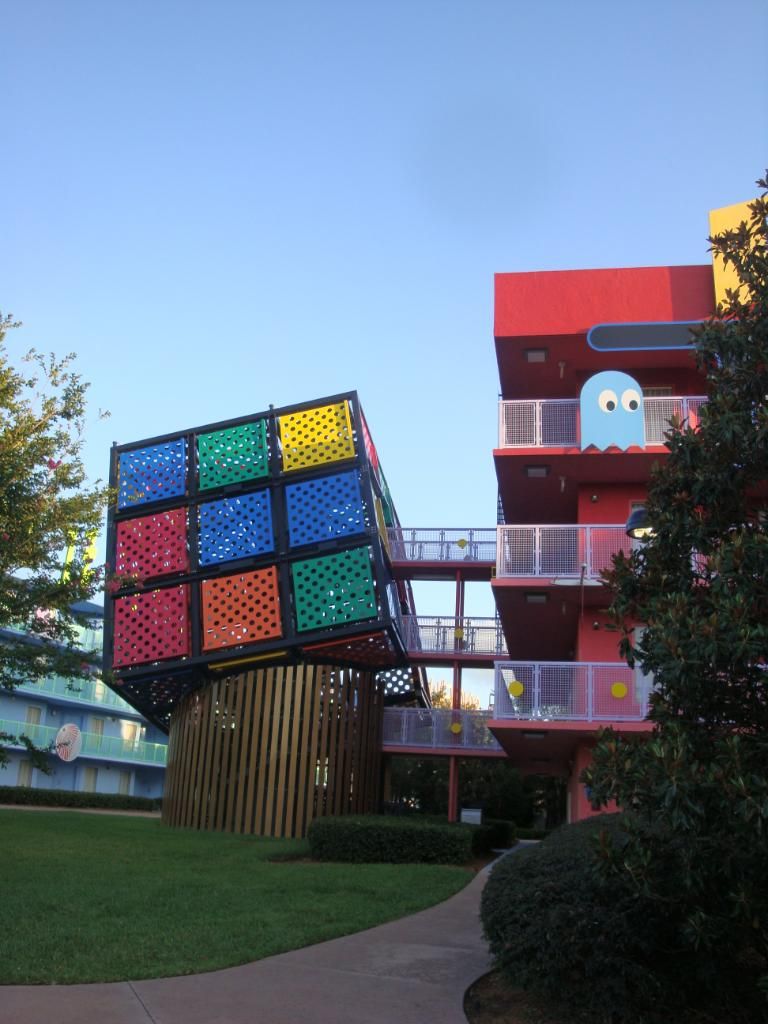 We were in the eighties building with Roger Rabbit and our room number was 7325. Because we had absolutely no clue where we were going (the last time we were in the fifities which is the exact opposite end of the resort) we ended up going the wrong way
I then realized it was because he had circled the wrong building so off we went in hunt of our building. A picture of our staircase! We would soon figure out another way to our room that was much quicker from the buses!
Our building.....I loved how close it was to the pool! If we entered behing good 'ol Roger, and walked up the three flights of stairs, turned right, then first left, our room was right there. We were in heaven with location. So far Pop was looking pretty good!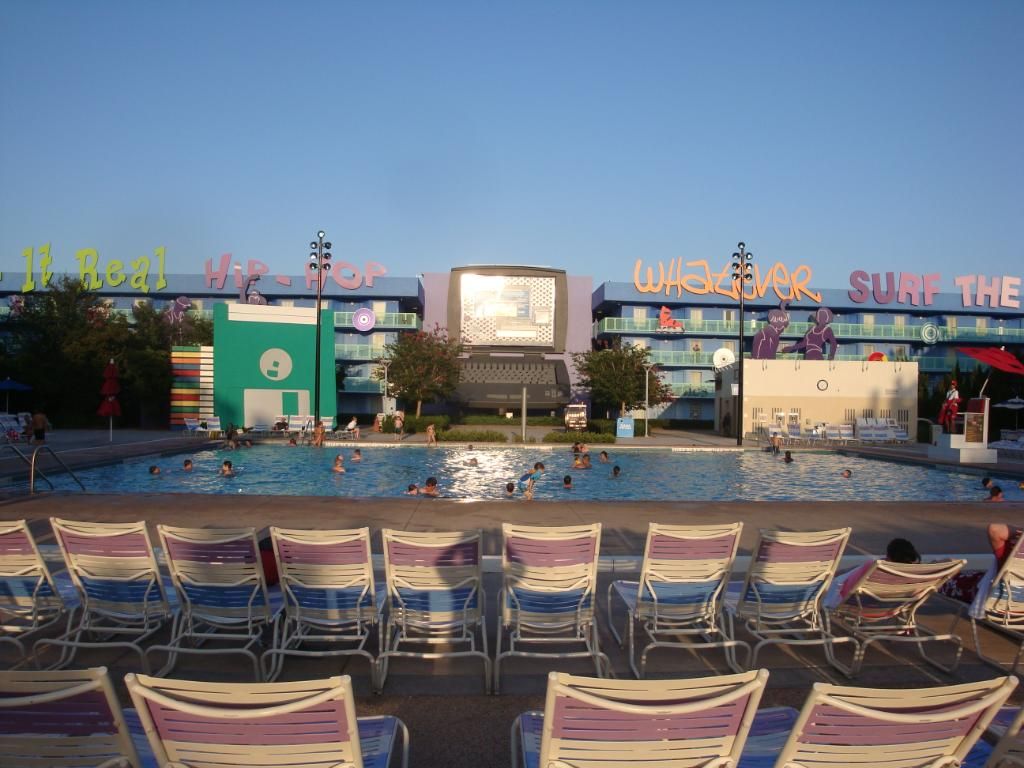 The computer pool that we spent every afternoon at the first 9 days of our trip! We always had good intentions of trying out the Hippy Dippy Pool, but never did! This one was always so quite in the afternoons that we thought why not just enjoy it!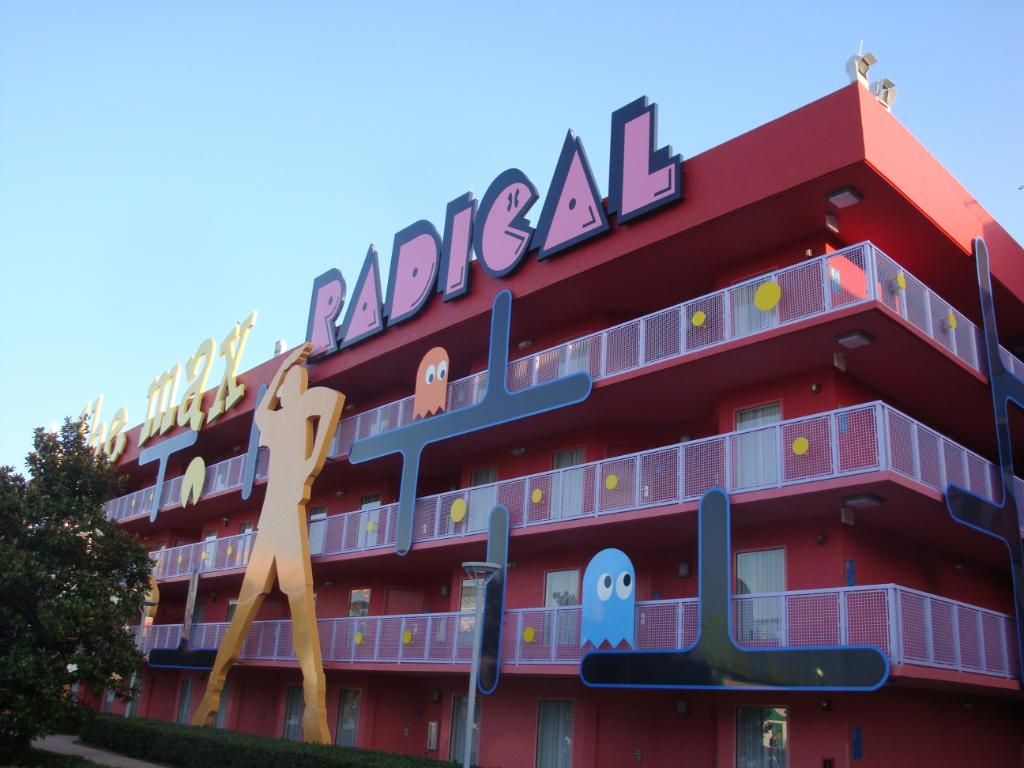 Shanleigh took this for Jeff....Jeff is a gamer! World of War Craft and all those high tech games that frankly just scare me and she thought he would enjoy seeing Pacman on our building
Ok dear...if you think that go right ahead and grab that pic for him!
Walkman.....what's that mom
Seriously, really??? You don't know what a walkman is! Her reply, well didn't I have one or something like it when I was little that used to be yours.....yes dear you did
Being in the eighties section sure did bring back the good times of my teen/early twenties..it was fabulous!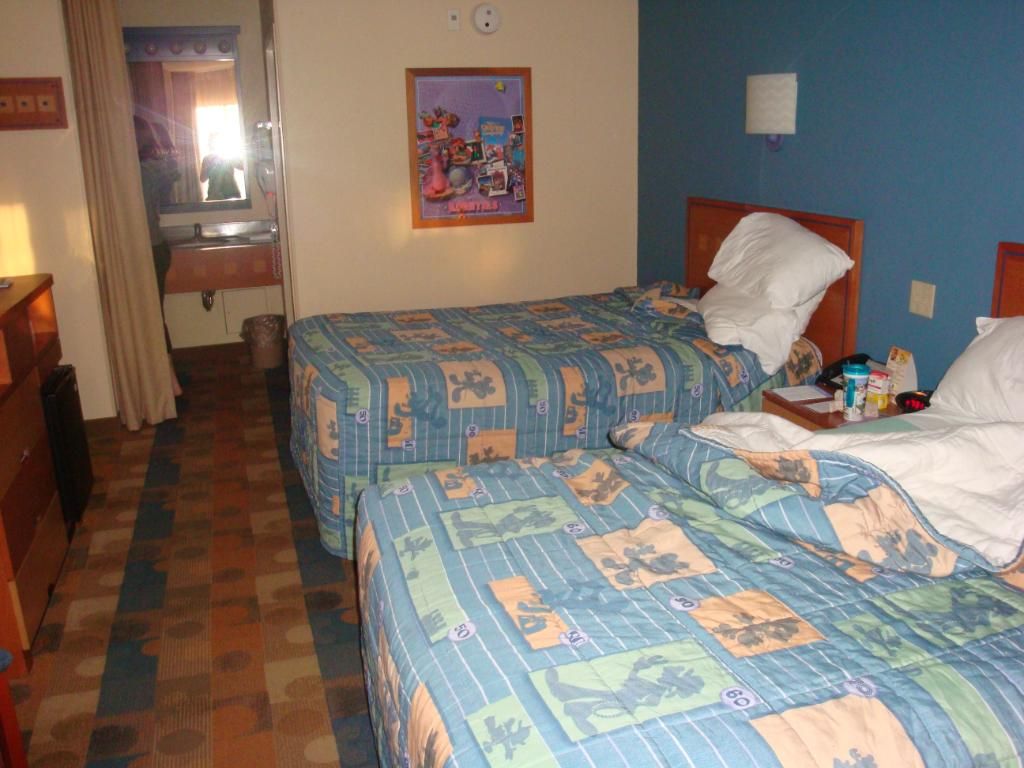 As you can clearly see, I forgot to take a picture of our room before we both had a rest but you get the jist I'm sure! No towel Mickey on the bed....do they not do this anymore
Now, I'm sure some of you have noticed that all those pictures look like they are taken at dusk right? Right!! That's because after check in and in the haste of trying to find our room I forgot. I also forgot to take the camera out when we went to DTD for dinner at Raglan Road and our very first Dis-meet of the trip with Hypermommy!!! I was sick about this and still am! It was the only time we saw her and I don't have one stinking picture!
Shanleigh and her were texting about meeting as she had been volunteering at WWOS that day and was just going to meet us for dinner when she was thru. Turned out she was finished earlier than expected so we headed out!
I always love that first bus ride and DTD is a favourite of ours so we were both very excited, even moreso because we were going to see Hypermommy! We have been friends on here since 2008 and have met on a few occassions, the last being in August when we were there.
We got to RR and she came up behind us and we all hugged and chatted and checked in! She looks AMAZING...again, so sick that I have no pics! You see, she has lost 130 pounds in two years and is training to run a full marathon.....
The woman is amazing! We sat down and ordered dinner, I had bangers and mash, Shan had the appetizer of the ribs and HM had the kids portion of shepherd`s pie and a guinness! After not sleeping at all the night before I didn`t think alcohol was a good idea so I had a san pellegrino instead!
We had such a great time with her but before we knew it she needed to head home and we needed to get some much needed rest for our first big day! It was a great arrival day and I wouldn`t have changed a thing about it!!!
Up next......EPCOT