Since coming home and talking with Cory, we have decided on our venues. Hopefully, our guest count stays in line and allows us our venues. We have invited 150 people and hoping for around a 100. Though it seems now that people I didn't think were really excited about it are now saying they'd like to come. Oh well. This is why I tried to communicate to my parents that you don't have to invite everyone who has invited you to their weddings, especially it being a destination wedding.
So here are the details we hope will be set in stone come August at a year out:
August 3, 2013
Desert/Welcome Party: Italy (whichever the bigger/nicer one is. I forget which one Kristi said.)
August 4, 2013
Ceremony: Japan
Brunch: Living Seas Salon (if our numbers and budget allow.)
Reception: Atlantic Dance Hall
August 5, 2013
Drinking Around the World with Bridal Party and others who'd like to join. Kind of our send off from everyone.
For colors, I'm torn between a few things, but they are very similar. I'm changing a bit to a deep purple and gray with touches of bright blue. I have some examples on my Pinterest which is at
http://pinterest.com/goodmorningirl/
But here are the photos from there. I think I like the one with the blue to brighten it up and also the blue will work well with Japan. I like the gray because Cory may choose a gray suit so I think it would be a great way to have everything flow.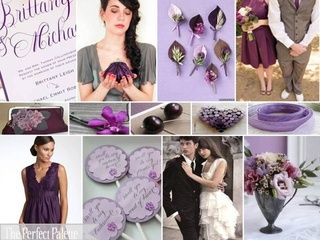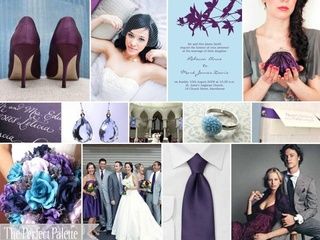 Cory really doesn't want to wear a tux, especially with being outside in Aug., but I know my Mom would like him to considering my dress is so fancy. I keep trying to reassure her that it will look fine. I guess we'll see.
What do you guys think?