Yes, Ladies and Gentlemen you read that right. My daughter and I did the deluxe dining plan for our recent trip to Disney. And I only gained 3 pounds.
I still don't know how I did it. On the regular plan last year, I gained 7. I think it has something to do with the running we did all week. Either way, it was a great one!
On to our introductions: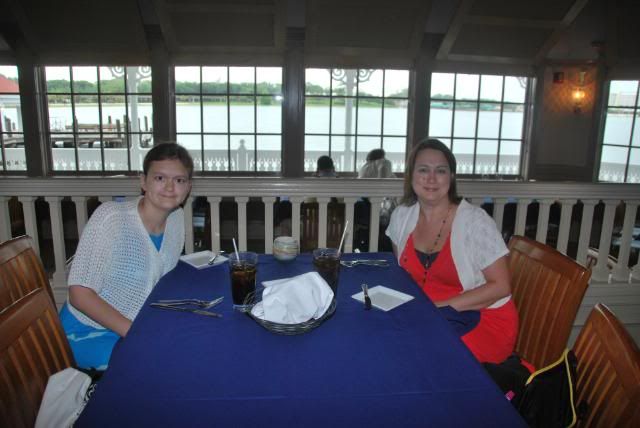 Photo courtesy of our server, Harvey, at Narcoossee's.
There's me, a 30-something special education administrator and Sweetie, a 13-year old full blown teenager.
I love seafood, vegetables. . .you name it, I will try it.
Sweetie is a meat and potatoes-type gal.
We were at Pop Century on May 31 and Coronado Springs from June 1 through June 6.
We ate at the following places:
May 31:
Breakfast: Home
Lunch: Art of Animation
Dinner: Contempo Cafe
June 1:
Breakfast: Cafe Rix
Lunch: Cinderella's Royal Table
Dinner: Narcoossee's
June 2:
Breakfast: Sunshine Seasons
Lunch: Le Cellier
Dinner: Sunshine Seasons
June 3:
Breakfast: Boma
Lunch: Contempo Cafe
Dinner: California Grill
June 4:
Breakfast: Pizzafari
Lunch: Boulangerie Patisserie
Dinner: Cape May Cafe
June 5:
Breakfast: Starring Rolls Cafe
Lunch: Wolfgang Puck Express
Dinner: Chefs de France
June 6:
Breakfast: Crystal Palace
Lunch: Dinobites
Dinner: Yachtsman Steakhouse
Links will be added to the food list. I will rate each place in regards to the following on a 0-5 scale:
Service
Atmosphere
Food Quality
Value
Overall