Chapter One: page one, post one
Chapter Two: page one, post seven
Chapter Three: page two, post 28
Chapter Four: page three, post 39
Chapter Five: page five, post 61
Chapter Six: page six, post 84
Chapter Seven: page 8, post 109
Chapter Eight: page 10, post 143
Chapter Nine: page 12, post 169
Side trip to New York: page 13, post 183
Chapter Ten: page 13, post 187
Chapter Eleven: page 14, post 210
Magic Kingdom Videos: Page 16, post 226
Epcot Videos: Page 16, post 232
Chapter One
Well, its finally here!! We are hitting the road to WDW! Woo-hooooo!!!!! Can I possibly use more exclamation points?
For those of you who are new to my TRs, I will do a quick intro. My name is Jane and I am 51, did 20 years in the Army before retiring in 1998, and am a total Disney freak. The hubby is Leo and he is XX years old (sorry, he is worse than a woman when it comes to his age & but he is older than me & tehehe), and he too is a Disney freak, but not quite as freaky as me. Well, he thinks that, anyway. We have one DD and a DGS and DGD. However, this was an empty nester trip. We usually go to the World once each year and most of the time we go the first couple weeks of May since the weather is perfect and the crowds are pretty manageable. Well, that is usually the case.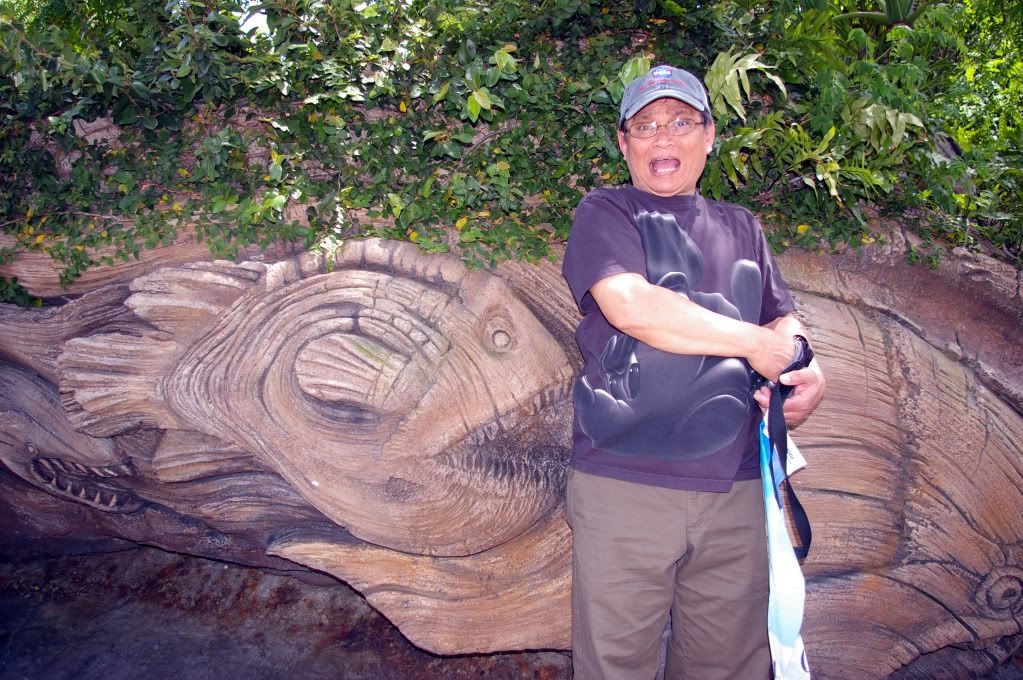 Oh, did I mention we are a bit on the nutty side? Well, we are a bit on the nutty side.
Anyway, back to the report.
Everything was packed and the car loaded last night. The only thing left was the toiletries, our overnight bag and the cooler and road munchies.
Doing the last run through the house, I stopped to say bye to my three fur babies. This is not usually a difficult thing since we have a great kitty sitter. However, this year it tore my heart out to say bye to our old boy. Since he is 18 and really beginning to show his age, I was afraid he may not be here when we get back.
All through our vacation, this was at the back of my mind and heart. However, I need not have worried. He is still going strong and, other than a few old man issues, is doing great for his age. UPDATE: Our beautiful old guy passed away on Jan. 31, 2013. He was just two weeks shy of his 19th birthday. We will miss our fur baby.
Back to our morning.
When we stopped at the gas station for ice, I realized that I had forgotten to turn on the AC. Sheesh. Back home. And then we were on the road by 9 a.m. And I actually remembered DH this year and he didnt have to run along side the car and dive through the window.
As usual, I took the first shift to get through DC traffic and so Leo could get some more sleep. Since he works nights, he is use to sleeping until noon.
Shortly after DC, he took over and actually made 1.5 hours before his first potty break. Thats a record for him.
Now, is anyone out there from Virginia? If so, can you please tell me if there is a law in your state against rest areas along the highway? We hit 223 miles before hitting an actual rest area.
When we left Maryland, it was cold, damp and overcast. Here in North Carolina, it was warm and sunny. It felt sooooo nice. Especially since our house heater broke two weeks ago and it has been cold every day since. It felt good to finally be warm.
After about 300 miles, the South of the Border signs started to pop up. I always know we are really on our way south when we start seeing these signs. Now, by this time I was back behind the wheel and Leo was snoring away. At this point I drove through someones luggage strewn all over the highway. Well, there were no suitcases, just the clothes & and there was a LOT of clothes. I felt bad driving over it, but what could I do? I just wondered how someone could lose that much stuff and not know it. No one was stopped along the side of the road. Boy are they in for an unpleasant surprise when they try to unpack.
We stopped at DQ for a quick lunch and then Leo took the wheel. With him driving, I thought I would take some pics of the Border signs. Easier said than done. They seem to just pop up suddenly and I couldnt get my camera up and ready quick enough.
So, holding my camera at the ready, I kept trying. Here is the exchange between DH and I over the next 15 minutes or so:
DH: Did you get it?
Me: Nope. Didnt get it.
DH: Did you get it?
Me: Nope. Didnt get it.
DH: Ya get it?
Me: Nope. Didnt get it.
DH: Shoot, shoot, shoot&now, now now!
DH: Did you get it?
Me: Nope. Didnt get it.
After a looooong time and many attempts, I finally did get it. Whew!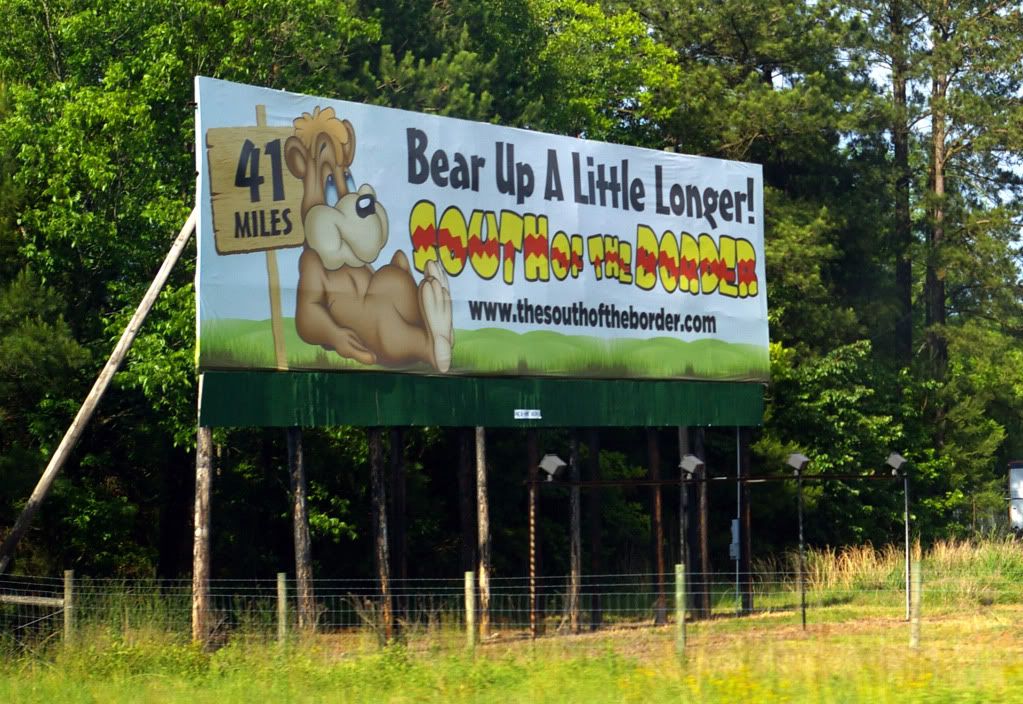 Then I missed a billboard advertising Booty Bros. As far as I could tell, this was an adult toy store. Whatever.
As we hit the South Carolina border, it was about 4 p.m. And SC has a really cool billboard that reads: Our state is not an ash tray. I love that.
With Leo still snoozing, I noticed this large bird on the side of the road. I thought it was a buzzard. But as I got closer, the darned thing took off and nearly flew right into my car! And it was not a buzzard&it was a freakin turkey! Gobble, gobble ya goofball butterball.
Oh yah, I forgot to say that now is the start of the pasty leg count down. I am determined to get some color on these pasty legs of mine this year.
As the day grew longer, we decided to bypass Savannah and shoot for the Florida border before we stop for the night. One problem there & I think they moved the state. It seemed to take forever to get there.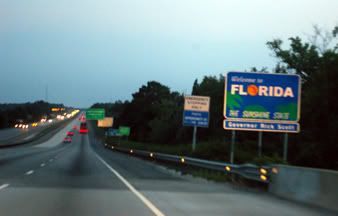 Anyway, by about 9:30, we pulled in to a Comfort Inn just across the Florida border. After checking in, we went in search of dinner. Deciding on Krystals, which we had never eaten at before, we were pleasantly surprised that is was pretty good. We had the teeny tiny burgers and chili cheese fries. Of course, they werent Disney chili cheese fries, but they were pretty tasty. Which, of course, means they are really bad for you.
By 11 p.m., we were in bed and down for the count. And even though I knew we would be home tomorrow and thought I would be too excited to sleep, I was out within minutes.
So ends day one of our 14-day trip.