DIS Veteran
Join Date: Sep 2008
Posts: 999
The Land, The Sea & The Dark Side ... With A Toddler! 9/1 UPDATE!
---
Hello, and welcome to my fourth TR! If you are new to my TR
and if you are following over from my Pre-TR, I'm so happy to talk to you again


A quick intro for all those who are new around here and then we will get to the good stuff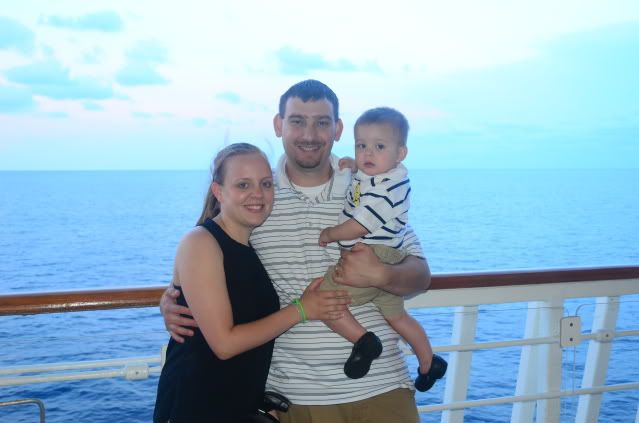 My name is Shannon, and I am the narrator of this whole shindig! I am a 100% Disney addict and am in charge of all the planning, re-planning, and future planning of these trips. When I am not dreaming of, planning or hoping for our next trip
I work part-time in the HR Department of a local company. But, most importantly, I am the Mom and Wife to the other two guys you see there


The big kid pictured is my Hubby of 4 years (celebrated on this trip!), Candi (short for Candido). He doesn't consider himself a Disney addict (simply meaning he doesn't spend every day dreaming of the next trip) but he definitely enjoys our trips and never opposes the next one
He works full time for the same company as me (and, nope, I didn't hire him
He actually recommended me for the job after he worked there for a couple years and now I would be the one that had to fire him if it came to that YIKES
). In addition to being a hard worker, he is also the most caring, loving, playful Dad I could have ever wished for our son!

And, of course, the star of this show is our Son, James (who we also call Cinco, as he is the 5th generation!). He turned 16 months on this trip, and though we know he will never remember this trip, we also know we will never forget the pure joy and excitement he displayed for most of it. He is a major Mickey Mouse fan and would spend all day watching Mickey Mouse Clubhouse if we allowed it (which we don't!).


Also joining us on this trip were my parents, Ken and Mary.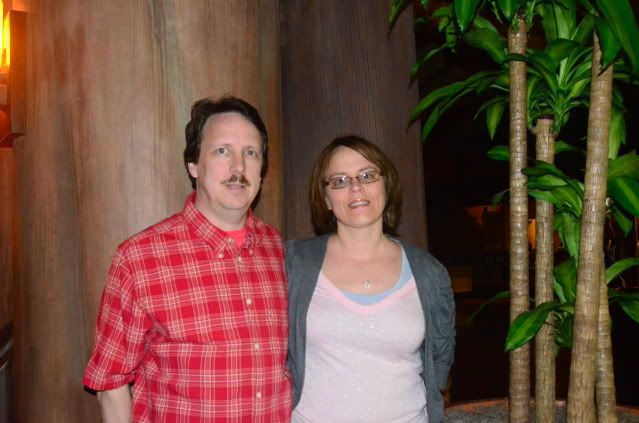 I will also refer to them as Mom and Dad or Grandma and Grandpa along the way. My Dad has been working for the same aeronautical company for the last 25 years and my Mom works part-time for a retail store to keep herself busy. Neither of them had been to WDW since our family trip in 1998! And I'm pretty sure only agreed to go so they could get quality time with their Grandson. They live 600 miles away, so we only see each other every 3 months or so


Ok, so maybe that wasn't exactly a short introduction
Now you have learned that I like to babble, but can also rest assured that this TR won't be lacking in details (or pictures for that matter - between the 4 of us we took close to 7000 of 'em
).

Now, on with the show ....

Oh, wait, sorry, quick disclaimer - this trip didn't take place solely at WDW (as my title probably gave away) so I will be writing the chapters in the coorelating categories on the DIS (don't worry I will post links so you can follow along
).

Ok, on with the show (for real!)

Day -1 actually started nice and late for me, as James decided to sleep in
I had done all the necessary shopping and other running around in the days prior, which means I didn't have to leave the house at all and got the luxury of lounging around in my jammies while getting packed and ready for the trip


I started my day, just like any other, by texting Candi (who wasn't so lucky, and was at worked dressed in shirt and tie
)

At exactly 8:47 a.m. I sent him this message



Aaaaaaaahhhhhhhhhhhh!!!!!

I guess you could say I was just a tad bit excited


The remainder of the day was spent working on all the last minute items I needed to clear up at work (I work from home, so that was done in my jammies too
) and typical day before vacation stuff. Packing, cleaning out the fridge, taking out the trash, emptying the diaper pails, checking and double-checking the packing list ... the usual!

Unfortunately, my little guy was having a rough day with a new molar trying to break in so he was a bit of a snuggle bug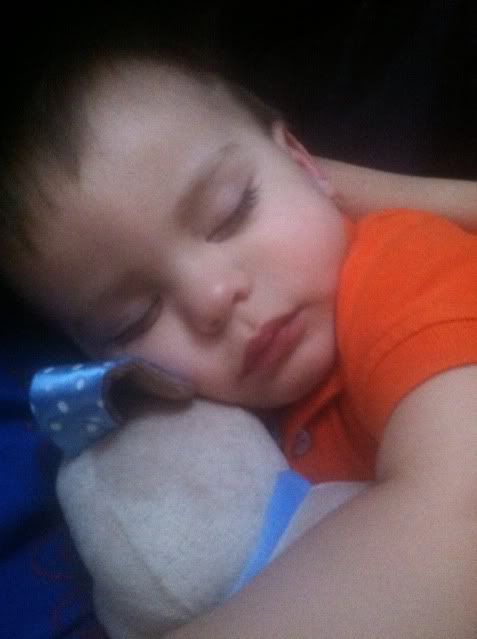 Now, don't get me wrong, at an age where he'd rather run around than snuggle, I will take those moment any way I can get 'em. But, I hated that he was hurting and it did set me back quite a bit in conquering my "to do" list.

By the time Candi got home from work I had crossed off all the work items on my list and started laying out clothes to pack, but hadn't done much else


We decided that we would run out and pick up dinner followed by getting James down for bed, and then conquer the packing together.

The rule in our house is that we don't dirty dishes the night before a trip so it's usually a pizza night. As fate would have it, I got an alert for an awesome Groupon deal for Pizza 9 earlier that week! We had both been wanting to try out their pizza and I jumped on it quick as can be. I happily called in my order and was stoked when they told me it would be ready in 15 minutes. We all loaded into the car (don't worry I put real clothes on
) and entered the address into my phone's GPS. Ooops, in my quickness I didn't realize the new location was 30 minutes from our house. Oh well, what's done is done, and at least I don't have any last minute dishes to do - priorities people!


After getting home we all enjoyed our feast and after getting James his bedtime bath, I proceeded to start packing while Candi put him down for bed. Unfortunately, he had a rough time going to sleep (those pesky teeth!) so I didn't get help as early as I had planned. I had just finished packing up James' suitcase (using the ziploc method of packing) when Candi finally came in saying James had fallen asleep. We got our suitcases packed as quickly as possible, double checked the packing list, loaded the car and took our showers before we got the luxury of putting our heads on our pillows. I'm so grateful I was able to sleep in, but felt super bad for Candi who had been up since 6 that morning!

The last time I looked at the clock before falling asleep it was 1:08 a.m.
__________________

---
Last edited by ariel1025; 09-01-2012 at

03:15 PM

.