Yo Ho, Yo Ho! A Graduation Trip for Me!
Hello and welcome to my second dining review! That's right, I have returned.
You can find my first dining review
here
.
Without further adieu, I shall introduce the pirates aboard this vessel.
The Crew
DDad
- His favorite park is the Magic Kingdom and his favorite attractions are Soarin and The Magic Carpets of Aladdin.
DMom
- Her favorite park is the Magic Kingdom and her favorite attraction is Peter Pan's Flight.
My Brother (Andrew, 19)
- His favorite park is the Magic Kingdom and his favorite attractions are Splash Mountain and Star Tours.
My Best Friend and Roommate (Laura, 21)
- She visited WDW when she was very little, so this was essentially her first trip. Her favorite park turned out to be the Magic Kingdom and her favorite attraction is Splash Mountain.
And me, Betsy (21)
- My favorite park is the Magic Kingdom and my favorite attractions are Pirates of the Caribbean and Splash Mountain. I'm a touch bit in love with Captain Jack Sparrow and anything piratical.
Trip Details
When:
May 6th – 13th
Where:
Port Orleans Riverside
Why:
To celebrate my graduation from college! I graduated on May 5th and we took off for WDW early the next morning.
Background
My whole family absolutely loves Walt Disney World. This was our 25th trip and we had a fantastic time! It was especially wonderful because we were able to share everything with my best friend. She had a truly magical experience and I'm so glad she was able to join us.
My family loves to eat, but we are not really foodies. We enjoy a burger and fries almost as much as dining at a fancy restaurant. I am a more adventurous eater than anyone in my family and I also love to cook and bake, which comes in handy when trying to recreate recipes from WDW at home. As a side note, my mother has a stomach condition and has to be careful about what she eats. Sometimes she orders kids meals since the portion sizes are smaller and the food is pretty mild. Laura on the other hand, is always ready to try new food. She also loves honey and various other healthy foods as you will soon see.
We have never gotten the dining plan, as it really doesn't fit into our touring style. We don't really plan which park we are going to until the day before and only schedule a few table service restaurants each trip. We also don't like to get too full on food because we often go commando style (lots of walking and little sleep!), so we tend to share bigger meals and get a snack later on.
You can probably tell by now that I love Pirates of the Caribbean. So, it is now time to divulge my rating scale based on my favorite movie series.
Rating Scale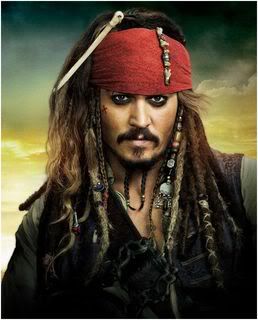 Captain Jack Sparrow
The Captain is intelligent, cunning, and witty, making him quite a clever pirate. Oh, and did I happen to mention how attractive he is?
This is one of the best meals you have ever had in your entire life. You often spend time dreaming of this food and try to recreate it at home. This is definitely a must do on your next trip!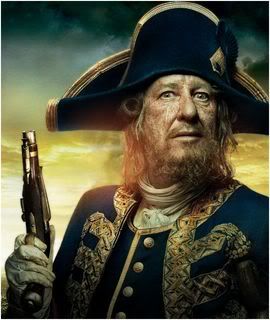 Hector Barbossa
An excellent pirate and swordsman, Barbossa is definitely someone to watch out for.
This is a good, solid meal. It is pretty gosh darn tasty, and something you would try again.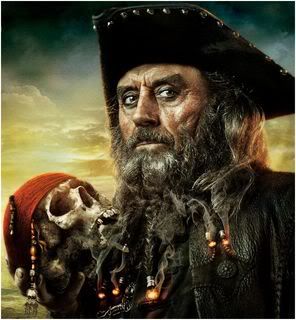 Blackbeard
The one pirate that all pirates fear. Blackbeard is downright evil, greedy, and ruthless.
This is a terrible meal and one you would never want to eat again.
Now that we have discussed the rating scale, I believe it is time to begin the reviews. So hop aboard and weigh anchor, as we set sail to the most magical place on earth!