Okay, so my first PTR did not pan out. I got lost soon after the first post and well, I wanted to start over again. LOL!!
When: October 5th-12th 2012.
Who: Michelle, Mike & Chris
Why: Seriously? Do we need to ask that question? LOL!!
I guess I will start by introducing ourselves.
First there is me. Dubbed Overplanner Extraordinaire by DH. In my everyday life, I'm known as Michelle.
As much as I hate having my picture taken, I guess I will share it with everyone here. Not the most flattering picture ever, but the most recent one that I have. LOL! My best friend and sister Krystal is in the picture with me. Unfortunately she won't be able to join us on this trip.
Forgive the messy hair. It was taken after a long day at the beach in NJ and I was tired and sweaty. LOL!!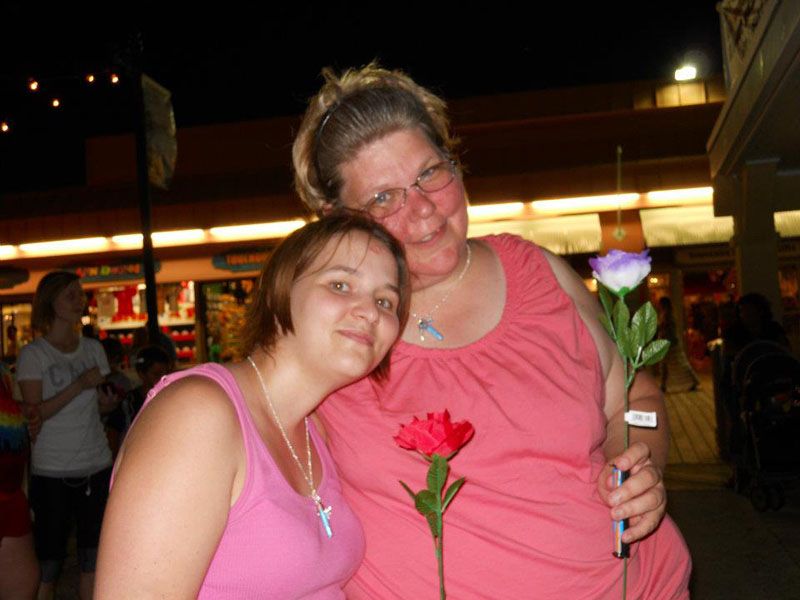 Up next is my DH Mike. He's a big kid at heart and can talk like Goofy. As such, he's forever trying to embarrass our son. We've been married for 16 years and have taken numerous trips to Disney over the years. However, since we moved to Alabama we haven't been recently.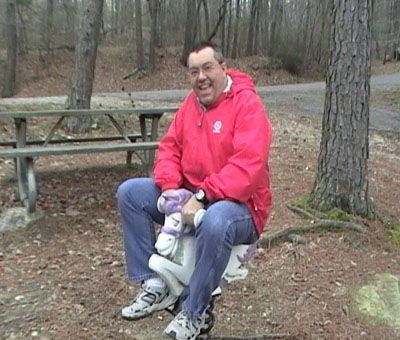 See? He's very much like a child and that's one of the many reasons why I love him. Another is because he puts up with my Disney obsession. He is the love of my life and I'm lucky to have found him. He is definitely not a planner. He's the kind of man that goes along with whatever I plan and he's fine with it. I've learned over the years that trying to involve him in any of the planning is, in a word, useless. He's just not going to do it. No matter how much I beg or plead, he's just not interested in planning anything. As such, he has lost his right to complain about anything I plan on our vacation. LOL! He says that is fine with him. He's just along for the ride anyway.
Last, but definitely not least, we have our DS15 Chris: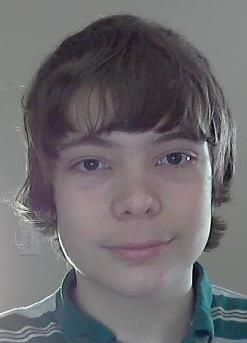 Also known as Grumpy on days that you wake him up too early. He has been to Disney numerous times since he was little. His first trip was when he was 3. His favorite park has always been EPCOT. What? Why not Magic Kingdom or even Animal Kingdom? I have no idea to be honest. He's always been into science and he loves Future World. Whenever we asked him which park he wanted to do first, his answer was always immediate. EPCOT. I can't count the number of times that we've done the Behind the Seeds Tour. He loves it and it's always on his top 10 must do list. I guess that's why he is in advanced science classes.
Okay, so the planning for this trip actually started in October of 2010. We had been planning on going in June of 2011. Then, my father in law was diagnosed with colon cancer. Needless to say, we felt like the trip needed to be put on hold. All three of us decided that we can do a trip to Disney anytime. I'm glad that we did. Because DH lost quite a bit of time from work taking care of his dad and trying to save for vacation would have been nearly impossible.
Before we knew it, DFIL passed away and we were all shell shocked. I honestly didn't feel up to planning a trip anywhere. Not even to my Happy Place. Because quite honestly, I wasn't sure that my guys would be up to it. DH was the one that brought up booking a trip again. I had been wanting to, but was afraid to.
So, that being said, DH told me to go ahead and book the vacation in January. I was still kind of hesitant and DH kept telling me to go ahead and book it. So, I called our TA and booked the trip..
We are staying at POFQ. Originally I was wanting to stay at Riverside, but because I know that they have Queen beds at FQ and not sure about Riverside, I changed to stayed there. LOL!! Because my husband is a bed hog. LOL!
We are flying on Delta and thanks to DS's school having a fall break, we are able to go at one of our favorite times of year. We are leaving a day early, but I'm going to talk to DS's principal and see if I can get him an excused absence. The World can be educational, it's just knowing where to look.
So, before I knew it, we had the trip paid off. I've bought numerous gift cards for our spending money. Much to Grumpy and Goofy's chagrin, I've got a few days worth of matching t-shirts. I had to bribe them just a bit, but it was worth it. LOL!!
So, on the way to our ADR day, DS and I were home and we were looking through the different books. Well, it just happened to be a day that there were a bunch of horrible storms and tornado warnings going through our area. Because of what happened in our town on April 27th last year, Grumpy was freaking out. I knew that I needed to do something to take his mind off of what was going on around him.
So, I pulled out the Disney books. I told him, "Lets look through the different restaurants."
Okay, I admit I had an ulterior motive. I needed someone helping me some of the decisions. Goofy wasn't going to help, so maybe I could get Grumpy to help. So, after a few hours, we had narrowed down a few places that he wanted to eat. His number one choice? The Garden Grill.
Grumpy does love EPCOT. LOL!! Then he told me that he forgot all about the weather. LOL!!
So, I'll mostly be posting about our journey to getting to the World. Once we get there I will start a trip report. Maybe even a Dining report.
We are going the Deluxe Dining Plan. That was Goofy's #1 request. He didn't want to have to worry about paying for the food out of pocket. I tried telling him that it might be cheaper to do it out of pocket, but he didn't want to hear it. He told me that he didn't want to worry about running out of money. So, we are doing the Deluxe Dining Plan. Goofy might not want to plan, but he does have his opinion when it comes to paying for the food.
So, if you've stayed with me to the end of this, I thank you and I look forward to sharing the journey to getting back to the World with everyone.......