Hello, hello and welcome to my first ever trip report that I refuse to abandon a second time (since I already did earlier!!) If you came over from my PTR then you know that I actually finished it to the end!
What a milestone. As it is, some of you may be new so you have no idea who I am or the details of our trip. You can view all the changes and excitement if you'd like, but let's do a brief summary and cast of characters...
We stayed at Pop Century from September 17th - 24th with park hopper tickets and the free dining plan. We also were eligible for a free photpass book which I ordered on Wednesday, so I will post images once we receive it. Our first for this trip was spending a day at Universal/IOA so I could catch the WWoHP. This was mine and DH's third trip together and a belated Anniversary celebration. The trip prior was our wedding trip (we were married at the Swan and Dolphin in May 2010) and the trip before that was DH's first and was about a year after we got engaged. You could say we truly like to celebrate with Disney
But now, for who we are: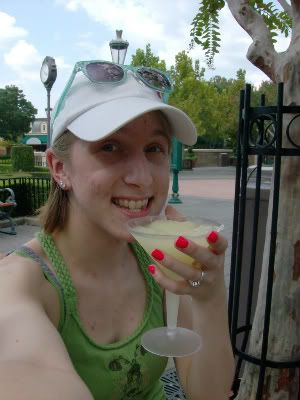 Me, better known as Tink or Lifer here on the DIS. I'm a 24 year old sales consultant for Verizon Wireless and I enjoy all things Disney. This trip was yet another that I planned obsessively and was told by my reluctant DH to try and 'take it easy'. Hah, you'll find out soon if that actually happened. Here in this picture you can see my enjoying my favorite Grey Goose slush from France. Boy do I not tire of those!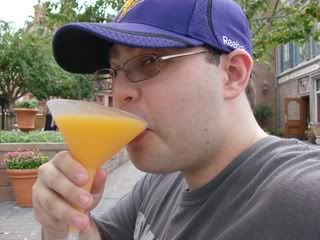 DH, 23 years old and a 'jack of all trades' at the bowling alley near our apartment. He likes Disney, sure enough... but perhaps not the extreme that I do. The goal this trip was to slow me down,
DH had very little to do with the planning during this trip outside of the food. He does enjoy Disney Dining.
I have been a little slow in this TR and sadly it was once closed. I am reviving it now and holding out till the end!!
Thank you for stopping by and I hope you will stick around. I will be working on transferring days one, two and three over and starting four this evening!
Table of Contents:
Day One, Traveling to the World
Day Two, Trotting Epcot... Again
Day Three, Beating the heat at Animal Kingdom
Day Four, Spooky times at the Magic Kingdom and our first MNSSHP
Day Five, Mischief Managed
Day Six, Hollywood Studios, pt. 1
Day Seven, Hollywood Studios, pt. 2
Day Eight, Leaving Disney
Dining Experiences:
Day One - Via Napoli
Day Two - Coral Reef
Day Three - Nine Dragons
Day Four - Crystal Palace and Liberty Tree Tavern
Day Six - Sci Fi Drive In
Day Seven - 50s Prime Time Cafe