It would depend on the age and size of the child. My DD is tall, and outgrew the Scenera at 2 years old (both rear facing and forward facing). So aside from that option, my other suggestion would be the Evenflo Maestro. It is light weight, forward facing only, harnesses from 20-50 pounds and has tall top harness slots (much taller than the Scenera, by about 3 inches).
__________________
Erica- Mom of 2 princesses (8 yrs & 5 yrs)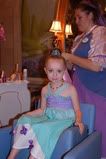 May 7-14, 2010 CBR ~Birthday celebration
May 11-16, 2014 ~Surprise trip!