Hi There, Dis WISHers!
Memorial Day Weekend is 7 weeks away! Can you believe it?!
I have created a contest chart to countdown the days, and I'm inviting you to join me!
The chart is structured in a weekly format with 19 possible points per day. I think it could work with just about any diet/exercise program. To participate you will need to print out one chart per week.
The point breakdown is:
3 - 3 healthy meals (protein and produce for me, or whatever meats your requirements)
4 - 4 servings vegetables
3 - 3 servings fruits
1 - 1 serving nuts/seeds (25 almonds, 28 pistachios, 14 walnut halves)
4 - 8 cups of water (1 point for 2 cups, 2 for 4 cups...)
4 - 60 minutes of exercise (1 point per 15 minutes of your exercise of choice)
The thought behind the points is that if you eat these things, you will not have room for others, so there is more of a focus on "What are you doing right?" instead of "What are you doing wrong?" However, there is a spot for negative points. Negative points could be for more than one alcoholic beverage, more than one treat, or whatever you choose. (Or you could choose not to focus on the negative at all.)
My boyfriend, Mike, and I are planning to compete. Does anybody have any ideas for how this could be a DIS competition? Otherwise, I would just love to have a group to check in with!
I'll post a picture of the chart, and if that doesn't work for printing, please let me know and I'll email you a copy of the PDF.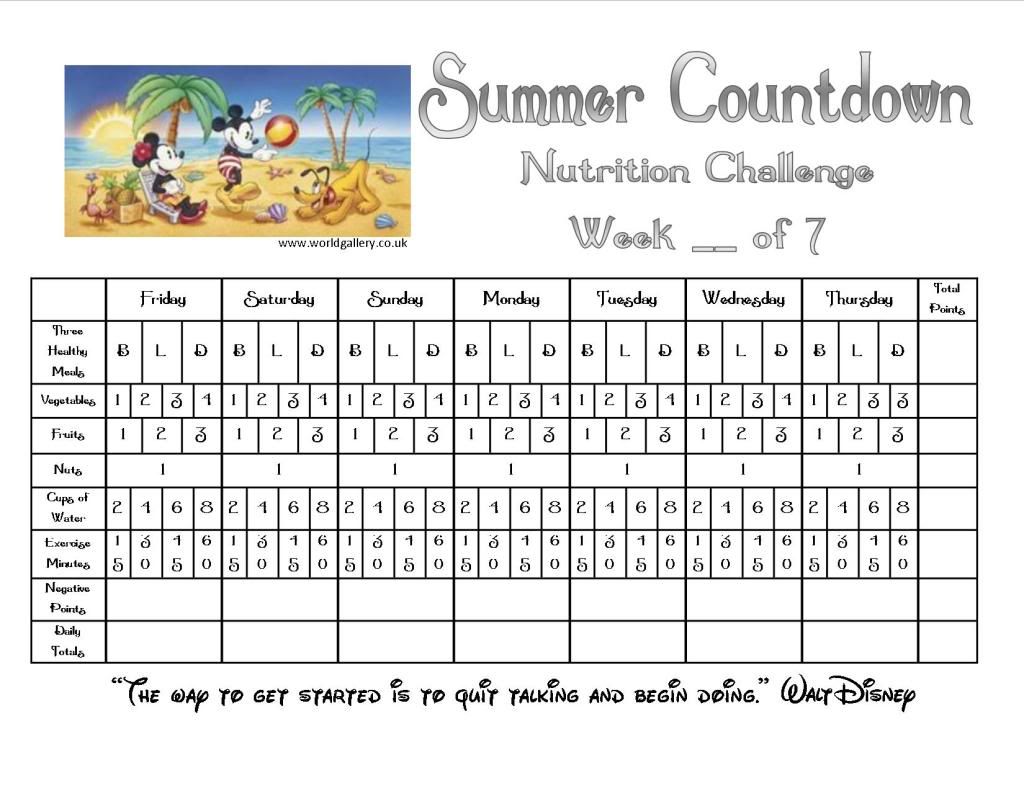 Hope you'll join me!
Ashley
P.S. I don't think I've ever posted a photo on the DIS. I hope I did it right! I tried to resize it smaller, but I don't think it worked, so I hope it's not too big!