Mommy to Claire
Join Date: Oct 2006
Location: Ohio
Posts: 26,936
You can take the girl out of Disney, BUT………
---
Well, maybe you can't even do that completely……

Hi all. I am Jennifer.
This is a trip that was planned fairly last minute (we booked it 15 days prior to leaving) and something totally different for my family.
We are a Disney family. When I say we, I mean my DD Claire, who is 7 and I. My DH, Skip, likes Disney as well, but will never admit to being a Disney lover. He's more of a resistor, but we break him down when we can. Lucky for me, Claire can bat her eyes enough to sometimes convince her Daddy to do what she wants.
This is our lovely family.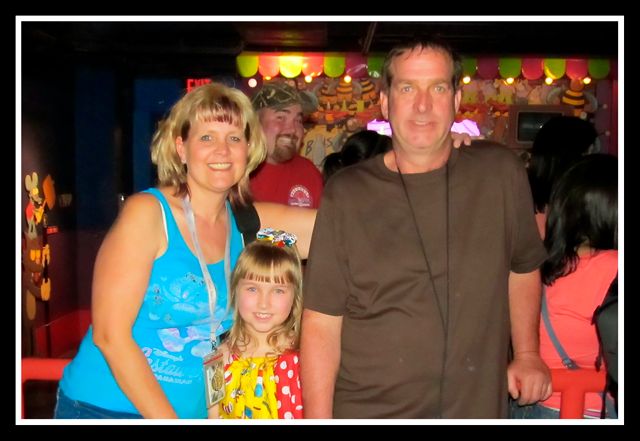 The guy smiling behind us is NOT part of our family, but it was nice of him to make the picture look better with his smile!

I also have 2 older children; Michael who is 23 and Paige, who is almost 20. They don't travel with us anymore. They are too cool to hang out with us, I guess. And honestly, they are so different from each other, that there would be a lot of stress involved. Paige is easy going for the most part, but she can do her share of whining, and of course being away from friends and her boyfriend might be torture. Michael has his grumpy moments and I think by the end of the trip, there could be some major arguments.
But don't feel bad for them. They do stuff with their friends all the time…and they HAVE been to Disney several times each, with me and other family members, as well as other fabulous vacations in their childhood.

My Disney obsession took over in 2007 when I went back for the first time after an 8 year break. This was Claire's first trip. We have been down a few more times since then, vowing to fit Universal Studios into the mix in the near future, especially since I am a fan of Harry Potter.

I have been to Universal Studios 3 times in the past, but never to Islands of Adventure. My last trip was in 1999, and IoA was being built at that time. I haven't had a chance to get back since then.

Last year, we debated our options, and planned a new trip for us. We took a Disney cruise! Skip ended up having to cancel about 2 weeks before the cruise due to issues at home with our farm, and my Mom took his place. We also planned 3 more days after the cruise and we debated going to Islands of Adventure. With the Wizarding World of Harry Potter still very new, we decided to wait once again to visit and planned 2 days at Disney and 1 day at Sea World.


Fast forward to this year. I was having the Disney Blues. I have another Disney Cruise planned for next Nov with many members of my family, but because of the time of year, Skip is not joining us. It has been since 2009 since we have actually gone on a family vacation with him. I did some nagging and finally he decided we should go to the "other Disney Park" in Orlando.
Now he is terrible with names and what belongs to who or what. He still calls WDW Disneyland and it drives me batty. I knew what he meant…Universal Studios.

We checked out flights (which were all high because of the last minute planning) and a few different weeks that would work for us. The best time would be when Claire had off school for Spring break. The flight times weren't ideal, but Skip wanted a cheap and quick trip.
We got it set and booked on Sunday, March11th. I was super excited. Not only was this going to be a fun trip, but a great learning experience for me as well.
Skip wanted it to be as cheap as possible, and I didn't mind, as I am saving up as much as I can for our Disney cruise and a week at WDW in November. I found the Quality Inn on Canada Ave to be one of the cheapest, with 1 day free and it included a Continental breakfast. It also included early entry to IoA and a breakfast at the Three Broomsticks.
We also flirted with the idea of staying onsite. It was going to be $1000 more basically, and no "free" breakfast and Skip couldn't get past that. I tried to explain about the express pass benefits with staying onsite, even if we just booked one night there, but he declined. We decided to get the 3 days park to park tickets as well.

The flight times were NOT ideal, but we wanted to fly out of Toledo into Sanford, so we had to take what we could. We got a 6:50 PM out of Toledo on Allegiant Air on Monday, Mar. 26th, and would return March 30th, with the flight leaving at 3:40. This flight cost more than any other flight we have ever taken, but it was last minute and shopping around and looking at flights out of Detroit, we found the prices were all the same.

A few days later we discussed this some more, and he suddenly asked why we weren't just going to Disney instead? Hunh? He said he didn't want to do Disney…but why argue about that now. Did I mention that Skip doesn't do well with change….and he is very last minute with everything…..
He decided we must go to the Magic Kingdom at least 1 day during this trip. He figured the money we would put towards express pass would just go to this instead. The plan was to go to Universal for half a day on Thursday and then over to MK for the rest of the day.
We decided to buy our tickets at the gate just in case we changed our minds.

So everything was now set and we just had to wait for our day to come!
I took over 1600 pictures on this short trip, so there will be plenty for me to share and tell you about.
We really enjoyed Universal a lot, but I have to let you in on a secret…..my heart still belongs to Disney!
---
Last edited by jenseib; 07-10-2012 at

02:27 PM

.