All,
During my visit last week while staying in the 1500 loop, I thought about a question that has come up frequently lately. It usually goes something like this, "We are considering camping in a tent at the Fort. How big are the sites? My tent is X by Y feet. Will it fit on the sand pad?"
I decided to spend some time trying to help people by providing some certainty. Usually our answers to this question in the past were "it should fit but put the size as a note on your ressie". But that doesn't truly answer the question. So I set to work on the 1500 loop that I was in. It's a Partial hook-up loop (along with loop 2000) and is for tents, pop-ups, and the like.
On Wednesday and Thursday morning as people checked out of 1500 I went and took a few key measurements of their sites. There are 21 sites in 1500 and I measured 10. What's key about 1500 is the sand pads are not always rectangular; the grills are inside the pad in a corner (usually back left) which take up some space; and the power post and water hookup are also inside the pad (usually front right) and also takes up some space. What's left is what I call
"useful space"
to set a tent up in. 1500 Loop is an original Fort loop when it opened in 1971.
Here are the measurements I took for each of the 10 sites. Several were of the driveway and the others were the "useful width" and "useful depth" which defined the SINGLE largest rectangle possible in the pad. Note it is not a full "side to side" measurement because the grill, picnic table, and power post create some wasted space. Again you can set up tents around in different ways or even go off the pad.
Is your head spinning yet?
Let's keep it simple.
Here are the measurements for 1500 loop.
Note the asterisks for the biggest and smallest usefal pad widths and depths.
Now that you got some numbers, here are a few pictures:
1501 is a relatively small outside site and the pad is not rectangular.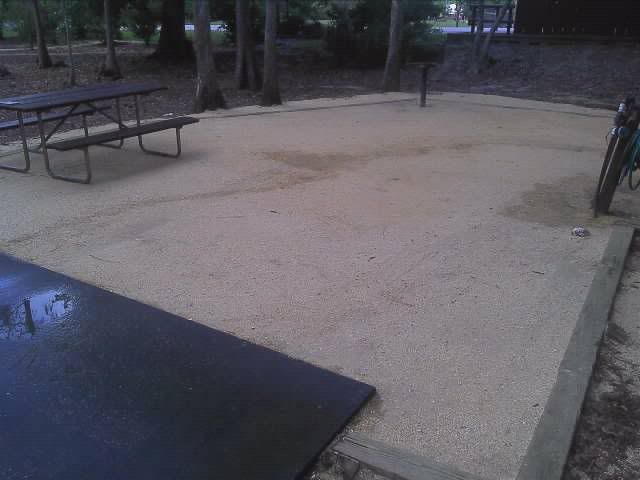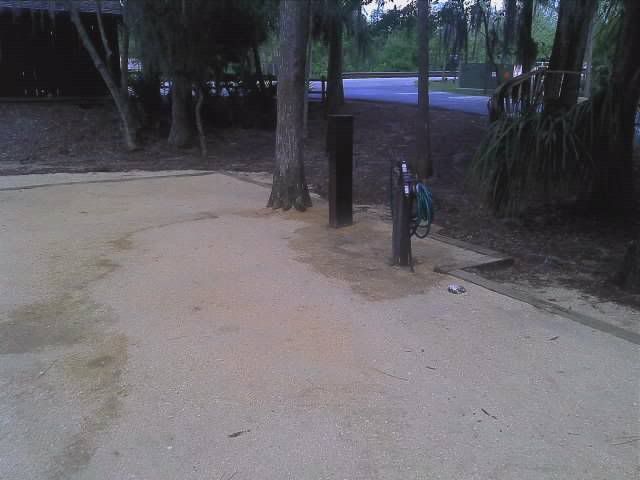 1512 is an inside site and very long and deep as you can tell by the numbers above.
1510 is an outside site along the canal which I did not measure because someone was set up on it and I respected their privacy but there are some trees inside the pad borders that might inhibit a "one big tent" approach. Note the tree on the near right and back left both inside the pad.
So I didn't photograph every site either.
We often advise folks if they need a big Partial pad site, 2000 loop is your best bet. Here's why: 2000 was added to the Fort during an expansion phase in the 1976-1977 time frame. MOST of the sites have the grill moved to an additional "cut-out" space near the pad which is also large enough for the picnic table if desired. The power posts are MOSTLY outside the pad timbers. The net effect of this is to allow more "useful space" within the pad timbers. Alas, I didn't get over to measure any sites in 2000. Here is an example of the "cut-out" (the picnic table is not in the cut-out now but could easily fit next to the grill):
I also measured two nearby Full Hookup sites in loop 1600 and one Premium in loop 600.
Here is a photo of 1634 Full (it is very close to the 1500 Comfort Station):
Here is a photo of 1638 Full: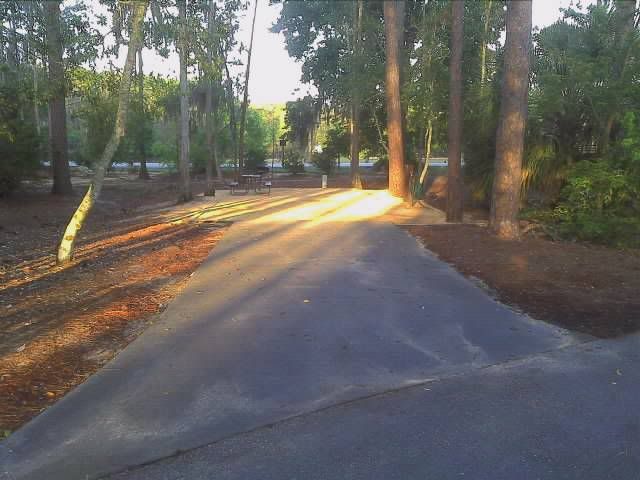 Here is 619 Premium:
Again, these measurements assume everything is on the pad (picnic table, tents, etc). You can work around some of these limitations by using two smaller tents set off-center from each other to avoid things. I only measured roughly to the nearest quarter foot. These numbers aren't exact but they're close.
So IMO these numbers verify that the sand pads sizes do vary. I would suggest always listing tent and screen room/e-z up sizes to fit on the pad (which looks best). Of course when I left Saturday, 1503 had four tents on it (I say ON it but none were on the pad. They surrounded the pad which was set up with tables, chairs, and overhead strung lights.)
What do you guys think? Too many numbers?
Bama ED
PS - I'd like to thank my beautiful surveying assistants DW and DD