Tyler
...is our next player in this game of Disney...
Tyler is 13 now and will be when we travel. He has been to Disney close to 20 times in his 13 years. He is Einstein smart...meaning he is gifted beyond belief but unorganized, unorganized, and did I say UNORGANIZED!?!?!?! The kid tests my patience every day. He also has quite a bit of lazy in him. Meaning if he does not want to do it or see an outcome to benefit him, he is probably going to put it off as long as he can. He is the most like me of the two and gets his feelings hurt easily but holds a lot inside until he gets really mad. He can sometimes be very grown up and sometimes act like a two year old. Like I said, he tests my patience till the very end! He entered 7th grade in the fall and therefore a new school. He was stifled at his old school (where Skye still is) and felt like they were not teaching him anything and not offering him anything extra either. Arriving at Junior High has opened up a whole new world for Tyler. He ran for Treasurer of Student Council but did not win...but he did get to be his matrix (homeroom) class rep. He worked on the Fall Play crew and is currently working on the Spring Musical crew. He s on the Scholastic Bowl Team and Mathletes. He tried out for the basketball team but did not make it (which I did not really expect him to because he has never had a basketball class in his life). He has played tackle football since he was 5 and this fall will be his last season on the Titans before he moves on to a high school team. Right now he is on his Arena Football team for the third year (our organization just started playing Arena) and they are undefeated so far!!! He also plays baseball, which has not started yet but will in a week.
So he is a busy boy. But he still managed to get straight As on his report card with little effort. He has no idea what he wants ot be when he grows up but the way he is going he should have a tom of options.
His favorite Disney character is Hercules. His favorite park is Magic Kingdom. His favorite restaurant is anywhere he can get a huge steak. His favorite animal is an Elephant...in fact, Elle is upset because he said he won't bring her on this trip...too many girls...and 13 year olds don't carry their stuffed Elephant with them. So Skye told her that she'll take her.
He is a big chicken. He has ridden Tower of Terror (hated it!), Rockin' Roller Coaster (ok, but does not offer to ride but will if talked into it), Space Mountain (but does not want to do it again), and Everest (which is cool!). Up until Skye was big enough to ride these things though, he had no interest. I think he did not want her to show him up so he went. She is game for almost anything at least ones...like Tower of Terror, she only needed once! He likes it when she comes off something scared (like Space Mountain) because then he thinks he won't have to go again. He had never been on Everest until out last trip in August and I think he was more scared waiting in line than his little sister. Needless to say, he loves it now...but Skye says that's because it is a baby ride. His favorite ride is Big Thunder Mountain Railroad.
This past trip in August he tried his hardest to make the waitress bring him a giant Coke. He drank 7 glasses and still she just kept bringing him a small cup. He was quite disappointed...in fact, the reason he did not order a shake was for that pop thing...and it did not work out ...
He is taking his forst solo trip in a month or so with school. I have never so much as let him go on a local field trip without me and he has never (except for when i was having Skye) even slept over anywhere without me (and my parents live across hte street)! So I will be a nervous wreck. I told him i will text him every 20 minutes and if I don't get a response, I will be on my way...I am only partly kidding! They are heading to St. Louis and Springfield. But in order to go, he is going to miss the Arena Super Bowl...assuming they continue to do well and make it...and that really stinks beciase this is his last year of Arena. But the choice was up to him...andhe chose...much to my dismay!
He cut his long hair after our last trip and is due for another haircut. I think he is thinking about going real short...we shall see!
Oh, and he had just gotten glasses for the first time before our August trip...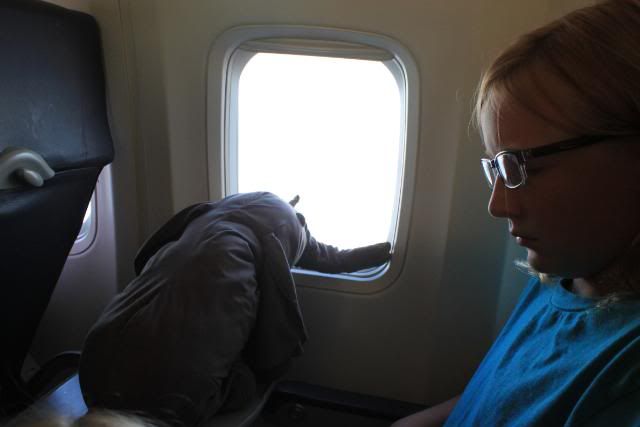 There's Elle...see her looking out the window???