♪ Do you remember your imagination?
That Neverland was a destination
Your magical adventure isn't over yet
Just hold on tight and don't forget

Every wish, every dream you ever had
Just close your eyes
And it will all come rushing back
Fly away
All you need is to believe and remember when....♫
Hi!
Welcome to my latest PTR!!
I actually wasn't even planning to write one for this trip but I couldn't resist sharing my excitement with everyone who just gets "it". My name is Angie and I am totally and absolutely in love with all things Disney but especially Walt Disney World. We took our very first trip back in 2008 and fell in love with everything about it, the sights, the sounds, the smells and that feeling of just being able to relax and enjoy yourself without all the stress of everyday life. It is such a magical place and we can't wait to go back! Our last trip was in April of 2010...oh so long ago. But, due to finances and also the fact that our youngest son was asking to go someplace different.
We knew a break would be in order. As I write this though I am happy to say that he is more excited than ever about this trip and has realized that nothing compares to Disney.
So, lets get on with this shall we?
Who:
First up is me...I'm a 38 year old stay at home mom/part-time college student who will be graduating in May!
I love to take pictures (which is why you will see me in very little), love to scrapbook (when I have time), and travel. I'm huge list maker and love planning our trips to Disney! Next up is my DH, who is probably the most patient person you can ask for, especially when it comes to my Disney addiction.
But, luckily he shares some of that passion. What he doesn't like is all the planning that goes into it. I can only talk about it so many times until his eyes become glazed over. As long as I tell him what we are doing the morning of, he's fine with that.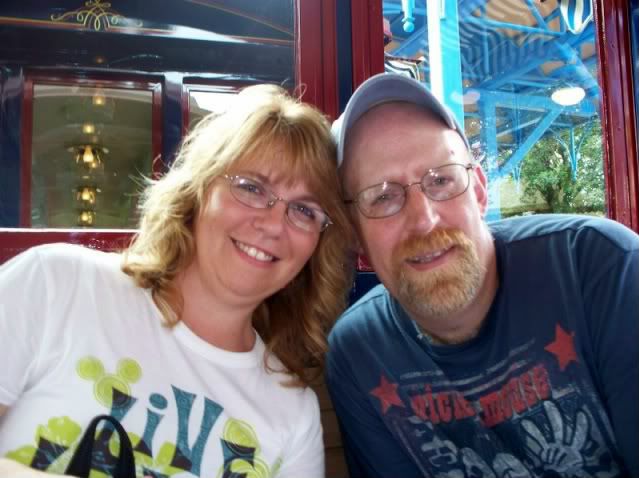 Last but certainly not least is our two funny, smart and wonderful boys, Nick (almost 12) and Noah (9). It still amazes me how brothers can be so different. Nick is quiet, loves his video games, participates in band, choir and also plays basketball.
Noah is more outgoing, has a wonderful imagination and we are always joking with him that one day he is going to grow up to be an imagineer. He's not really into sports and would much prefer to sit down with good book. (like his mom).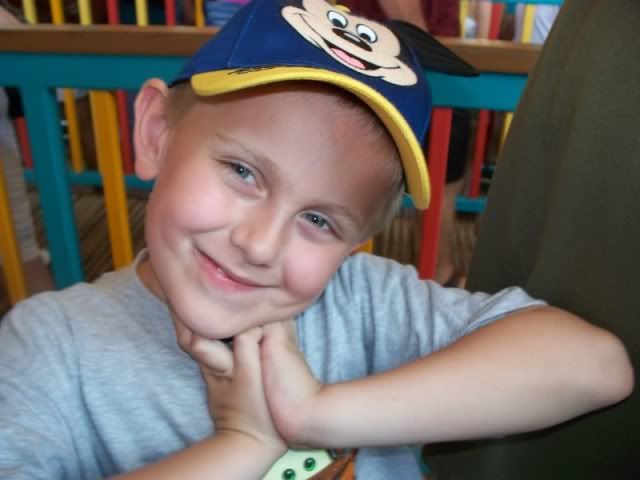 Both boys are excellent students and we couldn't be more proud.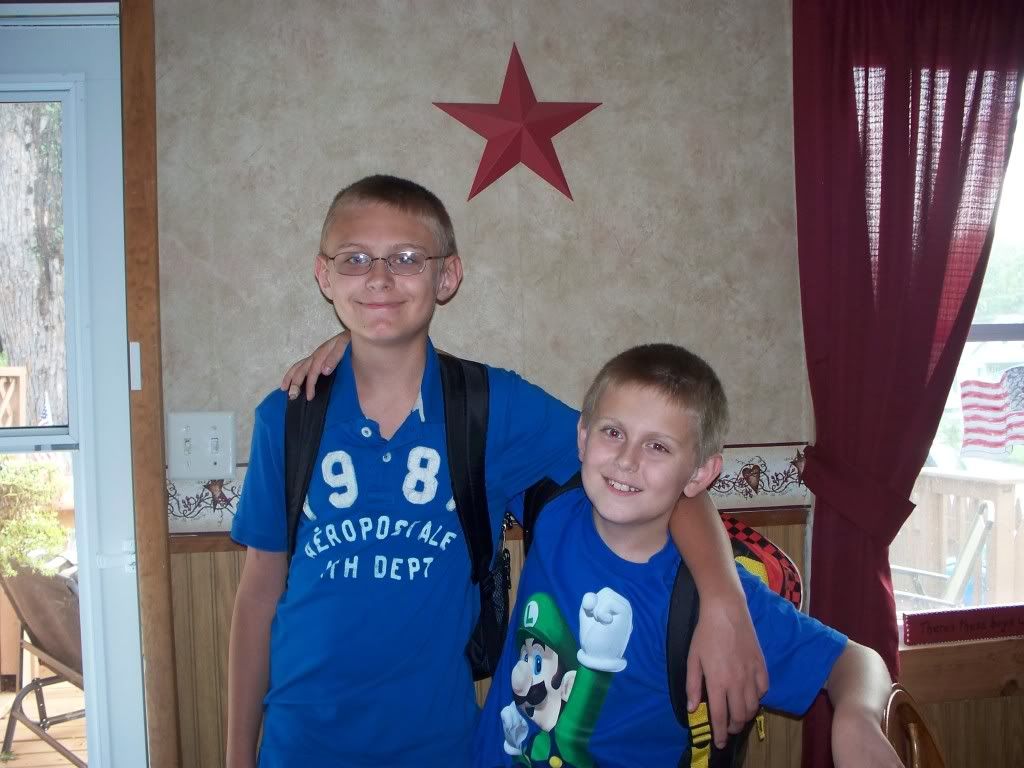 A picture from our last trip in Animal Kingdom--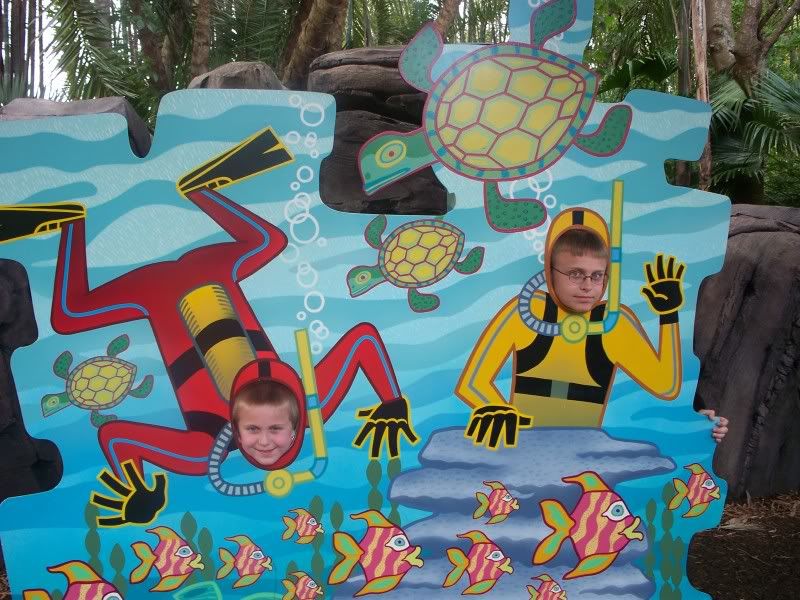 And...one being silly at the bus stop at POP!
Aww...you gotta love those early mornings!!!
A more recent one of the boys....as you can tell, Nick had a major growth spurt this year! He's already taller than me and almost as tall as his Dad!!
Noah with his extra big smile! He didn't want his picture taken so as you can tell he was humoring me...silly boy!
Here are a couple pictures of all of us from our last trip.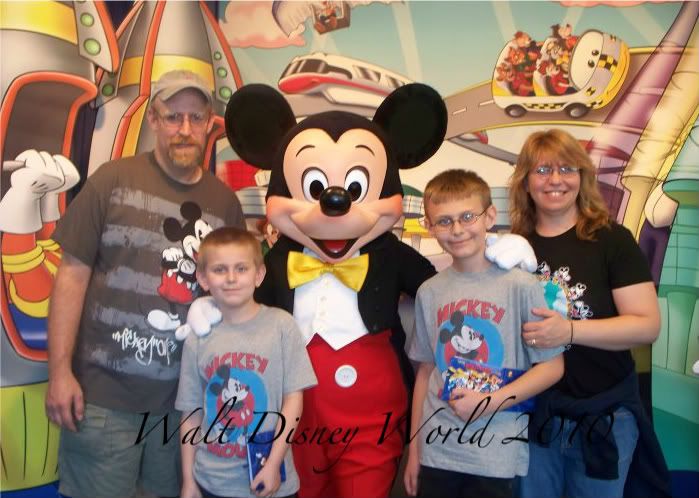 What:
Walt Disney World...of course!!
When:
July 9, 2012 to July 16, 2012
Where:
Pop Century Resort (the first resort we had ever stayed in so it will always have a special place in our heart. So much so that we can't bring ourselves to stay anywhere else.
)
Why:
Because we love it so much!!!!
Oh and a few things to celebrate as well such as a couple graduations and an anniversary.
Oh..I almost forgot. The title? Well..as you might already know it comes from the song "Remember When" sung by LeAnn Rimes for Disneyland's 50th anniversary.
http://www.youtube.com/watch?v=P7lvblx_wA8
I love this song. It was one of the many things that helped carry me through until this trip. Well...that and watching numerous Disney movies, of course reading others trip reports and planning and re-planning a trip that I wasn't even sure would happen. Yes!
I am one of those types of people. I am constantly changing the details on our trip. Maybe we should go here first and there last or vise versa. Oh well...what can I say, it's just another thing that feeds my Disney addiction.
I guess that's it for now. I hope you decide to follow along as I plan our Sizzling Summer Adventure to the World.