Just being on this board makes me so envious of every ones tickers! With no trips booked or planned for the near future I feel slightly lost!
I am a bit reluctant to start this trip report because I feel like that is it its all over!
Any way you are here for the show (story) so sit down with a refreshment or two I have) and please I hope you enjoy!
Monday March 5th
Awake at 7 am with little sleep excited, anxious (hate leaving the house) and did I mention excited.
We got up washed dressed in no rush and headed to Morissons for the new Disney celebration! We didn't win any thing but it got us all excited for our trip later that day! We also popped in to mother care for Dave to spoil his Daddies girl a little more for her birthday!
Back home Elsie had a bath and nap, I finished our packing and eventually 3pm arrived and we were on our way to the airport!
Mum checked us in online (thanks mum) but it was still along process just to drop off one bag! People behind us in the queue still hadnt checked in for a flight leaving in 20 minutes. They weren't the only one's I don't think any one had checked in yet there was literally a whole plane full of people waiting to check in! WHY DO PEOPLE LEAVE IT SO LATE!!!
Finally after checking in, through security and got picked up Elsie's milk we were sat in Dexter's. I had been emailing the manager after reading on their website for £70 we could book a birthday booth which included a bottle of champagne and cake Dave and I love cake and I quiet enjoy a glass of champagne or two but didn't think it wise just before a flight. So I asked if they could do anything else I was told a few balloons and banners would be up for us!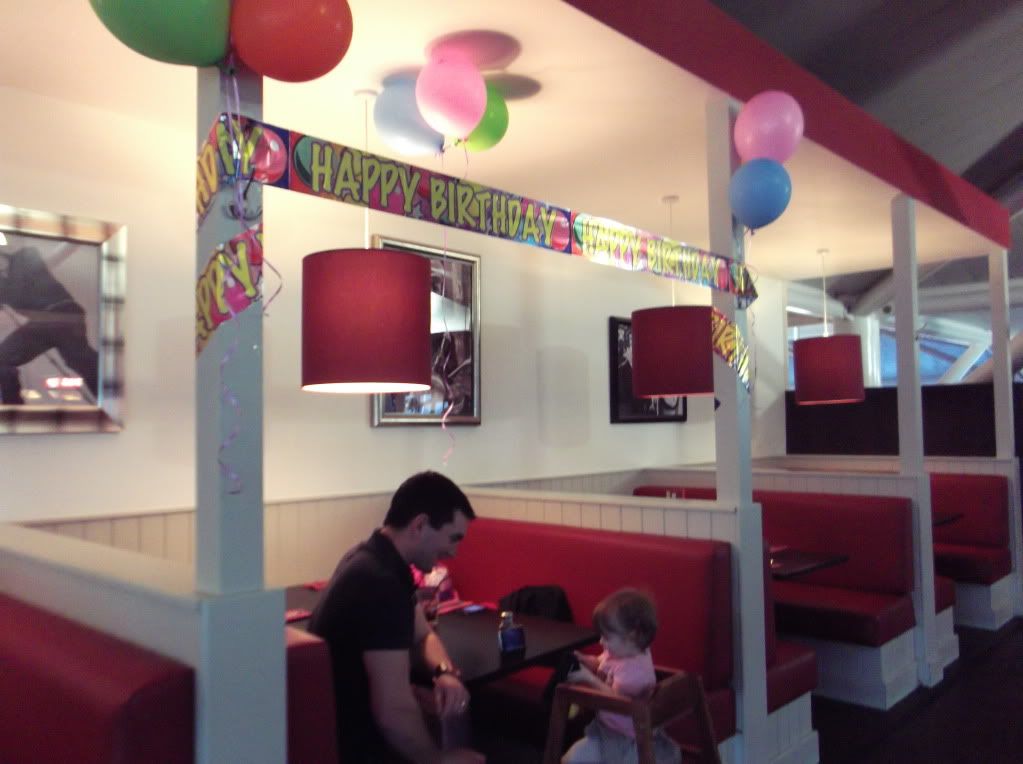 I loved what they did, the manager come over to check everything was ok and offered us a cake we didnt accept it but he came back with a muffin for Elsie.
We had a lovely meal
Me - 2 (double) malibu and cokes! It had been a hard day LOL and cajun salmon with mashed sweet potato VERY GOOD!
Dave - 2 ciders, steak and chips
Elsie - juice, mac'n'cheese
Our flight was already being called so we paid thanked them for everything they had done and were on our way to the gate! Love being able to go to the front of the queue!
I shouldn't of worried about Elsie flying does she look worried?
Flight was over with in 50 minutes, breezed through security and bags were first off! What a great start! John (EZYshuttle) was already waiting for us even though we were 20 minutes early! With in no time we were pulling in to Disney!
So I booked hotel New York with out telling Dave he thought we were just staying in Sequoia Lodge. He thought John was dropping us there and we would walk the rest! No silly!
Checked in and in the room we had a little present (a mug and sweets) and bottle of vittel waiting for us was nice touch! We also had a letter from the Hotel manager asking if I wanted anything to just ring! I never rang I don't know how he would respond if I asked for a Princess in hotel room breakfast lol!
We literally just got in to our PJ's and went to bed. Dave watched Toy Story on his I pod but I needed some sleep!
(Sorry for lack of pictures just not much to photograph today)