We stayed there in 2003 (I know, a loooong time ago)... at that time, they did have all the pots and pans, dishes, silverware you'd need. Service for 4 - if I remember correctly. Not sure about trash bags, I think housekeeping changed everything daily though. I remember that their water was horrible though - even when we made mac n' cheese - it made the macaroni taste awful... If you are doing a grocery stop - I'd definately grab a gallon or two of water to cook with.
Here's a couple of pics from our room - I am sure they've been updated, but the set up is probably the same - we also had a two bedroom... the main bedroom had a huge jacuzzi tub (never got a pic of that though). Hopefully someone has more recent pics for you.
THis was our kitchen (washer and dryer behind those double doors) :
Looking into the room from the main door... Kitchen was behind my right shoulder, main bedroom to the right and 2nd bedroom to the left: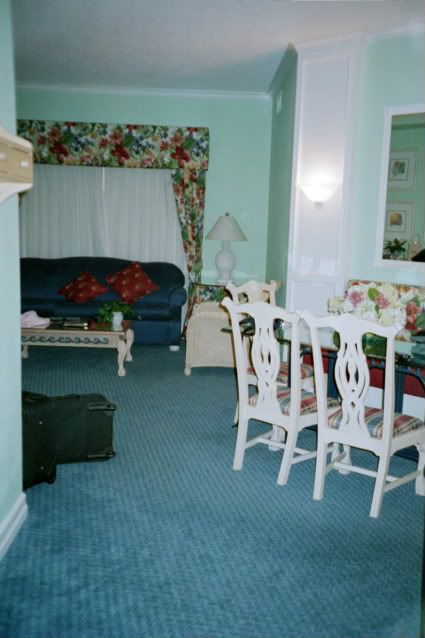 Our 2nd bedroom (basically a reg hotel room, connected by a connecting door that they unlock for you):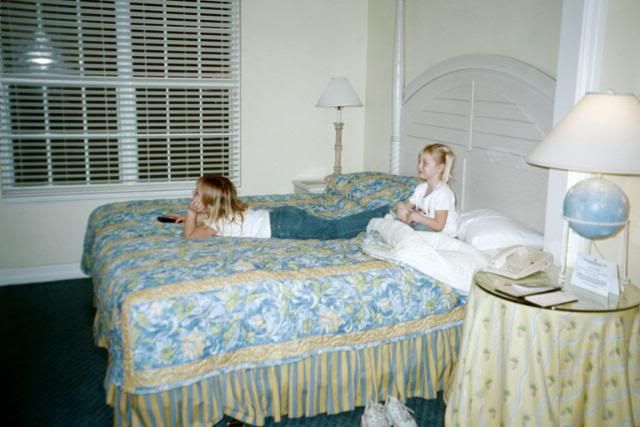 One thing I want to add - their bus transportation was horrible!!! Not so bad to Sea World (we actually opted to walk back when we were done - it's really close)... but their Disney transport was awful - hopefully they've changed it - if you are planning to do Disney at all from this resort - I'd still rent a car.
Have fun!
D~