Day 19 – Mall @ Millenia & Narcoossee's
After a busy day yesterday, we didn't manage to wake until around 9:00. Sue decided to do some washing, whilst Emma spent some time in the swimming pool.
Time was getting on, so we decided to have breakfast at nearby POR.
Nigel – Create your own yoghurt
Sue – Pancakes with Scrambled Egg
Emma – Bounty Platter
Lots of early morning starts were beginning to catch up with us, so today we decided to have a stroll around Mall at Millenia.
I think this is such a classy mall when compared to what we have in the UK. The types of stores located on the upper floor reflect this.
We strolled around at a gentle pace calling in a few of our favourite shops along the way. We had a brief sneak peek inside of the Cheesecake Factory, just to check out what would be available for our forthcoming visit after the cruise.
We returned back to OKW to shower and change in preparation for our later than usual ADR at Narcoossee. We arrived at the Grand Floridian with ample time to spare, which allowed for the extra long walk from the car park. Once inside we had a stroll around, looking in the shops and listening to Glen playing the piano. The Grand Floridian Café was extremely busy with lots of people waiting to check in. We arrived at Narcoossee's around five minutes early at check in and we were seated immediately.
Tonight we were celebrating our "Disney" 17th wedding anniversary. Our real anniversary date is after we get home, but we since we actually got married in Orlando in 1995 we thought a celebration was in order! A nice touch was the specially printed menus and badges to mark the occasion.
We didn't have a window table his time, but were seated on the raised platform which still gave a great view across Seven Seas Lagoon.
Nigel – Filet Mignon – Almond Cheesecake – Diet Coke – Nutty Irishman Liqueur Coffee
Sue - Ashley Farms Chicken Breast – Almond Cheesecake – Diet Coke – Bacardi Mohita – Pina Colava
Emma – Ashley Farms Chicken Breast – Ice Cream Sampler – Diet Coke
Shortly after we had finished our main meal, the lights were dimmed in preparation for Wishes. I went outside to watch from the balcony whilst Sue and Emma watched from the comfort of our table. Whilst we had a good view of the fireworks, I still think that the best viewing spot outside of the park is at the boat dock at the Transportation and Ticket Centre.
Shortly after Wishes had ended, we a great view of the Electric Water Pageant.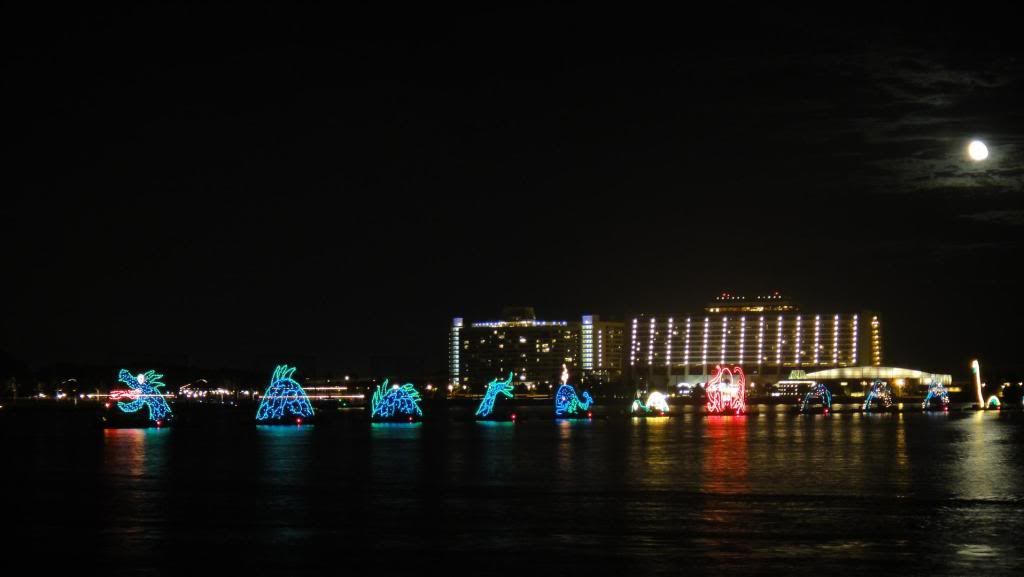 Returning back to the table we finished the evening off with a cocktail and liqueur coffee.
We left the restaurant at around 11:00 and had a wander around the grounds, the swimming pool was almost empty.
We still regards this as the best 2 credit dining location available on DDP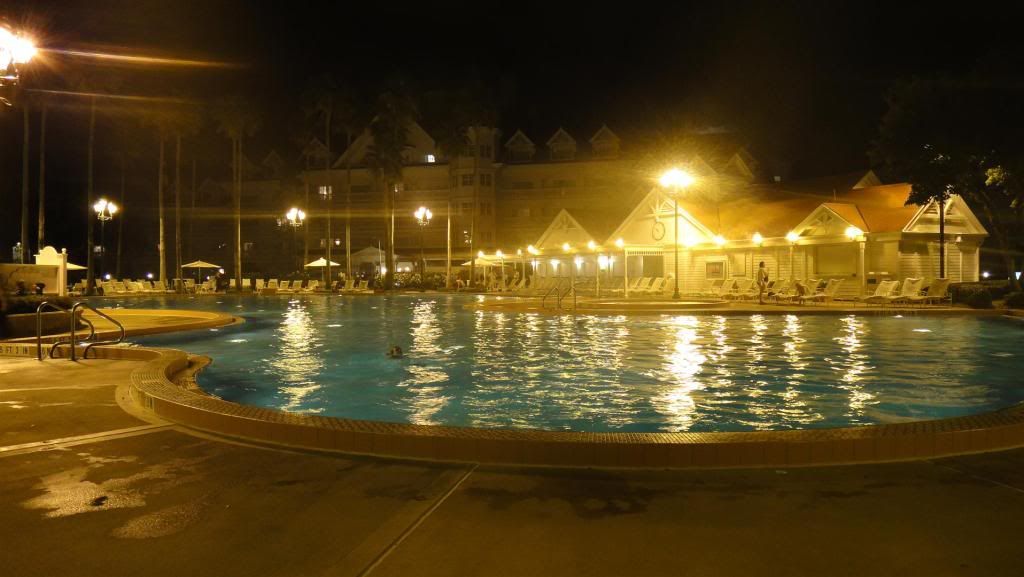 Passing through the main building, I noticed some activity around the Grand Floridian Café, so I went to investigate. I was shock at what I saw. Having passed only a couple of hours earlier with a bustling crown outside, I was amazed to see that most the furniture had been removed together with the old carpet and new carpet was just about to be refitted! We eventually arrived back at OKW around 11:30 and it was time for bed.
Coming up next – Epcot & Teppan Edo
Return to INDEX