So I was planning this elaborate, amazing introduction all through two days of driving home. Then we hit Kansas and everything got lost in the severe ennui that
everyone
gets trapped in during a day of travel across Kansas (also may have gotten lost in the four loads of laundry I did yesterday!). Instead I'm reposting my introduction from the pre-trip report, with a few edits when necessary. Please, if you don't mind, imagine this to be a sparkling gem of an introduction post, shining with wit, humor, and irreverent pop culture references.
Seventeen days ago, we packed up a rented Chevy Cruse with two cats, a hedgehog, and as many pieces of luggage as humanly possible. We had one stop - the vet's - before hitting the road to begin a Grand Tour of middle America, with stops in the great tourist stops of Hayes, Kansas; Columbus, Missouri; and Peachtree City, Georgia. Destination? Tallahassee, Florida.
Okay, maybe not the
final destination
. But it was the first stop on a whirlwind tour of Florida, including Tallahassee, Ocala, and - of course - Orlando. We'd be spending a day at Universal, five at Disney, and five in Ocala. With those spoilers (whaaaat, we actually ended up in Disney?!? Surprise!).. onwards!
First, who are we?
1. Merida (or.. the bow. Also, this is the worst movie name change in the history of ever. Cool and evocative to Mel Gibson rip-off? Definite downgrade. Anyway! Iím a grad student in atmospheric science and 23. I love science and stories and parantheticals).
Itís possible that there was some artistic license here, maybe. But I never take pictures of people Ė especially me. Will this ever change? Stay tuned!
2. Bear (the boyfriend, also a grad student and as old as the hills (or 24ish))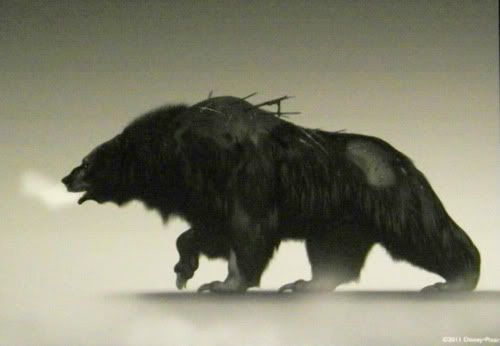 Okay, maybe not quite that Bear. Mix that bear with some of this..
and get...
Better!
3. Our clan: 2 Siamese (of varying degrees) cats and a hedgehog.
Eventually I will have pictures here because all I do is take pictures of our animals.
What about the Disney (i.e., interesting) portion of the trip? We were officially on Disney property from the 15th through the 20th of December and enjoyed free dining and all the comforts of home at Port Orleans Riverside!
Sources:
Merida screenshot
,
Bear concept art
, and my gif folder!