Oh boy, I hope this works!
I'm going to attempt to do this trip report "photo-journal" style . . . I have too many pictures and when I post to forums like this I tend to get lost when I have to start adding in all the image codes. I promise to "chat" in a normal way like this, but the "meat & potatoes" of my TR will be like the two "pages" you see below. Ok? Okay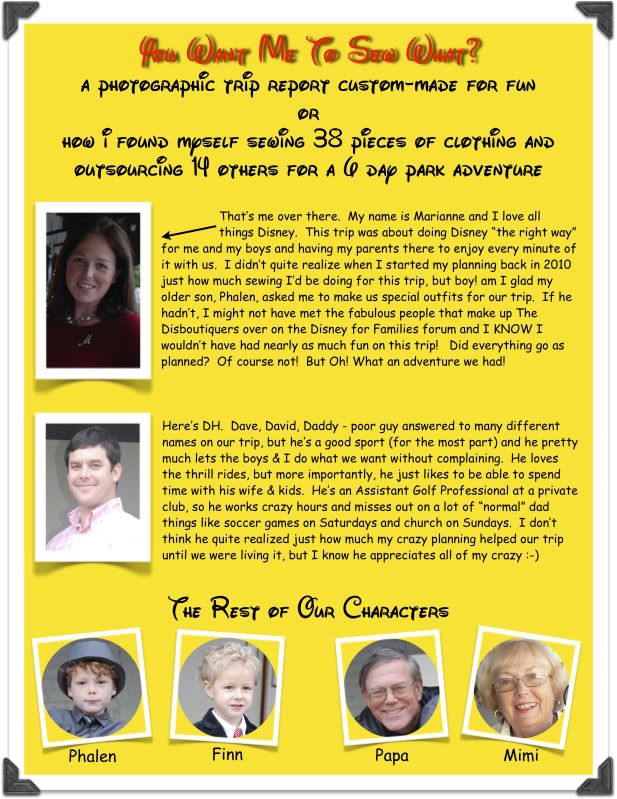 Just in case you want to jump to the PhotoJournal pages and skip all of our humorous banter (although why you'd want to miss how hilarious we all seem to think we are is beyond me
!!!), here are some clickable links:
Let's Get Things Started!
More From Our First Morning at MK!
End of Day 1
Wrap Up of Day 1 & Day 1 Outfits
Day 2: Epcot & My Outfit
Morning At Epcot
Donde Esta _______?
Finn Joins The Army!
End of Day Two
Animal Kingdom Here We Come!
Second Half of Day Three - Animal Kingdom & DTD
One More Thing!
Food & Fun :D
So You Want to be a Jedi
Yo Ho! Yo Ho! A Pirate's Life for Me!
The End of Day Four
Day 5! I bet you never thought you'd see the day!
Shocked?!?!?! So am I!