Let's get this thing started! I've got lots to do before our longest vacation ever! Planning is my favorite part and essential for my group of 6! Let's start with the intros...
Me (Kyrie): Self-employed loving mother. OCD planner and Disney FANatic!
DH (Marc): Stay-at-home awesome dad! Enables and even encourages my OCD planning and super long vacations!
Jacob (7): Has visited WDW 6 times, DL once, and 2 DCL cruises. Jacob is looking forward to going on the Matterhorn again! Jacob will try any ride (once.)
Max (5): Has been to WDW 5 times, DL once, and 2 DCL cruises. Max loves Goofy's rollercoaster at WDW and is looking forward to any coasters he can ride at DL.
Ella (3): This will be her first trip to DL! She's been to WDW 4 times and on 2 DCL cruises. Ella loves It's a Small World at WDW and I'm sure we'll be riding it many times here too!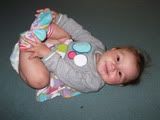 Zoe (9 months at the time of this trip, 6 months in the picture): This will be her 1st Disney experience of any kind!
I'm sure she'll love it! She loves everything!
All my children are seasoned travels. The oldest have been to at least 16 different states and several countries. Even the baby has already been to 7 states (will be in 9 before she turns one!) We homeschool. Traveling is a great learning experience!
This trip will begin on January 31st, 2012. We will spend 5 nights in California. We're staying in a one bedroom villa at the Grand Californian. We plan to spend the entire time at Disneyland and California Adventure. Then we fly to Maui. We'll be in a two bedroom villa at Marriott's Maui Ocean Club on Kaanapali Beach for 7 nights. Finally, we fly to Oahu and spend 6 nights at Aulani in a one bedroom villa. Aulani is Disney Vacation Club's newest resort.
Here's what you should expect from my trip report...
Lots of pictures! I took 2400 pictures on a ten day trip to WDW. My guess will be 4000 for this trip. I promise to post lots, but not all!
A day by day account of what we do. And we always do a lot!
Pictures of food. I like planning where we eat and usually take pictures of our food to share here.
If this is for you, then please join in and comment! It makes it much more motivating to keep posting knowing people are reading along and enjoying!
If you'd like to get to know us, check out my May 2010 TR for WDW. We did some pretty cool stuff on that trip and you'll get to know what to expect out of us on this trip!