WELCOME!
To our very first trip report! (with some dining reviews included. Everyone loves food!)
Our trip began on August 20, and lasted...well, you'll have to read along to find that out. We had a few unexpected bumps along the way, but it turned out great.
The trip was to start off at WDW and then we were cruising on the Dream. Stay tuned to see what happened after that!
But first, let me introduce you to the CAST: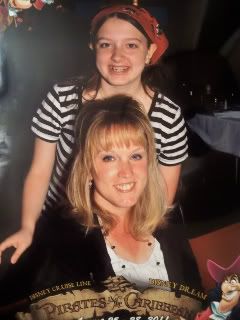 Here we are, on the Dream on Pirate Night. Me, Mum (or Melissa) and Meg.
I am a single, divorced mom to my one and only child. (thankfully, the only one, or else I'd REALLY be broke!) I am now the proud owner of a DVC! Read more about that in our
PTR
This was our 1st stay as official owners, and it was great!
Meg is a huge Disney fan, and loves Pooh
,cruising, nice hotels, and being waited on. We have determined on this trip that she hates quick service meals, and now is also a pizza snob (she was already a hotel snob!).
I tell her she better get a really good job, or find a rich guy, or both!
Stay tuned for much more to come!