everyone! I know this report is a bit late, but I havenít been DISing much this summer. I figure it is better late than never. Before I begin, I have a confession to make. Iím not sure this is the best place to make the confession because I have noticed that you are a bunch of enablers.
But Iím going to make my confession anyway. (Gotta start somewhere, right?) I maybe just might have a small addiction to Disney World. There I said it. In a public forum too. That is got to count for something right?
First let me introduce you to the Darling Family.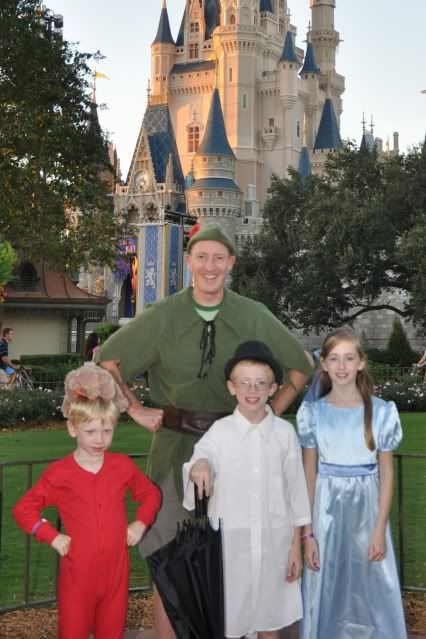 We have DH. At home he masquerades as a government attorney. Also pictured are Wendy, age 11; John, age 9; and Michael, age 6.
Here is the heroine of the story.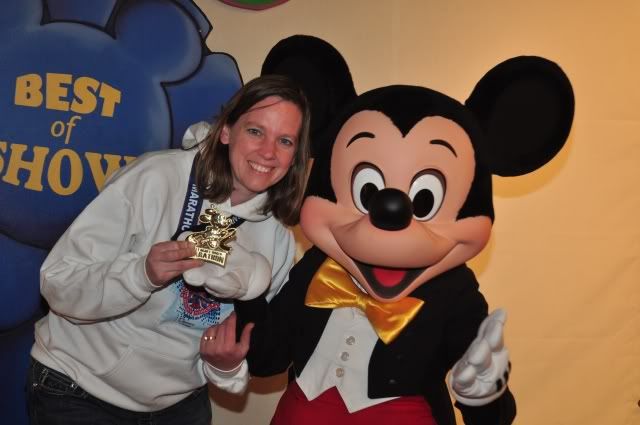 That is me, Jenny, proudly portraying my hard earned Mickey medal. I earned it last January and Iím still bragging about it.
My addiction this past year has been very well fed. If youíd like to read all about it check out the links in my siggie. This trip was a bit different. It wasnít planned months and months out. I didnít agonize and map out every little detail.
(Though my DH might claim it was still over planned.) It just came about rather quickly and by accident.
Our Annual passes expired on Friday, June 17. The kidsí school was scheduled to end on Tuesday, June 14. Definitely not enough time to squeeze in a trip. Then rumors started flying about how school may end early to get a jump on some summer construction. This, of course, got me to thinking. (Always a scary thing.
) If school ended on Friday, June 10 that would leave plenty of time to get a trip in. I anxiously awaited official word and mapped out a potential plan.
I presented my plan to DH. He rolled his eyes and told me I had to find a way to pay for the trip out of our planned summer vacation budget. We always spend a few weeks out west visiting family every summer. This year we were adding a jaunt to CA on to the end of our trip. The plan was to spend some time at Disneyland, the beach and Legoland. Whatever I could squeeze out of the planned budget for this trip I could spend in Florida. So I started squeezing. I eliminated several nights in hotels and we stayed a bit longer with family. I also determined a single marathon day in Disneyland would do the trick. Presto! I had $1000 for Florida.
How could I possibly do a week trip to Florida for a family of 5 for $1000? A little bit of Disney magic. We would drive down; passes were already paid for; we could use DVC points for 3 nights, and we had enough Disney reward points to cover most of our food at the parks. I presented this to DH and by some still unexplained miracle he thought it sounded like a great idea!
Now the only suspense was the school schedule. We finally received word that the last day was Monday, June 13.
Not what I was hoping for. However, 5th grade promotion was scheduled for Friday, June 10. So Wendy was in the clear. Michael was in kindergarten so I didnít feel bad about pulling him. John, the 3rd grader, is my greatest Disney lover and assured me that all they would do is watch movies on the last day. So the trip was on! Let the adventure begin!
The Post pre-trip report
Day 1: Travel Day
Day 2: Dabbling in Star Wars Weekend
Hilton Bonnet Creek
Day 3: An Epcot Rope Drop
Things Don't go as Planned
Duffy the Disney Bear
Just a Little More Epcot
An Epcot Evening
Day 4: A Hollywood Studios Morning
My Secret Spot at Hollywood Studios
Old Key West Check In and Dinner at Epcot
An Old Key West Evening
Day 5: Magic Kingdom at Last!
More Magic Kingdom
Even More Magic Kingdom
And Still More Magic Kingdom
Another Old Key West Evening
Day 6: Animal Kingdom Here We Come
More Animal Kingdom and More Photopass
The Backlot Tour, A Lovely Boat Ride and Downtown Disney
A Mother/Daughter Evening at the Magic Kingdom
Day 7: It is All About the Bear
Duffy Quest Completed
The End