We just got back from my first trip to WDW in 8 years, and I'm excited to post my very first dining review, complete with lots of pictures! We won't be visiting WDW again for at least five years because of financial reasons
, so this was a very special trip for us.
Cast of Characters:
Me: 29, in the second trimester of pregnancy with our first child (the 0.5 generation
), and a Disney addict! I grew up in FL and went to WDW with my mother and grandmother pretty much every year until I went to college. DH and I currently live in Indiana, where I am studying to get my Ph.D. As soon as I finish school, we plan to move back to FL--as close to WDW as we can get!
DH: 28, a very picky eater (he hates most vegetables, weird sauces, etc.). He's from MN and has only been to WDW twice--once when he was four and the second time when he was 18. He's never stayed at an official WDW resort and was not a big Disney fan prior to the trip. Now he's okay with us visiting more often when we move to FL. DH and I were celebrating our sixth wedding anniversary on this trip (8/13).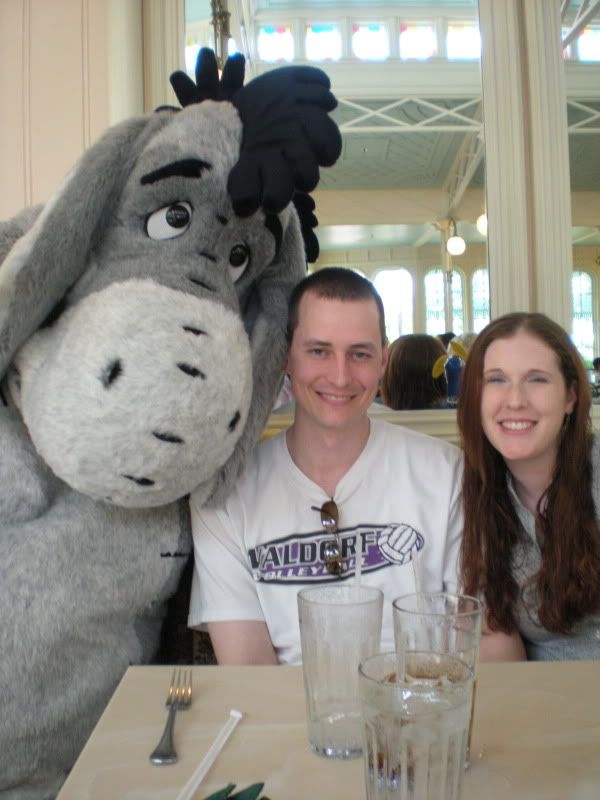 (DH and I at Crystal Palace with Eeyore, my favorite character)
Mom: 57 and a big WDW fan. She's disabled with multiple sclerosis and used a scooter for our trip. She can walk with a cane, but only for short distances. She used Randy's Mobility and was very happy with their service.
Grandma: 83 and also a huge WDW fan. While we were planning this trip, she told me that she used to have annual passes to WDW and would take trips by herself just to stay at the Grand Floridian and eat at all of the restaurants. She was very excited to get the DxDP and to eat at the signature restaurants.
(Grandma and Mom at Crystal Palace with Tigger)
Ratings: I decided to use a simple one to five star system (one = inedible, five = the best thing ever). Mind you, not everyone conformed to my rating system (you'll see that my mom and grandma gave several "10s" at some of the signature restaurants.
The Schedule (links will be posted after I finish each review):
8/9
Artist Point
8/10
Akershus
Rose & Crown
Tokyo Dining
Epcot Snacks
8/11
Whispering Canyon Cafe (OOP)
Sci Fi Dine In Theater (DH and I)
Snacks (Hollywood Studios)
Ohana
8/12
Whispering Canyon (OOP)
Yak & Yeti (DH and I)
Grand Floridian Cafe (Mom and Grandma)
Aloha Luau (DH and I)
Narcoossee's (Mom and Grandma)
8/13
1900 Park Fare
Crystal Palace
Narcoossee's (DH and I, anniversary dinner
)
Citricos (Mom and Grandma)
Snack (Dole Whip)
8/14
Chef Mickey's
Coral Reef
Yachtsman Steakhouse
Snack (napolean)
Yes, it was a lot of food, but we enjoyed all of it. DH and I are not members of the clean plate club and did not feel obliged to eat every scrap of our appetizers, entrees, and dessert, and we didn't use a lot of snack credits (I ended up using them at the end to get a bunch of Mickey rice krispie treats to take home to friends
). Anyhow, on with the food pictures...