Join Date: Jan 2009
Location: Fort Wayne, IN
Posts: 321
Our List of Wishes™ (Leave CANCELLED!!!!it to Disney to Trademark Those): Pre-Trippie
---
So we are going back to the World for our graduversary. So what is our graduversary? Well, it will be my graduation from seminary and our 2nd wedding anniversary.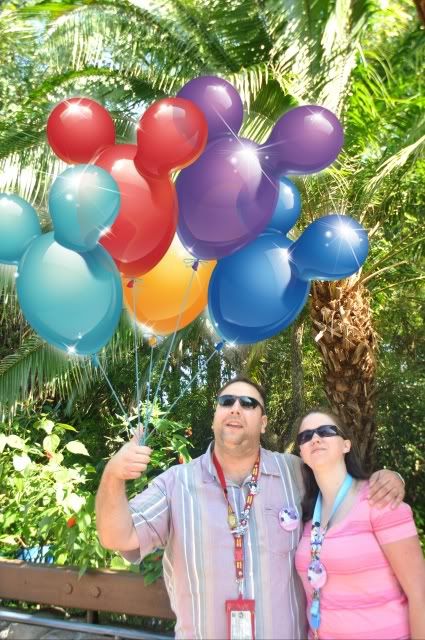 The Cast: Me, Jared, Pastoral Intern (Vicar), 35 and Kelly, 28 my DW. Also, any assorted Floridian Relatives (ours) whom wish to come along for the day are welcome.

Our List of Wishes™ (Leave it to Disney to Trademark Those):




The Dates: 5/18/2013-5/27/2013
The Plan: Shoot the works!
The Resort: Disney's Contemporary Resort
The Room: Tower with some sort of fabulous view, we hope.
The Tickets: 10-Day Park Hopper with Water Fun & More
The Dining Plan: Deluxe Disney Dining Plan. We may even throw caution to the wind and try Vicky & Al's.



How are we gonna pay for this thing on a student pastor's salary? Well, we are very blessed to hang on to much of our wedding gift money as we did not do a big, extravagant honeymoon. Also, we have a gift card program through our church that we plan on using monthly to put money toward our vacation-and the youth group gets 3% of whatever we buy. Our health insurance company has a get fit program, where we can earn $500 in gift cards by going to the gym, the doctor, and tracking our fruit and veggie intake-and it is legit.




We have been disciplined enough to pay off our Disney Visa Balance in full each month, and have earned many gift cards this way. We are curtailing Christmas & Birthday expenses to an extreme. Finally, we have a glass milk bottle with a small opening to shove in coins & bills which we receive as change. My wife also works, and it is safe to say that her job will probably be the kicker that makes such a large and deluxe trip possible. All of this is, of course is subject to the Will of (insert the tetragrammaton here).




With all of this help, scrimping and saving, we hope to accomplish the above outlined plan and celebrate our graduversary at Walt Disney World in a very big way. Why did we select the Contemporary? LOCATION, LOCATION, LOCATION! Being on the Deluxe Plan, we like to double up on the TS credits and have Signature Dining every night. This means travel from resort to resort. We won't be renting a car to keep costs and headaches down, and the buses that go from the non monorail resorts we've stayed at previously mean 90 minutes travel from resort to resort for dinner. Getting back to the room by bus, then bussing back to DTD, waiting for the driver change and bus inspection, changing busses, just seemed like a lot of time out of our Disney Park Day. As an alternative, and if we can't afford the Contemporary when it comes time to put our money where our mouths are, we are going to budget for a few night's cab fare to speed things up a bit & stay someplace else.


Our Plans Include hitting up AK & HS once and spending the bulk of our time at MK and EPCOT. We also want to try the water parks this time if we are going to pay for Water Parks, Fun & More, as we didn't really care for DisneyQuest. It was cool, but I have a hard time standing in line to play video games & skeeball & my wife got queasy in one of the simulators.
We would like to do some things we missed last time in regards to the parks:

Fantasmic!


Illuminations

Several Animal Kingdom Attractions we just did not get to.
World Showcase time for Kelly (She got pretty sick last time)


We are hoping that the Seven Dwarfs Mine Car Coaster & Little Mermaid Attractions will be finished by May 2013, but construction timetables often vary and stretch.


We also want to spend some time exploring the different resorts. I am on a major trainer-led exercise program under my doctor's supervision, and if I lose enough weight, we will spend a day at Universal/IOA riding all the things I did not fit on last time. (Hopefully, I won't regain too much of the weight on vacation!
)



Our Dining plans include the following:



Breakfasts at: The Wave, Kona Café, Grand Floridian Café, Kouzzina (Cat Cora would probably not remember me from our days at the Culinary Institute of America together now that she is all famous and such.) and Captain's Grill. I've been to the Grand FL Café before but not the others. Kelly has not been to any of these restaurants.



Lunches at: Yacking Yeti, Via Napoli, San Angel & Sci-Fi. I've been to the Yak but Kelly has not. Neither of us has been to the other two.



Dinners at: California Grill, Brown Derby, Be Our Guest (if it is open by then), Yachtsman Steakhouse, Raglan Road, Narcoosee's & Saana (We have both been to Yachtsman, CG & Narcoosee's on our last trip. I have also been to Brown Derby).


So join us on our planning journey to complete our Wishes (trademark) list.
---
Last edited by ChefMickey123; 08-31-2012 at

04:14 PM

.