Ok, I wasn't originally going to do one of these, but I need something to keep me busy the next couple days. Plus I would really like to complete a TR this time. We will see how it goes.
So this trip came up kind of unexpectedly. My Mom has a friend down in California and he needed someone to house sit one of his investment properties in LA while it's up for sale. Of course, loving CA, she took him up on his offer. So she gets to live in a nice big house for weeks or even a month until it sells.
When she told me about this deal she gets to do, I jokingly said I wanted to come and take advantage of the free accommodations and visit Disneyland. She said "why not?".
At first I didn't take her comment too seriously. Of course I wanted to say "YES!!", but for many reasons, I didn't want to get any sort of hope up.
One: We can't afford to get funds together for tickets, food, gas, etc in just over a month.
Two: We have a brand new son who we would have to take with us
Three: Dillon only has one week of vacation left for the year that he wants to use at Christmas time.
So not thinking much more of it, one day my Mom suggests putting our Airmiles points together and getting the park tickets that way. This is her ploy in getting to see her Grandson because she can't go over a month without seeing him. Of course this starts me thinking that this trip might actually be a little bit possible. That's over $400 in savings! So with getting to stay nights for free and our tickets being covered, all we would have to pay for is food and gas to get down there.
Now it was time to talk to Dillon. I know he likes to have his time off at Christmas, so do you think he would be ok with a Disney Vacation in August instead? Once I told him what the deal was, he was all for it!
So the only other small obstacle is our son Seth. He will be two months old just before we leave. It will take some planning and major organization to take him on such a long trip, but we can manage. He is a good little boy!
So here is the scoop:
Who is going: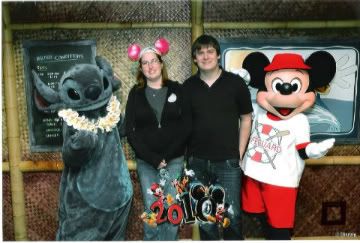 Myself (Andrea) and my boyfriend Dillon
Our son Seth
When:
August 12th-22nd.
We will be starting the trek down as soon as Dillon gets off work at 4:30 on Friday. We will be spending our first night in Butte, MT at a Motel 6. From there on Saturday we will be heading as far as Las Vegas. We will be staying at another Motel 6 there, but it is right on Fremont Street, so I am really looking forward to checking that out! Dillon wants to check out the Pinball Hall of Fame, so we will be doing that on Sunday before we finish the rest of the trip to the house in LA.
Our plan is to spend Monday-Friday in the parks. We are thinking Wednesday will be a good day to bring Seth in. My Mom is planning on coming in that day as well. I am really looking forward to being in the parks with most of my family that day.
On Tuesday we made a reservation to eat at Blue Bayou for dinner. This is really the only set plans we have made this trip. Being that we have a young child and it was a spur of the moment trip, we didn't want to make too many plans in case we can't afford it or we have to rush back to the house to a fussy boy. I would also like to attempt to see Fantasmic! this day. It would be a nice special evening with just Dillon and I. I am looking forward to it.
Then Saturday we are planning on hitting up a beach or two and checking out the Grammy Museum. One day a few weeks ago, there was a post on Facebook about a Michael Jackson exhibit there, so being a HUGE MJ fan, I decided I needed to check that out!
Then on Sunday we will begin our trip home with a stop over night and finish up on Monday.
It will be a long and interesting drive with a young baby, but I have confidence that we can do it as well as have a great time.
So that is the itinerary so far. I know it's only 2 days until we leave, so I am not sure how much more of a PTR I can do, but I am sure there will be a couple things to add here and there. Also depending on Wifi, I will try and update as we go along.